China to deploy drones, wire fencing along Xinjiang border to prevent infiltration
Updated on May 11, 2017 03:19 PM IST
Xinjiang needs to enhance cooperation in exchanging terrorism-related intelligence with neighbouring countries, deputy chairman of the region said.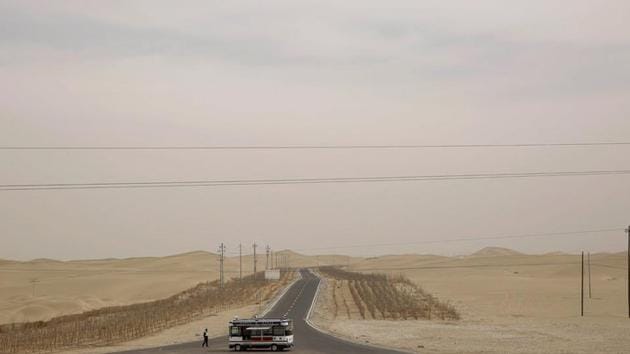 China will deploy drones, install surveillance cameras and barbed wire fencing to patrol the over 5,600-kilometre border of its restive Muslim-majority Xinjiang province bordering the PoK and Afghanistan to curb infiltration of Uyghur militants, a media report said on Tuesday.
Xinjiang, which has been China's main battleground in the fight against terrorism, neighbours eight countries, including Russia, Afghanistan and Pakistan.
Xinjiang needs to further enhance cooperation in exchanging terrorism-related intelligence with neighbouring countries, state-run China Daily quoted Jerla Isamudin, deputy chairman of the region.
Many terrorists who carried out attacks in the region in recent years received training abroad and then entered illegally, and some also fled across the border, he said.
Chinese authorities believe the penetration of religious extremism from abroad has prompted people to carry out violent attacks in Xinjiang and other parts of the country in recent years, it said.
Xinjiang, home to over 10 million Uyghur Muslims, has been restive for the past several years following protests from the Uyghur community over the settlements of Hans from other provinces.
China has launched joint patrols with the Pakistan Army along the POK part of the border and launched a quadrilateral cooperation and coordination mechanism in counter terrorism along with Afghanistan-China-Pakistan-Tajikistan armed forces to tighten security along Xinjiang borders.
The security has been stepped up as Xinjiang also formed the starting point for the $46 billion China-Pakistan Economic Corridor (CPEC).
China blames the separatist East Turkistan Islamic Movement (ETIM) for numerous violent attacks in and outside Xinjiang.
At China's behest, Pakistan also launched military operations to wipe out ETIM training bases in its tribal areas.
Chinese officials have been saying that several hundreds Uyghurs have joined Islamic State to fight in Syria. They apprehend that most of them were expected to return to fight at home.
The Chinese government has prohibited parents from choosing names like 'Muhammad', 'Arafat' and 'Jihad' for their children in Xinjiang.
Officials said the ban introduced this month was part of an effort to "curb religious fervour".
Shohrat Zakir, the region's chairman, said in January that Xinjiang would impose tighter entry-exit measures in 2017.
Last year, the regional legislature passed a regulation on border control, which took effect in December. The regulation requires people living along the border areas to report strangers to public security authorities within 24 hours.
Personalise your news feed. Follow trending topics