Don't launch trade remedy enquiries against Chinese products, China tells India
Hindustan Times, Beijing |
, Beijing
Sutirtho Patranobis
Jul 26, 2017 10:14 PM IST
The ministry of commerce had said that trade disputes between India and China should be resolved through consultations rather than investigations.
China has warned India against using "trade remedy" measures against Chinese products after New Delhi launched a series of investigations into certain items exported from here.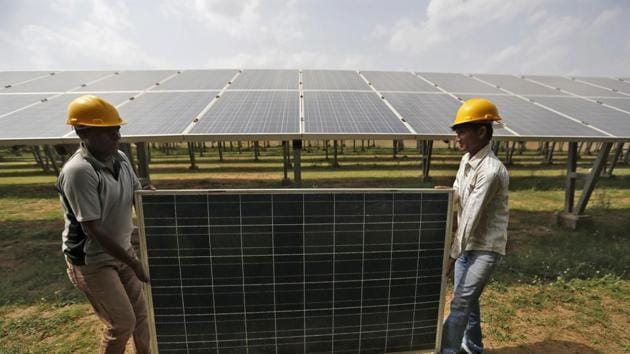 The ministry of commerce said that trade disputes between India and China should be resolved through consultations rather than investigations.
The ministry statement came after "India announced on July 21 it will launch an anti-dumping investigation over photovoltaic cells and units imported from the Chinese mainland, Taiwan, and Malaysia."
"China is paying close attention to the investigation and hopes India will conduct it in a prudent manner and according to relevant regulations," Wang Hejun, head of the commerce ministry's trade remedy and investigation bureau told official news agency, Xinhua.
Wang warned that adopting trade remedy measures against photovoltaic products would impact the development of the sector in India and "dampen the sector's long-term development worldwide as well as economic and trade cooperation between China and India."
"All countries should cooperate for the sustainable and healthy development of the photovoltaic sector, which is significant in fighting climate change, rather than resorting to trade remedy measures and disrupting trade orders," Wang said.
According to the report, India's photovoltaic market has witnessed fast expansion, with its photovoltaic power generating capacity growing 3.7 times over the past three years, benefitting from China's photovoltaic products with reasonable prices and high quality.
The July 21 investigations were the latest to be launched by India against Chinese products this year.
India launched 12 investigations against Chinese products this year, second only to the US, amid a rise in amid a rise in bilateral trade.
"Bilateral trade between China and India amounted to 229 billion yuan ($33.7 billion) between January and May, up by 30.1% year-on-year," the General Administration of Customs said earlier this month.
But the rise in bilateral trade has come in the backdrop ofwhat Chinese officials say is India's increasing protectiveness of its manufacturing sector.
"We have also discovered that India's trend of launching trade remedy investigations has already shifted from lower-end products such as garments, glass and mining products, to higher-end goods such as new materials and machinery," Xue Rongjiu, deputy director of the Beijing-based China Society for WTO Studies, told the state-controlled China Daily newspaper earlier this month.
"Because India's manufacturing structure is similar to China's, especially in the lighting and photovoltaic industries, both are facing the same problem to boost exports to developed markets," Li Gang, vice-president of the Chinese Academy of International Trade and Economic Cooperation in Beijing, said.