Philippine President Duterte tells soldiers to shoot female rebels in their genitals
Feb 12, 2018 10:36 PM IST
The Philippines president also criticised female fighters for abandoning their families to join the communist movement.
Philippine President Rodrigo Duterte has told his soldiers to shoot female rebels in their genitals, with his remarks also included in the official transcript of his speech released by his communications office.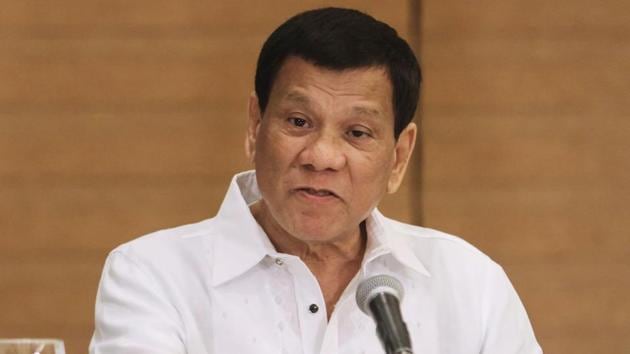 Duterte, who had been the mayor of Davao before becoming president, was addressing a group of former communist rebels at the Heroes Hall in the Malacañang Palace — his official residence — on February 7 when he made the remarks.
"Tell the soldiers. 'There's a new order coming from mayor. We won't kill you. We will just shoot your vaginas so that'... If there are no vaginas, it would be useless," he said, with media reports saying that his speech seemed to imply that women are useless without their genitals.
The transcript released by the presidential communications office replaced the word "vagina" with a dash.
He also criticised female fighters for abandoning their families to join the communist movement.
Rights activists have expressed their dismay over the comments
Human Rights Watch, in a statement to Al Jazeera, said Duterte's remarks were "just the latest in a series of misogynist, derogatory and demeaning statements he has made about women".
Washington Post quoted a representative for Gabriela, a feminist organisation, as saying that Duterte has been "pushing the fascist (v) to commit more bloody human rights violations and grave abuses of international humanitarian law, and takes state terrorism against women and the people to a whole new level".
This is not the first time Duterte's comments about women have caused controversy.
In 2016, while running for president, Duterte had made a joke about the rape and murder of an Australian missionary in 1989, the Daily Mail reported. " I was angry because she was raped, that's one thing. But she was so beautiful, the mayor should have been first," he had said.
In January, during a visit to New Delhi, he told Indian and Filipino business leaders that he would like to attract visitors to the Philippines by offering "42 virgins", Al Jazeera reported.
However, his spokesperson Harry Roque has said that Duterte's critics should lighten up, accusing activists of "over-reacting".
"You know, sometimes, these feminists are really a bit (over-reacting)... I mean, that's funny. Come on. Just laugh," he said.