French President Emmanuel Macron will seek to placate 'yellow vest' protesters today in address to nation
Dec 10, 2018 11:07 AM IST
On Saturday, protesters, for the fourth weekend in a row, threw stones, torched cars and vandalised shops and restaurants in a protest against Emmanuel Macron's economic policies.
French President Emmanuel Macron will address the country on Monday as he seeks to placate "yellow vest" anti-government protesters who wreaked havoc in Paris this weekend. On Sunday, workers in Paris and other cities swept up broken glass and towed away burnt-out cars while the government warned of slower economic growth and the judiciary said it would come down hard on looting and attacks on police.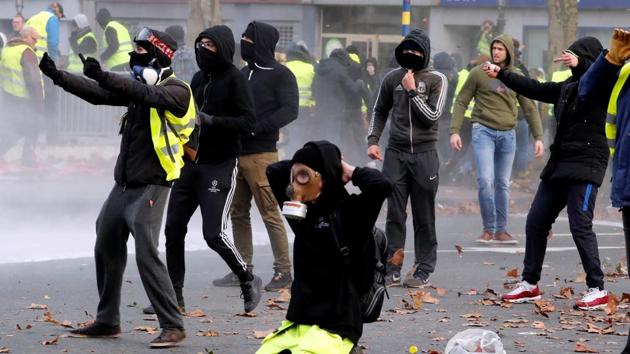 On Saturday, protesters, for the fourth weekend in a row, threw stones, torched cars and vandalised shops and restaurants in a protest against Macron's economic policies. The Elysee Palace said on Sunday that Macron, elected in May 2017, would address the country on Monday evening at 2000 Paris time (1900 GMT).
Stay tuned with breaking news on HT Channel on Facebook.
Join Now
Read more: Why France is engulfed by worst urban riots in a decade
On Monday morning, he will meet with trade unions, employers' organisations and local elected officials as he tries to formulate a response to an unstructured movement that has taken France by storm and broken through traditional political and trade union communication channels with the government.
Labour Minister Muriel Penicaud said on LCI television Macron would announce "concrete and immediate" measures, but that this would not include boosting the minimum wage. "Increasing the minimum wage would destroy jobs. Many small business cannot afford it and risk going bankrupt," she said.
Government spokesman Benjamin Griveaux warned against unrealistic expectations. "Not all the problems of the yellow vest protesters will be solved by waving a magic wand," he said.
Fight till Easter
Demonstrators were unimpressed with the government's overtures, continuing their blockade of traffic roundabouts nationwide and vowing to fight on.
"I will stay here until Easter, if necessary," a protester called Didier told BFM television in Frejus, southern France.
Macron's last televised address was on November 27, when he said he would not be bounced into changing policy by "thugs". Since then, he cancelled a planned rise in fuel taxes last Tuesday to try to defuse the situation but the protests have morphed into a broader anti-Macron rebellion.
Read more: 'Let our nation be':France minister tells Donald Trump on 'yellow vest' protest remarks
The upheaval in the Christmas shopping season has dealt a heavy blow to retailing, tourism and manufacturing as road blocks disrupt supply chains.
On Saturday, the Eiffel Tower and several museums closed their doors for security reasons, as did top Paris department stores on what should have been a prime shopping weekend.
The protest movement will have "a severe impact" on the economy, Finance Minister Bruno Le Maire said as he toured a heavily looted central Paris neighbourhood.
"We must expect a new slowdown of economic growth at year-end," he said.
In mid-November, the central bank had forecast 0.4 percent fourth-quarter growth. Economists said at that time that the economy would need to grow at 0.8 percent in the final three months to hit the government's 1.7 percent annual growth forecast.
Give back the money
Authorities said 1,36,000 people had taken part in protests across France on Saturday, including 10,000 in Paris. More than 1,709 had been arrested, of which 1,000 were in Paris. More than 100 remained in custody.
"We cannot let people think they can come to trash everything and then happily go back home without facing judicial sanctions," Paris prosecutor Remy Heitz told reporters. Across the city, banks, toy shops, opticians and other retail outlets had boarded up storefronts smashed by protesters.
Read more: 31,000 join 'yellow vest' protests across France, 700 detained
"You won't make it past Christmas, Emmanuel," read the graffiti on a boarded-up shop near the Champs Elysees.
Gregory Caray was relieved to see his furniture shop had not been vandalised.
"You can understand the yellow vests movement. But this is completely unacceptable. It has been three weekends in a row now. Look around you, everything is broken," he said.
Named after the fluorescent yellow safety vests French motorists must carry, the protests erupted on Nov. 17, when nearly 300,000 demonstrators nationwide took to the streets to denounce high living costs and Macron's economic reforms.
At Place de la Republique, Bertrand Cruzatier watched cleaners scrub out anti-Macron grafitti.
"I don't know if Macron's resignation is necessary, but he must completely change course," he said. Overhead, a banner hanging from the statue of Marianne, symbol of the French republic, read: "Give back the money".