World News
Swipe up for the next story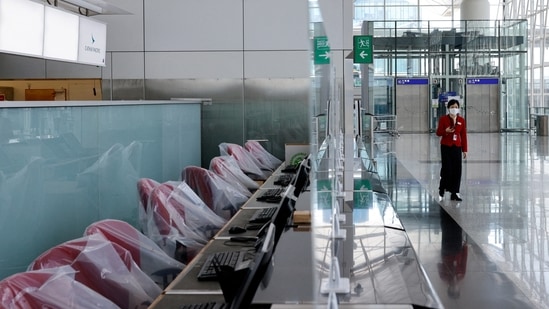 Hong Kong will stick with its push to reopen to the world unless a dangerous new variant emerges, said the city's top health official, while stressing the financial hub has an obligation to protect mainland China from major Covid-19 outbreaks. Lo has been a high-profile voice in the government defending ongoing Covid measures, and has often used statistics ranging from case figures to sewage sampling data to underpin his cautious approach to assessing further easing.
Pakistani former President Pervez Musharraf, a key U.S. ally in the campaign against al Qaeda following the September 11, 2001, attacks on the United States, was buried in hPervez Musharraf, a dictator with democratic pretence'shometown of Karachi on Tuesday. READ: Beyond the news: Pervez Musharraf, a dictator with democratic pretence The funeral was held at Malir Cantonment's Polo Ground, a day after a special plane transported his body to his hometown.
The death in the earthquakes which ravaged Turkey and Syria has killed more than 5,400. Out of these, 3,700 people have lost their lives in Turkey alone where a three-month-long emergency has been declared by president Recep Tayyip Erdogan. Turkey, Syria earthquakes LIVE coverage According to Turkey's Disaster and Emergency Management Authority, at least 20,426 people were injured while 5,775 buildings had been destroyed due to the earthquake, Reuters reported.
Turkey is known to be prone to earthquakes, lying as it does at the junction of three tectonic plates ? Eurasian, Arabian and African. Yet Monday's two large earthquakes, interspersed with a number of smaller shocks, stand out because of their location. Why earthquakes happen A major cause of earthquakes is a slip along a fault (a junction between two tectonic plates); such earthquakes are called inter-plate earthquakes.
A day after a devastating earthquake tore through Turkey and northern Syria, rescue workers were still thin on the ground in Antakya, forcing residents to pick through rubble sometimes without even basic tools in a desperate hunt for survivors. Read: Turkey, Syria earthquake: Nerve-chilling videos show magnitude of destruction The lack of help has already prompted scuffles between residents and rescue workers in Antakya, with people pleading with rescuers to save their loved ones.
A 14-month-old baby, who was trapped under the rubble in quake-hit Turkey's Hatay province for more than 30 hours, was rescued alive. While rescue teams are scrambling to find survivors trapped under debris after a series of massive earthquakes in Turkey and Syria, some heart-wrenching videos of children and their parents have emerged on social media claiming to be from the disaster-struck countries.
The plot to target a highly secure mosque here in the capital of Pakistan's restive Khyber Pakhtunkhwa province was hatched in Afghanistan and funded by an intelligence agency, the country's law enforcement officials probing the suicide attack said on Tuesday. Security agencies have arrested 17 suspects involved in the devastating blast – the deadliest attack on the security personnel in decades in Pakistan. Caretaker Chief Minister Azam Khan was also present on the occasion.
Beijing: China will ?resolutely safeguard its legitimate rights and interests? over the shooting down of a Chinese balloon, suspected to have been spying on sensitive US installations, the Chinese foreign ministry said on Tuesday as the already tenuous bilateral ties become further tense. Chinese foreign ministry spokesperson, Mao Ning was responding to remarks by US Pentagon spokesperson John Kirby, who declared that the US does not intend to return the balloon's debris.
Turkish president Recep Tayyip Erdogan on Tuesday declared a three-month-long emergency across ten provinces ravaged by the earthquake which has killed more than 3,500 people alone in the country. Turkey, Syria earthquake LIVE updates ?We are declaring ten cities impacted by the earthquake disaster zone?, the Turkish president said, adding that the death toll had risen to 3,549.
Hours after India sent relief material to earthquake-hit Turkey, Turkish Ambassador to India Firat Sunel on Tuesday said that the country "appreciates the help". Speaking to the news agency ANI, the ambassador said, "India was among the first countries to respond when we asked for medical assistance". "The Indian mission in Ankara may have received some requests," he said. Turkey saw two more earthquakes on the same day of 7.6 and 6.0 magnitudes.
British Prime Minister Rishi Sunak reshuffled his cabinet on Tuesday, breaking up two departments to better suit his pledge to spur the economy and turn around his party's fortunes before an election expected next year. Read here: UK PM Rishi Sunak plans to reshuffle his cabinet. Greg Hands, a former trade minister and one-time party enforcer for the Conservatives, was appointed party chair. 'SHUFFLING DECKCHAIRS' The timing surprised some in Sunak's party.
While rescue teams are scrambling to find survivors trapped under debris after a series of massive earthquakes in Turkey and Syria, some heart-wrenching videos of children and their parents have emerged on social media claiming to be from the disaster-struck countries. A young child was pulled from the rubble in Syria's Azaz, after a devastating earthquake shook the country and Turkey, leaving over 5000 people dead.
A royal expert said that Prince Harry's wife Meghan Markle is working on Meghan Markle's brand name apart from her husband. Royal commentator Kinsey Schofield said that the Duchess of Sussex could discreetly be planning new projects separate from Prince Harry. Read more: Kate Middleton says it is 'tough' to raise children today.
China issued dangerous heavy fog warnings for many regions and shipping was suspended in the Qiongzhou Strait, an important economic transport hub near Hainan, according to state and local media on Tuesday. The Central Meteorological Observatory announced a yellow warning on Tuesday morning for several provinces including parts of Shandong, Anhui, Jiangsu, Zhejiang, Hubei, Hunan, Jiangxi, Fujian, Guizhou and Guangdong, and the Guangxi region.
Turkey has declared seven days of national mourning after earthquakes jolted southern provinces of the country. At least 1,541 people were killed and 9733 others were injured when two earthquakes hit southern provinces of Turkey on Monday, Anadolu Agency reported citing Turkish Vice President Fuat Oktay. According to AFAD, there is no tsunami threat to the Eastern Mediterranean coasts in Turkey.