Hostages in Philippines forced to fight, loot, become sex slaves, says army
The military said some hostages were forced to convert to Islam, carry wounded fighters to mosques, and marry militants of the Maute group loyal to Islamic State.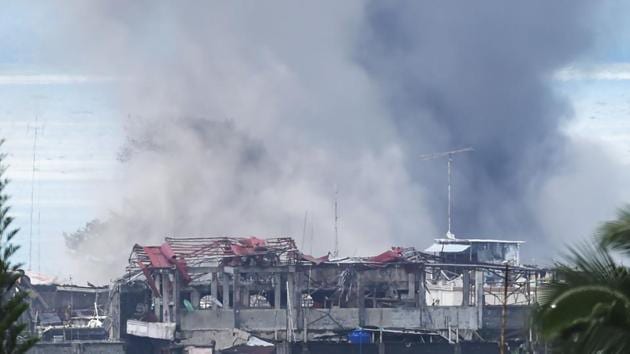 Updated on Jun 27, 2017 06:25 PM IST
Civilians held hostage by Islamist militants occupying a southern Philippine city have been forced by their captors to loot homes, take up arms against government troops and serve as sex slaves for rebel fighters, the army said on Tuesday.
Citing accounts of seven residents of Marawi City who either escaped or were rescued, the military said some hostages were forced to convert to Islam, carry wounded fighters to mosques, and marry militants of the Maute group loyal to Islamic State.
"So they are being forced to be sex slaves, forced to destroy the dignity of these women," military spokesman Jo-Ar Herrera told a news conference.
"So this is what is happening inside, this is very evident ... these are evil personalities."
Their accounts, which could not be immediately verified, are the latest harrowing stories to come out of a conflict zone that the military has been unable to penetrate for five weeks, as well-armed and organised rebels fight off soldiers with sniper rifles and rocket-propelled grenades.
Some escapees say bodies of residents have been left in the streets, some for weeks, and civilians are distressed by government air strikes and artillery bombardments that have reduced parts of Marawi to rubble.
The protracted seizure has worried the region about the extent the Islamic State's agenda may have gained traction in the southern Philippines, which is more used to banditry, piracy and separatism than radical Islam.
The rebels' combat capability, access to heavy weapons and use of foreign fighters has raised fears in the mainly Catholic country that the Marawi battle could just be the start of a wider campaign, and be presented by Maute as a triumph to aid their recruitment efforts.
Heavy clashes broke out on Tuesday as the battle entered its sixth week, with intense bombings by planes on a shrinking rebel zone.
NO NEGOTIATIONS
The government ruled out negotiations after reports that Abdullah Maute, one of two brothers who formed the militant group carrying their name, wanted to trade a Catholic priest hostage for his parents arrested earlier this month.
The military said on Saturday Abdullah Maute had fled.
Taking advantage of a short truce to mark the Eid al-Fitr Islamic holiday, eight Muslim leaders met briefly on Sunday with Maute. The Philippine Daily Inquirer said he had asked for his father, Cayamora Maute, and influential businesswoman mother, Farhana Maute, to be freed, in a swap for Father Teresito "Chito" Soganub.
But presidential spokesman Ernesto Abella said deals with militants were against government policy, and anyone trying to bargain had no authority to do so.
"The local religious leader-led talks with terrorists last Sunday was one not sanctioned," Abella told reporters.
"Any demands made inside, therefore, hold no basis. Let us remind the public, the gravity of the terrorists and their supporters' offences is immense."
The military's public relations machine has been insisting that the rebel leadership was crumbling, saying top commanders had escaped or were killed in action, and the group was fraught with infighting, even executing their own men for wanting to surrender.
Military officers, however, accept they lack solid proof of such developments and were working to verify intelligence reports.
The army said there were reported sightings of the departure from the battle of Isnilon Hapilon, Islamic State's anointed Southeast Asian "emir", which Abella said showed he was not committed to his cause.
"It would be a clear sign of his cowardice," Abella said of Hapilon.
"It may only be a matter of time before they disintegrate."
Fighting has raged in the town since an operation to arrest Hapilon went wrong on May 23, leading to the government losing not just Hapilon, but control of Marawi.
Official figures show 70 servicemen, 27 civilians and 290 militants have since been killed and 246,000 people displaced.
Close Story
Personalise your news feed. Follow trending topics