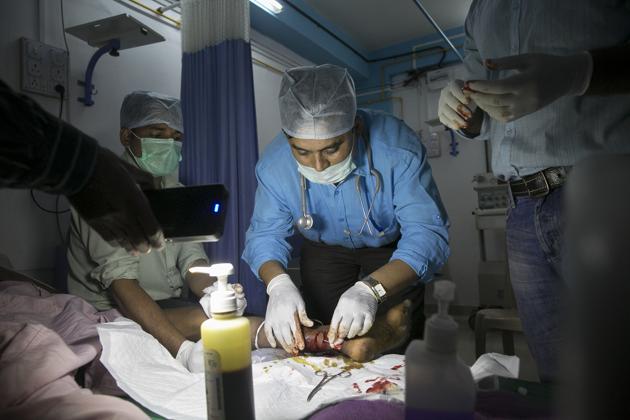 Indian doctors in UK more likely to face inquiries than British counterparts
There are 25,281 India-qualified doctors in the UK, accounting for 9% of doctors registered with the General Medical Council.
UPDATED ON APR 12, 2017 01:23 AM IST
A new study by experts at the University College London has added data to the discourse of doctors in the National Health Service trained in India and other non-EU countries being more likely to face inquiries based on complaints than their UK counterparts.
Doctors with Indian medical qualifications comprise the second largest cohort in the NHS, after those trained in the UK. The latest figures show there are 25,281 India-qualified doctors, accounting for 9% of doctors registered with the General Medical Council (GMC).
The study looked at GMC's fitness-to-practice (FTP) investigations initiated when complaints are made against doctors by patients, police or other stake-holders. The analysis covered the period between 1996 and 2013, when the number of Indian doctors almost doubled.
Henry Potts, co-author of the study published in BMC Medical Education, told Hindustan Times on Tuesday: "Indian-trained doctors made up around 10% of doctors in the UK over this period, but contributed 22% of the performance assessment (FTP) cases.
"They (India-trained doctors) are on average about five times more likely than a UK-trained doctor to be assessed. This is lower than countries like Bangladesh, Egypt and Nigeria, but higher than Ireland and South Africa."
Potts added that the high prevalence of India-trained doctors could be related in part to they being more likely to be men than UK-trained doctors: "We know from other work that men are considerably more likely to get into such difficulties than female doctors. It could also relate to what specialties Indian-trained doctors go into.
The high number of FTP inquiries against Indian doctors has previously been countered with charges and examples of alleged institutional racism in the NHS, particularly by the British Association of Physicians of Indian Origin.
The FTP inquiries provide another dimension to the history of large number of Indian doctors coming to the UK to train and work, and continue to be recruited to fill major staffing gaps in various NHS hospitals. However, the number of new Indian doctors coming to the UK has been dwindling in recent years.
The UCL study concluded that the issue may have implications for licensing arrangements after Brexit, since the UK, like other Western countries, relies on healthcare staff trained abroad. India is also the source-country of a large number of nurses in the NHS.
Current rules mean that doctors who trained in the EU can practise in the UK without further tests of their medical competency, but doctors who trained elsewhere in the world have to pass the professional and linguistic assessments board.
Close