Iran upset with Pakistan's Raheel Sharif heading Islamic Military Alliance
Hindustan Times, Islamabad |
Imtiaz Ahmad
Apr 04, 2017 10:11 PM IST
Iran has publicly expressed its concerns about former Pakistan Army chief Raheel Sharif heading the Islamic Military Alliance created by Saudi Arabia, further complicating fraught Pakistan-Iran ties.
Iran has expressed reservations about the appointment of former Pakistan Army chief Gen Raheel Sharif as head of the Islamic Military Alliance created by Saudi Arabia, prompting Islamabad to step up efforts to assuage Tehran.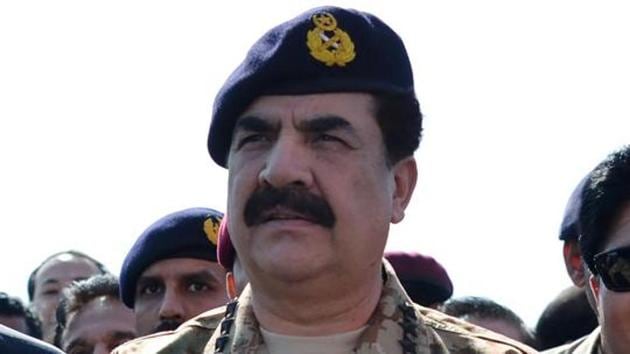 "We are concerned about this issue...that it may impact the unity of Islamic countries," Mehdi Honardoost, Iran's envoy to Pakistan, told the media. This was the first time Iran publicly expressed its displeasure on the issue.
Pakistan contacted Iranian officials before issuing a no-objection certificate to Sharif to take up the position of head of the 39-nation military alliance, but this "did not indicate that Iran was satisfied with this decision or it had accepted the same", Honardoost was quoted as saying by state-run IRNA news agency.
Defence minister Khawaja Asif said earlier this month the Pakistan government had cleared Sharif to take up the job following a formal request from Saudi Arabia.
Islamabad's decision is set to further complicate fraught Pakistan-Iran relations, especially at a time when Saudi Arabia and Iran are jockeying for influence in hot spots across the Middle East.
Foreign secretary Tehmina Janjua said on Tuesday that the Islamic Military Alliance wasn't against any country and that Sharif will not act against Iran. She told a parliamentary committee on foreign affairs: "The Islamic alliance is against terrorism, not any country."
She added Pakistan is making efforts to reduce tensions between Saudi Arabia and Iran. "It is difficult for Pakistan to maintain equal relations with both countries but Pakistan will not go against Iran's interests," she said.
Pakistani officials confirmed they intend to reach out to the Iranian government to address Tehran's concerns. Officials told the media that Pakistan has clearly informed Saudi Arabia that it would not become part of any campaign against any country, including Iran.
Gen Qamar Bajwa, the current Pakistan Army chief, took the Iranian leadership into confidence and Sartaj Aziz, adviser to the prime minister on foreign affairs, travelled to Tehran in late February to address Iran's concerns. Bajwa might also visit Iran to assuage the fears of the Iranian leadership over the controversial alliance.
Raheel Sharif reportedly accepted the offer to head the alliance on the condition that countries such as Iran would be invited to join it in order to make it a broad-based initiative and dispel impressions about its sectarian outlook.
But Iranian envoy Honardoost said Tehran had informed Islamabad that Iran would not become part of such a military alliance. Iran had not been extended an offer to join a coalition of this sort, he added.
He proposed that all important Islamic countries come together to form a "coalition of peace" to resolve issues "rather (than) forming a controversial military alliance".
Iran is known to have opposed the Saudi initiative because of its serious differences over the current unrest in the Middle East, particularly in Syria and Yemen.
Just days before Pakistan issued the no-objection certificate to Raheel Sharif, the Iranian envoy visited the General Headquarters, where Gen Qamar Bajwa gave him a categorical assurance that Islamabad's decision would not hurt Tehran's interests.
Bajwa also informed Honardoost that Pakistan "values its bilateral ties with Iran", The Express Tribune reported. Bajwa also said Pakistan had never objected to Iran's close ties with India and, therefore, Islamabad expected Tehran to respect the decision over the Saudi alliance.
Pakistan has found itself in the crosshairs of Middle Eastern politics as Saudi Arabia named it part of the military alliance without first getting Islamabad's consent. After initial ambiguity, Islamabad confirmed its participation in the alliance.
Sharif's appointment had been criticised by some politicians, retired army officers and intellectuals, who questioned the former army chief's decision. Opposition parties, including the Pakistan People's Party and Pakistan Tehreek-e-Insaf, too are skeptical of Sharif's role in the alliance.
Both parties consider the decision a violation of a parliamentary resolution passed in April 2015 that called for Pakistan to maintain a policy of neutrality, particularly in the conflict in Yemen.