Lessons for Delhi? Beijing plans to build ventilation corridors as smog returns
Updated on Nov 06, 2016 10:39 AM IST
Beijing plans to build ventilation corridors, or broad green passageways, to battle air pollution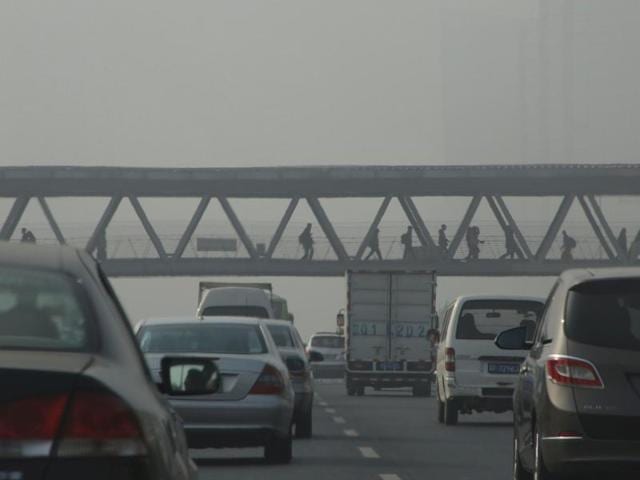 Hindustan Times |
, Beijing
Sutirtho Patranobis
As Delhi struggles to breathe for the sixth day running, neighbouring China, too, is battling toxic air, with the capital Beijing and large parts of north experiencing the first burst of heavy winter smog.
Though Delhi's off-the-charts' pollution levels -- worst in almost 20 years -- are way ahead of Beijing's, for the Chinese capital the worst is yet to come. In the coming weeks as severe winter sets in, northern China will switch on coal-fuelled central heating, releasing more pollutants in the air.
Almost "…630,000 square kilometres of land in northeastern China and 380,000 square kilometres of land in northern China have been under the influence of the latest smog spell", state media quoted the ministry of environmental protection (MEP) as saying on Saturday.
Orange alert
Air quality in Beijing, where orange alert was sounded on Friday, deteriorated to dangerous levels and visibility reduced substantially, causing widespread flight delays and cancellations at the Beijing Capital International Airport.
"Seven provinces and municipalities, including Beijing and Tianjin, saw their air pollution index hike, with air quality index (AQI) readings hitting 500 in 11 cities in northeastern China over the November 3-5 period," official news agency Xinhua said in a report.
Air quality in Delhi was reported as severe on Saturday, the worst for the season.
In a report released in September, the WHO said China, India and Russia were the three worst countries for pollution. More than one million people died from pollution in China in 2012, at least 600,000 in India and more than 140,000 in Russia, said WHO that has declared polluted air a carcinogen.
The national meteorological centre issued an "orange" smog alert on Friday morning, warning that pollution levels in Beijing, Tianjin and northern Hebei province would remain dangerously high till early weekend.
China has a four-tier colour-coded system for pollution, with red being the highest, followed by orange, yellow and blue. The meteorological authorities issue alerts when the AQI touches 200. Higher the AQI, greater the pollution.
Lessons for Delhi?
Beijing may have some solutions, as breathless Delhi looks for ways out of the thick grey shroud of toxic air.
Officials told local media that authorities in Beijing have "…launched a crackdown on heavy vehicles that failed to meet emission standards and that passed through the city's outer districts, including Daxing and Anqing. Some truck drivers have been fined up to 1,000 yuan ($148) for violations", a newspaper reported.
MEP's Liu Bingjiang claimed that reduction in coal consumption and a clampdown on substandard vehicles in recent years had improved air quality in China, and particularly in the north.
"The concentration of PM 2.5 particulates found in the air in Beijing, Tianjin and Hebei had dropped 14.5% in the first 10 months of this year from a year earlier," he said. "Under similar weather conditions, these measures should help to lower levels of air pollution experienced in the past".
PM 2.5 are tiny dust particles that are result of combustion from vehicles, power plants and other industrial activities. These can lodge deep in lungs and blood tissues, triggering respiratory and cardiac problems.
Beijing plans to build "….a web of ventilation corridors to facilitate air flow and blow away smog and pollutants". "The five primary ventilation corridors are designed to be more than 500 metres in width. Some secondary corridors will be over 80 metres wide," officials told Xinhua earlier this year.
The corridors will be created by connecting the city's parks, rivers and lakes, highways with green belts and low building blocks that will allow the air to flow.
"In addition to the planned primary and secondary ventilation corridors, other smaller corridors will also be added to the system. Construction in these zones will be strictly controlled, and obstacles along the way will be gradually removed," the report said. Cities such as Shanghai and Fuzhou, too, are building these wide passageways.
Frequent smog has made the Chinese increasingly sensitive to the health hazard. To address public concerns, the government plans to cut the density of inhalable particulate matter by at least 10% in major cities by 2017.
Personalise your news feed. Follow trending topics