State of Union address highlights: New immigration policy, facing North Korean nuclear threat, improving the 'American dream' on Trump's to-do list
Jan 31, 2018 12:31 PM IST
Donald Trump declared there has "never been a better time to start living the American dream" as he cited lower unemployment rates, tax cuts and reforms in immigration policies.
President Donald Trump called for a "new American moment" in his State of the Union address as he sought to rally a deeply divided nation and infuse his presidency with a sense of optimism on Tuesday night in Washington.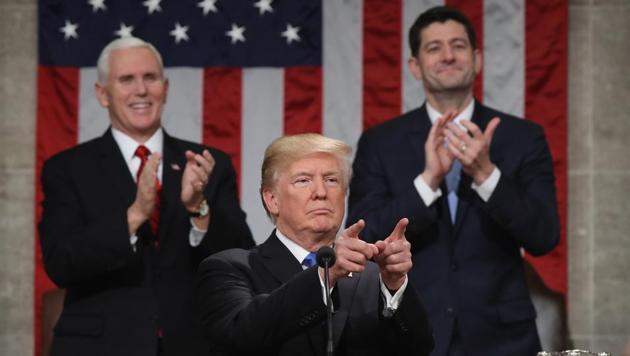 In his first State of Union address, the president declared there has "never been a better time to start living the American dream". He called on lawmakers in both parties to join forces to modernise the nation's crumbling infrastructure and revamp immigration policies to focus on "the best interests of American workers and American families".
"I am extending an open hand to work with members of both parties, Democrats and Republicans, to protect our citizens, of every background, colour, and creed," Trump said.
Partisanship in Washington has only deepened in the year since Trump has taken office, driven in part by the president's bitingly personal attacks on his political rivals and Democrats' criticism of his policies and behaviour.
Updates from Trump's speech in Capitol Hill:
9am: "Thank you and God bless America." Trump concludes his State of Union address.
9am: As long as we our proud of our achievements, faith in our citizens and trust in God, we will never fail, says Trump as he ends his speech.
8:53am: Trump says past experience has taught that complacency and concessions only invite aggression and provocation. "I will not repeat the mistakes of past administrations that got us into this very dangerous position."
8:50am: "We need only look at the depraved character of the North Korean regime to understand the nature of the nuclear threat it could pose to America and our allies," says Trump.
8:49am: Trump drops the 'N' word, talks about the tyrannical 'oppression' in North Korea. "North Korea's reckless pursuit of nuclear missiles could very soon threaten our homeland. We are waging a campaign of maximum pressure to prevent that from happening."
8:48am: Trump also asks Congress to address the "fundamental flaws in the terrible Iran nuclear deal".
8:47am: Asks Congress to ensure that US money only goes to friends of America and not its enemies.
8:45am: "Last month, I also took an action endorsed unanimously by the Senate just months before: I recognized Jerusalem as the capital of Israel."
8:44am: Trump calls for keeping Gitmo open. "I just signed an order directing Secretary Mattis to reexamine our military detention policy and to keep open the detention facilities in Guantanamo Bay."
8:42am: The coalition to defeat ISIS has liberated almost 100% of the territory once held by these killer in Iraq and Syria, says Trump.
8:41am: Trump addresses war with Islamic State. Says the US will continue fight until ISIS is defeated.
8:40am: "Perhaps someday in the future there will be a magical moment when the countries of the world will get together to eliminate their nuclear weapons. Unfortunately, we are not there yet, sadly."
8:39am: "As part of our defence, we must modernise and rebuild our nuclear arsenal, hopefully never having to use it, but making it so strong and powerful that it will deter any acts of aggression."
8:38am: To that end, he calls for fully funding the military. "I am asking the Congress to end the dangerous defence sequester and fully fund our great military," says Trump.
8:36am: President Donald Trump says "unmatched power" is the surest defence against threats from rogue regimes, terrorist groups and rivals like China and Russia.
8:35am: These reforms will also support our response to the terrible crisis of opioid and drug addiction, he says. "My Administration is committed to fighting the drug epidemic and helping get treatment for those in need."
8:32am: "In recent weeks, two terrorist attacks in New York were made possible by the visa lottery and chain migration. In the age of terrorism, these programs present risks we can no longer afford."
8:31am: It is time to reform these outdated immigration rules, and finally bring our immigration system into the 21st century, says Trump, calling his immigration proposals a "down-the-middle compromise".
8:30am: The fourth and final pillar will protect nuclear family and end chain migration – plan will limit sponsorship to spouses and minor children. Trump claims that current policy allows unlimited number of family members to tag along.
8:29am: Second pillar is to close the border. Third is to end the visa lottery system that awards green cards without considering merit.
8:28am: Says first pillar of the policy offers path to citizenship for 1.8 million illegal immigrants who were brought to the US by their parents – covers more almost three times more than earlier administrations. Says they can become citizens over a period of 28 years if they meet educational qualifications and have required "moral character".
8:26am: Trump announces proposal on immigration legislation.
8:25am: Trump promises reinforcements to border agents taking on gangs running drugs, such as MS-13.
8:22am: Trump says Americans are dreamers too.
8:20am: Trump calls on Congress to fix immigration laws and curb issues such as gangs that have grown in the country. Cites the death of two girls by MS-13, a gang notorious for drug trade.
8:18am: US president calls on reforming prisons and giving inmates a second chance at life.
8:17am: Lets support working families by supporting paid family leave, Trump says to loud applause
8:14am: President Donald Trump calls on Congress to pass legislation to generate at least $1.5 trillion to upgrade the nation's roads, bridges and other infrastructure.
8:13am: Trump says the US is seeking to enter into new trade agreements with countries. "The era of economic surrender is over... From now on trade will be fair, and more importantly, reciprocal."
8:11am: One of Trump's top priorities for the year is bringing down prices of prescription drugs. "Watch," assures the US president.
8:10am: "I want to give Americans the right to try."
8:07am: We have ended the war on energy... We are now the exporter of energy.
8:06am: In our drive to make Washington accountable, we have removed regulations -- much more than any administration in American history.
8:05am: I call on cabinet to remove those who fail the American people, says Trump
8:04am: Last year I signed the VA accountability act, my administration has already removed more than 1,500 VA employees who failed to give our veterans the care they deserve. We are hiring talented people who love are veterans are much as we do. I will not stop until our vets are properly taken care of.
8:03am: We are serving our brave veterans and giving them choice in their healthcare decisions.
8:02am: Working with the Senate, we are interpreting the Constitution. We are protecting the second amendment.
8am: In America, we know that faith and family, not government and bureaucracy, are the centre of the American life. Our motto is 'in God we trust', says Trumps and is greeted with cheers.
7:57am: "There has never been a better time to live the American dream. If you work hard, if you believe, you can achieve anything": Trump
7:55am: "Since we passed tax cuts, roughly three million workers have already gotten tax cut bonuses — many of them thousands and thousands of dollars per worker."
7:52am: We repealed the core of the disastrous Obamacare, the individual mandate is gone, says Trump.
7:50am: Americans will have a lot more pay to take home starting next month due to tax reforms, Trump says
7:49am: Unemployment rate is at a 45-year low. African American unemployment stands at lowest rate ever, and so does Hispanic levels.
7:48am: "We enacted the biggest tax cuts and reform in American history," says the US president.
7:46am: Trump says 2.4 million jobs have been created since his election and says wages are going up.
7:45am: Stock market has smashed one record after another, gaining $8 trillion in value.
7:44am: The state of our Union is strong because our people our strong, Trump tells Congress.
7:43am: Trump says not enough to come together in trying times. "These are the people we are elected to serve," he says, calling for colleagues to band together.
7:42am: "Tonight, I call upon all of us to set aside our differences, to seek out common ground, and to summon the unity we need to deliver for the people we were elected to serve," says Trump.
7:41am: Trump commends the actions of the "brave people of California" for tackling the wild fires. Says the country has faced some tough times this past year.
7:40pm: Trump begins his address.
7:30am: President Donald Trump arrives at Capitol Hill to deliver his first State of Union address session of the US Congress.