Madhes parties withdraw support to Nepal PM Prachanda, no threat to govt
Updated on Mar 17, 2017 02:17 PM IST
Nepal's Madhesi Morcha has withdrawn support to Prime Minister Pushpa Kamal Dahal "Prachanda" but there is no immediate threat to the government.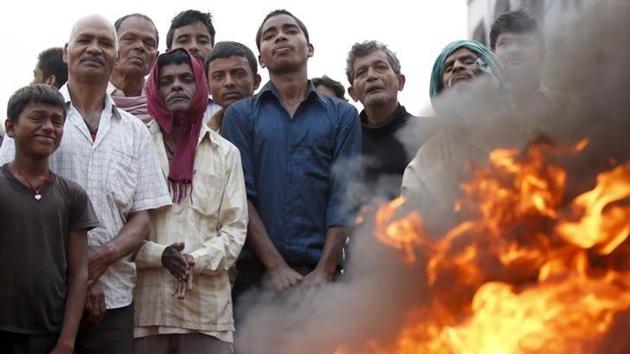 Hindustan Times, Kathmandu |
Anil Giri
The Madhesi Morcha, an alliance of seven political parties, withdrew support to the government of Prime Minister Pushpa Kamal Dahal "Prachanda" in Nepal after the expiry of a deadline for addressing its demands.
The Morcha, which had given the government time till Tuesday midnight to meet its demands, informed the Parliament on Wednesday of its decision to sit in the opposition.
The alliance from the southern Terai plains bordering India has 36 seats in Parliament. Despite its withdrawal of support, there is no immediate threat to the government.
Parliamentarian Mahendra Raya Yadav of the Tarai Madhes Loktantrik Party said support had been withdrawn as agreement signed with the government was not implemented. The Madhesi parliamentarians walked out of Parliament as a protest.
The Morcha had extended support to Prachanda's government in August 2016 after signing a three-point agreement, which included amending the Constitution to make it Madhes-friendly and payment of compensation to victims of violent protests in Madhes.
Last week, it threatened to withdraw support if its demands were not addressed in seven days. The Morcha has been protesting against Nepal's new Constitution since 2015.
Top Morcha leaders recently met Prachanda and handed over a memorandum listing their demands, including the scrapping of plans to hold elections to local government bodies on May 14.
Following the Morcha's ultimatum, Prachanda inducted the fourth largest party – Rastriya Prajatantra Party (RPP), which has 24 seats – into the ruling coalition to ensure that he could go ahead with the local polls. Madhes-based parties have already announced a boycott of the polls.
The Morcha felt betrayed by the government after Prachanda said the Constitution would be amended only after the polls.
Kamal Thapa, the RPP chairman who has been inducted as deputy prime minister, told reporters on Tuesday that he joined the government only after Prachanda assured him the Constitution would not be amended.
Thapa has warned that if the amendment process is put to a vote in the House, his party will vote against it and pull out its ministers from the cabinet.
Prachanda also met Madhesi leaders and proposed that a constitution amendment bill could be endorsed before the local polls if the issue of demarcating federal boundaries was left to a commission.
"The Prime Minister proposed to us to immediately pass the issues of citizenship, language and representation in the National Assembly incorporated in the bill and to deal with the demarcation issue after the local polls," said Mahantha Thakur, chair of the Tarai Madhesi Loktantrik Party.
The Madhesi leaders told Prachanda they would hold an internal meeting to decide about his proposal.
Close Story
Personalise your news feed. Follow trending topics