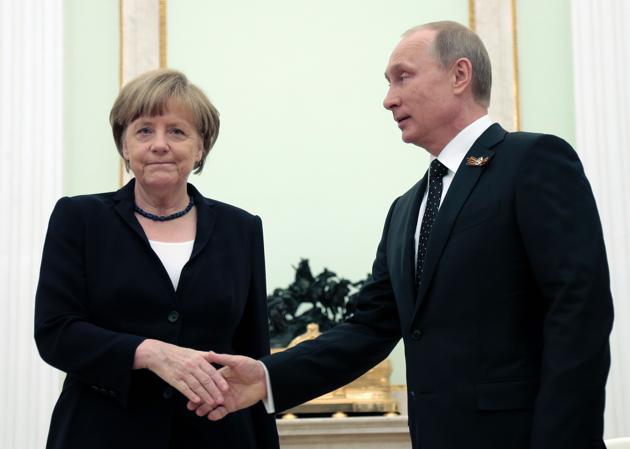 Merkel to hold Putin talks on rare Russia visit
Russia and Germany have scaled back links over the crisis in Ukraine, and Merkel's visit is expected to focus around the upcoming G20 summit in Hamburg .
Sochi, Russia | By Agence France-Presse
PUBLISHED ON MAY 02, 2017 03:07 PM IST
German Chancellor Angela Merkel will on Tuesday meet Russian President Vladimir Putin in the Black Sea resort of Sochi on her first visit to Russia since 2015, in a signal of renewed dialogue as deep strains remain over Ukraine.
The Russian and German leaders have scaled back links as Moscow's ties with the EU plunged to a post-Cold War low over the crisis in Ukraine.
Berlin has said the meeting will "above all" focus on the upcoming G20 summit in Hamburg in July and no major breakthroughs are expected on bridging the deep rifts between the two sides.
Merkel has strongly backed EU sanctions on Russia for seizing Crimea from Ukraine in 2014 and supporting the pro-Kremlin separatist insurgency in the east of the country. Moscow has responded with an embargo on agricultural products from the West, and a European-brokered peace plan to end the conflict has hit a dead end.
In her first official visit to Russia last week, EU foreign affairs chief Federica Mogherini insisted that cooperation between the two sides was "not frozen" but said that progress was hampered by profound disagreements on subjects including Ukraine and Syria.
Merkel's visit to Russia comes after Putin called for the countries' relations "to fully normalise", while meeting German foreign minister Sigmar Gabriel in March.
Merkel last visited Russia in May 2015 when she met Putin in Moscow but, like most Western leaders, snubbed a Red Square parade for the 70th anniversary of World War II victory.
The German leader has been the main mediator with Putin over the crisis in Ukraine. She is a key proponent of keeping sanctions on Moscow in place until a stalled peace plan to end the conflict in Europe's backyard is fulfilled.
Merkel and Putin have taken part in a number of four-way meetings, most recently last October, with Ukrainian President Petro Poroshenko and France's Francois Hollande aimed at implementing the plan the four countries hammered out in February 2015.
Last month, Merkel and Putin took part in a four-way phone conversation with Poroshenko and Hollande, agreeing to step up implementation of the peace deal.
"There are two topics that weigh down relations... the annexation of Crimea contrary to international law and then the destabilisation of eastern Ukraine by pro-Russian separatists," Merkel spokesman Steffen Seibert told journalists ahead of the visit.
Kiev and the West accuse Moscow of giving military support to the rebels in eastern Ukraine, a charge it denies. Seibert called this "a difficult context that one cannot ignore," but added that "our intention is to try to integrate Russia into constructive agreements".
Both sides have also said the talks will cover the conflict in Syria, where Putin's military backing for leader Bashar al-Assad has set him at odds with the West.
The Kremlin added that the visit would be an opportunity "to discuss the current state and prospects of bilateral relations".
Close