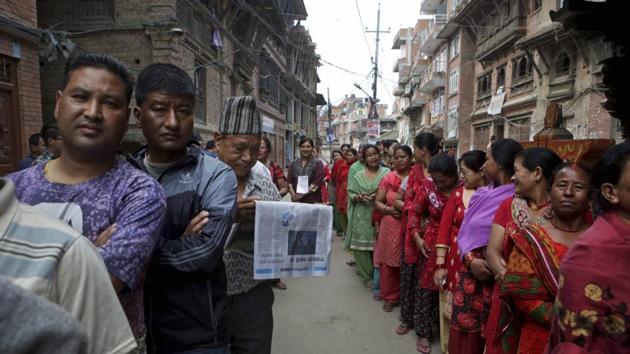 Nepal defers local elections to June 23
According to a cabinet decision, as per the demands of Madhesis, some electoral provisions will be amended fast so that they can register their parties and get their election symbols.
Hindustan Times, Kathmandu | By Anil Giri
, Kathmandu
UPDATED ON MAY 29, 2017 10:47 PM IST
The Nepal government on Monday deferred the second phase of elections to local bodies by nine days to June 23 to ensure the participation of agitating Madhes-based parties.
According to a cabinet decision, some electoral provisions will be amended speedily in line with the demands of the Madhesi parties so that they can register and get their election symbols.
But the government was silent on two key demands of the Madhesi parties — amendments in the new Constitution to make it more Madhes-friendly and inclusive, and increasing the numbers of local government units in the plains known as Terai.
After repeatedly failing to amend the Constitution, the government decided to add 22 more local units in the Terai region, a move subsequently stayed by the Supreme Court.
As their demands remain unfulfilled, it is still unclear if the Madhes-based parties will join the polls on June 23.
The cabinet also decided to request the Supreme Court to vacate its interim order against the government's decision to increase the local government units.
It was expected that increasing local administrative units in line with the population ratio would encourage the Madhes-based parties to join the polls, being held after two decades.
In its stay order on May 26, the apex court said the number and boundaries of local units cannot be revised after the announcement of the election date according to Clause 4 of the Local Level Election Act 2017.
The court's decision further angered Madesh-based parties that recently formed the Rashtriya Janata Party-Nepal (RJP-N), which was already enraged by the election commission's refusal to register it to participate in the local elections and provide it with an election symbol.
On Sunday, during a meeting between ruling and opposition parties and RJP-N , caretaker Prime Minister Pushpa Kamal Dahal "Prachanda" proposed deferring the polls.
The Sanghiya Gathabandhan, a unified group of six Madhes-based parties led by RJP-N, had announced various protest programmes aimed at foiling the June 14 elections. The alliance had been pressing the government to defer the date for the second phase of polls.
With the first round successfully held on May 14, clouds of uncertainty were hanging over the second phase to be held in 41 districts of four provinces.
Close