Pakistan Panama Papers case: Imran Khan demands PM Nawaz Sharif's resignation
Apr 20, 2017 06:13 PM IST
Pakistan's main opposition party led by Imran Khan has demanded the Prime Minister's resignation stating he has lost the 'moral right' to continue after the country's top court order a joint investigative team to look into allegations of corruption.
Pakistan opposition leader Imran Khan on Thursday demanded the resignation of Prime Minister Nawaz Sharif after a Supreme Court bench declared there was "insufficient evidence" to remove him from office on graft charges.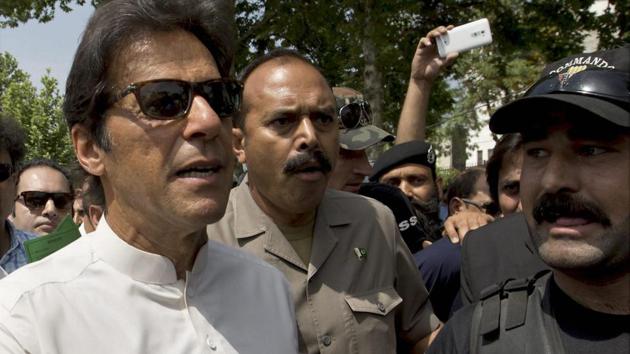 "I demand that Sharif should resign immediately as he has lost moral authority to rule the country," Khan, who heads the Pakistan Tehreek-e-Insaf, said at a press conference in Islamabad.
The Supreme Court on Thursday ruled there was insufficient evidence to order Prime Minister Nawaz Sharif's removal from office over corruption allegations levelled by the opposition and ordered further investigations.
Two of five judges on the court bench recommended that Sharif should step down but they were out voted.
The court ordered a joint investigation team (JIT) be formed to look into allegations around Sharif's children using offshore companies to buy properties in London.
The Supreme Court agreed last year to investigate the Sharif family's offshore wealth after Khan threatened street protests following the leaking of the "Panama Papers".
Documents leaked from the Panama-based Mossack Fonseca law firm appeared to show that Sharif's daughter and two sons owned offshore holding companies registered in the British Virgin Islands and used them to buy properties in London.
Sharif told parliament last year that his family wealth was acquired legally in the decades before he entered politics and that no money was siphoned off-shore.
Khan termed the verdict as indictment of Sharif as the bench did not absolve him of the allegations.
He said if Sharif is not ready to step down permanently, he should step aside for 60 days when JIT will investigate the money laundering allegations, as ordered by the court.
Khan said the court has rejected Sharif's defence that their properties in London were bought with clean money.
"The court has unanimously rejected a letter by Qatari prince (who said in the letter that he provided the money used to buy flats in London)," said Khan.
Khan also accepted the verdict and said his party has been vindicated that Sharif was involved in corruption.
A verdict to remove Sharif would have left his party in power but would, nevertheless, have sparked turmoil at a time when Pakistan is experiencing modest growth and improved security after years of violence, and the civilian government and powerful military have appeared to come to uneasy terms.
Police in riot gear surrounded the court in the capital, Islamabad, as it delivered its verdict and some protesters urged Sharif to step down with shouts of "Go Nawaz, Go Nawaz".