Pakistan's blasphemy laws: Fear and loathing for country's bloggers
Updated on Mar 24, 2017 08:03 AM IST
A growing online community that was gaining importance because of the self censorship practised by mainstream media, is now also being silenced.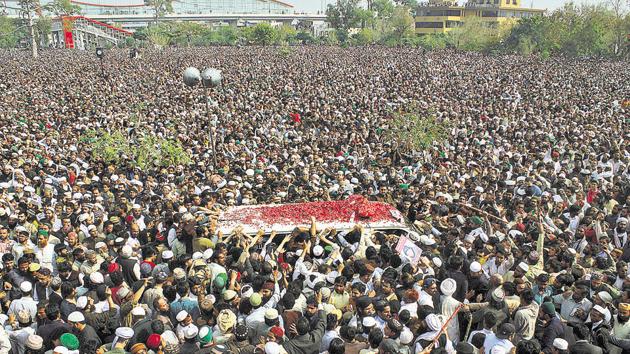 The Pakistan government has taken its fight against blasphemy to social media, with authorities now claiming Facebook officials will be arriving in the country to help security agencies trace those who are guilty of the offence online.
This has sent a wave of fear through the blogger community, with many insisting they will stop criticising the state or writing on religion.
The move came close on the heels of the detention of six bloggers, who were accused of blasphemy by certain quarters, forcing some of them to flee Pakistan after their release.
Blasphemy is serious business in Pakistan. More than a hundred people are charged with blasphemy every year, according to one estimate. While some victims of the draconian anti-blasphemy laws are non-Muslims, most of the accused have been Muslims.
Under the laws, blasphemy is an offence punishable by death, but no one has been executed on this charge so far. All those who have died were victims of vigilantes, who took the law into their own hands.
The most famous case was the murder of Punjab Governor Salmaan Taseer, killed by his own bodyguard, Mumtaz Qadri.
Qadri was hanged for his crime last year and since then, thousands have visited his grave while several thousands came out on the streets in March this year to commemorate his death.
"It is an irony that those who are accused of blasphemy see their lives coming to an end, while those who kill the alleged blasphemers become heroes overnight," said an observer.
Since the execution of Qadri, public debate on the blasphemy laws has come to a close.
"The manner in which Qadri was hailed as a hero and how the government took two steps back and let the hardliners dictate things has put most progressive elements on the defensive," said Talat Aslam, senior editor of The News daily.
Aslam noted that anyone who questions the blasphemy laws can himself be accused of blasphemy. "No one is taking any chances."
Social media, usually the exception to mainstream media, has now become the new battleground in Pakistan. What is interesting, say observers, is that anyone on social media who is perceived as critical of the state, particularly the powerful army, is now being accused of blasphemy.
"It is a very dangerous trend we are seeing, where people who are guilty of other transgressions are now being accused of blasphemy," said media analyst Ghazi Salahuddin.
Media observers said Pakistan's harsh cyber crime laws, introduced in 2016, have also helped in stifling online dissent. Many websites critical of the army and of the Inter-Services Intelligence agency have been blocked.
But the watershed moment may have been the abduction in January of the six prominent bloggers, whose websites were critical of the army's operations in Balochistan and the tribal areas. Not only were they abducted, they were accused of blasphemy by pro-army elements.
"In Pakistan, being accused of blasphemy is enough. That itself can get someone killed today or maybe some time from now. It's a death sentence that hangs on your head waiting for someone to execute it," said a rights activist who didn't want to be named.
Some rights activists, who asked not to be identified because of fear for their lives, said the bloggers were only criticising social injustices and identifying ills in Pakistan's powerful establishment, and their material was not intended to hurt any religious beliefs.
This month, Islamabad high court justice Shaukat Aziz Siddiqui – one of the country's most notorious judges who was also counsel for Mumtaz Qadri – ordered blasphemous content removed from social media and broke down in tears while issuing his ruling. His dramatics worked.
The government had to comply, and none other than Prime Minister Nawaz Sharif issued a statement that blasphemers would be dealt with an iron hand.
Siddiqui, however, appears to have a hidden agenda – he is being investigated by the Supreme Judicial Council for corruption and misuse of power. "Now no one will be able to touch him," a leading lawyer commented.
Soon after, the parliament passed a resolution condemning blasphemous material and authorised a special committee to suggest measures to block "sacrilegious and blasphemous" content on social media.
Prime Minister Sharif said he expected daily updates from officials and told them to contact international social media platforms, such as Facebook, to seek their cooperation. The government has requested help from Interpol to trace the sources of such content.
In all this, the biggest victim has been free speech. Under the garb of religion, free speech is being stifled in Pakistan. A growing online community that was gaining importance because of the self censorship practised by mainstream media, is now also being silenced.
"It is a tragedy of our own making," said Salahuddin.