Baloch, Sindhi leaders in London protest China-Pak corridor, rights violations
Aug 30, 2016 12:57 AM IST
Baloch and Sindhii leaders demonstrated against the China-Pakistan Economic Corridor and rights violations outside the Chinese embassy in London on Sunday.
Activists of UK-based Baloch and Sindhi groups held a demonstration against the China-Pakistan Economic Corridor (CPEC) and human rights violations outside the Chinese embassy here, demanding that the $46-billion project be called off.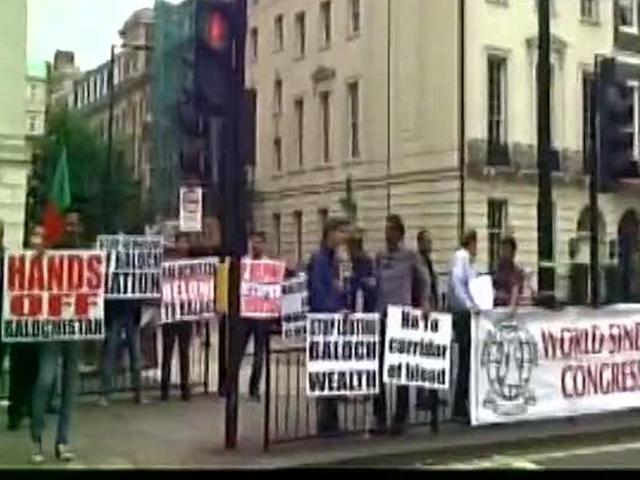 World Sindhi Congress chairman Lakhumal Luhana told Hindustan Times the massive trade and transit project was responsible for "gross human rights violations".
"It is a matter of life and death for us," Luhana said, adding there were no plans for rehabilitating thousands of people displaced by the CPEC. The project is being imposed by Islamabad but could not materialise without the people's consent, he said.
Sunday's protest at Portland Place – the latest of several in Pakistan and elsewhere in recent weeks – was organised by the World Sindhi Congress, Sindhi Baloch Forum, Baloch National Movement, Baloch Republican Party, Baloch Human Rights Council-UK, Baloch Students and Youth Association and Baloch Students Organisation.
"Prime Minister Narendra Modi for Balochistan" and "Kadam badhao Modiji hum tumhare saath hain" were among the slogans shouted during the protest. The protesters also shouted slogans such as "No to CPEC" and "Hai haq humara aazadi", ANI reported.
The CPEC, considered a part of China's One Belt, One Road initiative, covers Balochistan and Sindh provinces and Pakistan-occupied Kashmir. India has formally opposed the CPEC because it runs through PoK.
The activists said the project was causing much damage to the environment and would not benefit the people of the region. Holding placards, they alleged Balochistan's abundant resources were being diverted for the benefit of Punjab, Pakistan's most populous province.
A memorandum opposing the CPEC was sent by post to the Chinese embassy before the demonstration. It described Balochistan as an "occupied territory" and said the CPEC is aimed at "bringing demographic changes" in the province by settling 2.5 million people from other parts of Pakistan. It added the activists also feared a "large number of people will be settled from outside" in Sindh, making the Sindhis a minority.
The protest, the first jointly organised by Sindhi and Baloch groups, came days after Modi said during an all-parties meeting that Pakistan would have to answer for "atrocities" in Balochistan and PoK. He later said during his Independence Day speech that people in Balochistan and PoK had thanked him for raising the issue.
Modi's remarks focussed attention on the movement by Baloch nationalist leaders to highlight issues such as rights violations and enforced disappearances.
The CPEC, described as an economic "game-changer" by Pakistan and China, has strategic implications for India and Afghanistan. Pakistan's Gwadar port in Balochistan, developed with Chinese assistance, is a key part of the project.
The protesters said Baloch and Sindhis genuinely believe the CPEC will "strengthen and lengthen their subjugation", which they could not allow. Pakistani security agencies have intensified operations in Balochistan and Sindh to clean up for CPEC and are committing gross rights violations, they alleged.
Baloch activist Hakeem Wadela told ANI: "Pakistan wants to forcefully impose the CPEC on Balochistan. We are being shown as a minority community...whatever we are doing...it's for our basic rights."
Noordin Mengal, another Baloch activist, said: "They (China and Pakistan) want to snatch, scare and oppress. They are doing it today as well. Till the time they are getting benefited, they do not care about our lives. They do not care about us, nor do they have any sympathy for us."
(With inputs from ANI)
Read | Why PM Modi's Balochistan barb changes the India-Pakistan game
China will get involved if India foments Balochistan trouble: Chinese think tank