Prachanda's rise from Maoist to leader of Nepal
Nepal turns a new chapter in its tumultuous politics with the Parliament voting to elect the a new prime minister, and sole candidate Pushpa Kamal Dahal "Prachanda" will be returning to the post he held first in 2008.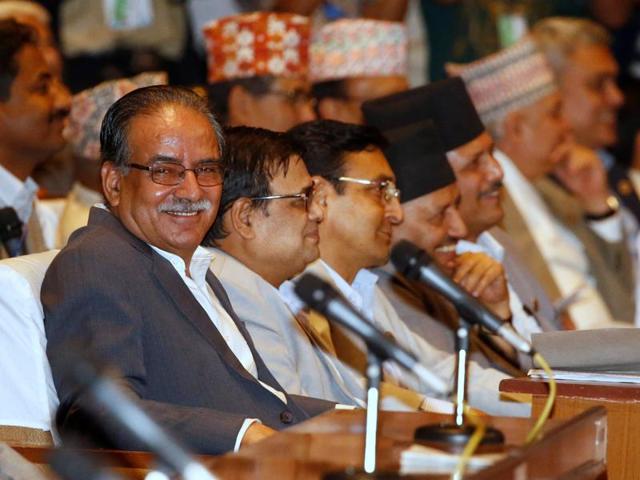 Updated on Aug 03, 2016 03:15 PM IST
Hindustan Times |
, Kathmandu
Anil Giri
Nepal turns a new chapter in its tumultuous politics, with the Parliament voting on Wednesday to elect a new prime minister, and sole candidate Pushpa Kamal Dahal "Prachanda" will be returning to the post he had held first in 2008.
The Maoist leader's life is intertwined with Nepal's often bloody history of inching towards democracy and shaking its past as a Himalayan kingdom.
Born into a simple lower-middle class family on December 11, 1954, in Kaski district, Prachanda was the first prime minister of Nepal Republic in 2008.
He holds a Bachelor's Degree in Agriculture and Animal Science. After college, he spent six years as a teacher, and later served at American development agency USAID for some time in western Nepal's Jajorkot, which was undergoing massive poverty and inequality.
The dire socio-economic conditions in Jajarkot inspired him to join politics, in order to help uplift the poor. On the other hand, due to lack of opportunity and weak economic condition of his own family and surroundings since his early childhood, he had already tilted towards left ideology and believed it can only bring changes in society.
He soon began working with the left leaning Pushpa Lal Group in 1972. The group was one of the most vibrant and dynamic communist groups in Nepal at the time and career communist cardre like Prachanda had found enough space for growth.
It is a sad aspect of Nepal's left movements that it always remain divided, taking on the names of Marx, Lenin and Mao, and describing themselves as Soviet style, Chinese style and so on.
For a career-oriented, educated and ambitious leader like Prachanda, the Puspa Lal Group was not suitable.
He formed Marxist Group in 1975 and later joined CPN (Fourth Convention) in 1978. With full-fledged membership of CPN (FC) in 1979, 'Prachanda' was elected as Chitwan district committee member in 1980.
He became a regional bureau member in 1982. In 1984, he became the president of All Nepal Youth Association, which soon led to his elevation to the party leadership. In 1985, he was elected as central member of CPN (Masal)'s 5th General Convention. Shortly afterwards, he became the party's politburo member.
After the party split in 1986, 'Prachanda' sided with Mohan Baidya 'Kiran'. The Sector Incident of 1989 forced Kiran to resign, making way for Prachanda to lead the party in 1990 as general secretary. He is the party head since then.
He became the general secretary of CPN (Unity Center) in 1992 and general secretary of CPN (Maoist) in 1995. The Second General Convention of the CPN (Maoist) elected him as the party chairman in 2001 and he has held the position to date even after the party was converted to UCPN-Maoist.
'Prachanda' led the armed revolution in 1996 and also became the supreme commander of the People's Liberation Army.
Submitting a 40-points demands to the then prime minister Sher Bahadur Deuba, Prachanda's CPN(Maoist) declared a 'people's war' on Feburary 4, 1996 and started looting weapons of policemen posted in rural Nepal.
The Maoists started blowing up police posts and terrorising the people and gradually expanded its military and political clout across rural Nepal. People from backward communities and ethnic minorities extended support to the Maoists.
The deterioration of Kathmandu politics in the wake of the Royal massacre of 2001 came as a panacea to the Maoists.
Prachanda led the bloody civil war for 10 years, during which over 13,000 people were killed, over 1000 disappeared, and thousands were displaced.
Ending his 25-year long underground life, 'Prachanda' made a public appearance at Baluwatar, the prime minister's residence, on June 16, 2006 with his deputy, Baburam Bhattarai.
Once a wanted man for revolting against the state, Prachanda became the prime minister of Nepal on August 18, 2008 and remained in office till May 25, 2009.
Prachanda and his aides were never stopped giving rants that they joined the over ground politics to capture the state through the legal means.
As premier, Prachanda saw the Chief of Army Staff Rookmangud Katwal as a major obstacle for his rise to power. He decided to sack Katwal, who was later reinstated by the president Ram Baran Yadav. In the wake of the political crisis that ensued, Prachanda resigned from the post of prime minister.
He started blaming India for all internal political changes in Nepal. His party started splitting. At present, Prachanda is heading CPN(Maoist Center). Between 2011 and 2015, Prachanda's Maoist party, once the largest, split into four different groups.
With the split, his party could not do well in the second Constituent Assembly elections in 2013 and was relegated to the third position. Prachanda alleged rigging of elections, but later accepted the results.
Prachada is known for living a lavish life. When he became prime minister in 2008, he was widely criticised for purchasing and sleeping in a bed that cost 100,000 rupees. For a proletariat and communist leader who fought for equality and ending poverty for four decades, sleeping in a such an expensive bed was seen as a joke.
Fond of Blue Label whisky, Prachanda was also criticised for wearing an expensive Swiss Rado watch.
Often his party activists and leaders have criticised him for such opulence and accumulating billions of rupees in wealth. The party even formed a probe committee to find out the status of corrupt leaders but its report was never made public.
Prachanda is married to Sita Dahal. They have three daughters and a son.
He has also written book on Nepalese society and politics. He still faces cases on his involvement in killings of people during the armed conflict.
Close Story
Personalise your news feed. Follow trending topics