Rahul Gandhi leaves wonks, experts surprised, impressed at Washington DC
"Most of us were pleasantly surprised," said a person who attended a meeting with the Congress vice president.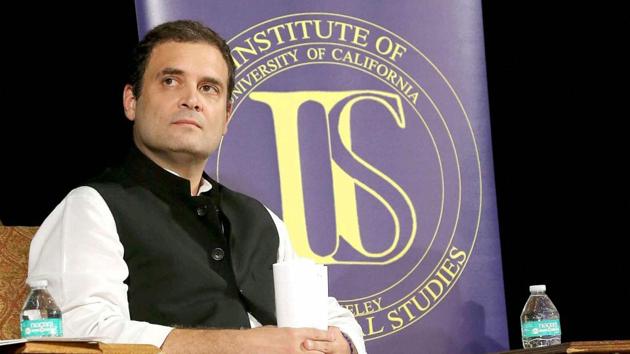 Updated on Sep 20, 2017 09:53 AM IST
Hindustan Times, Washington |
, Washington
Yashwant Raj
Most of the attendees at Rahul Gandhi's meetings in Washington DC had gone expecting a man they had come to know through news reports or otherwise, but found him either "very impressive" or "much more substantive than imagined" or as someone who "spoke very cohesively".
The Congress vice-president met a range of standard Washington DC policy experts, political strategists and a few lawmakers — all hard-nosed individuals who are not easy to impress — at a string of closed-door meetings on Monday, at the start of the second leg of his US tour that kicked off last week with an interaction with students at a California university.
"I have known him and seen him for a while and he seemed much in charge of himself and his facts," said one of those who heard Gandhi on Monday, on condition of anonymity because the meeting was supposed to be private. "He spoke very cohesively and … (made) pretty good points in a forceful manner."
"Most of us were pleasantly surprised," the person added, noting he did not want to sound or appear patronizing. He was genuinely impressed and wanted to convey his feelings accurately.
Another person, a former official, said "he was better than" he had heard he was and "much more substantive than I (had) imagined".
The Congress leader's visit to the United States was planned as the start of a "new conversation" by the party with the larger goal of representing a leader widely misunderstood and wrongly defined by a "machine", as Sam Pitroda, a friend of Gandhi's father and the man who ushered India's telecom revolution Rajiv Gandhi, described the apparatus deployed by the rival party, BJP, which is currently holding power in India.
Gandhi did not complain directly about this mischaracterisation of him at any of his meetings, but may have alluded to it, according to one of those present, while talking generally about the "dangers of social media".
Gandhi started with a meeting at the liberal leaning Center for American Progress, attended by its founder John Podesta, adviser to former presidents Bill Clinton and Barack Obama who headed Hillary Clinton's 2016 election campaign; Neera Tanden, a veteran of two Democratic White Houses, and former US ambassadors to India, Tim Roemer and Richard Verma.
The Congress leader also had a meeting with the US-India Business Council, an advocacy group promoting stronger business ties between the two countries, and then another one with a group of conservatives, organised by the Heritage Foundation and American Foreign Policy Council.
Republican senator Corey Gardner dropped by during this meeting, and invited Gandhi to his home-state Colorado and the Congress leader reciprocated with an invitation to India.
This meeting was attended by Ashley Tellis, who is considered the dean of America's South Asia experts, Anish Goel, former South Asia head in the Obama-led White House and who now heads the South Asia desk of US senate's powerful armed services committee, and Republican strategist Puneet Ahluwalia.
"I found him very substantive on policy," said one of those who attended. "That was surprising because most politicians like to talk only about manoeuvres, political alliances and coalitions."
Gandhi spoke about economic development, India-China relations, "recent Chinese activities in the region" and his "vision for how to deal with it".
The Congress leader also met the editorial board of The Washington Post for an off-the-record interaction, and will be engaging another DC think-tank, Atlantic Council, where Congress spokesperson Manish Tewari is an associate, on Tuesday before he heads out to his next engagement.
And that is in New Jersey state's Princeton University, an Ivy league institution, where Gandhi will meet students in an interaction similar to the one in University of California, Berkeley, where he set the tone for a visit that has paid well for him both in the United States and, more importantly, in India.
Gandhi will be in New York on Wednesday for the finale of his tour: a meeting with Indian Americans at a hotel in Times Square. An estimated 3,000 people are expected to attend.
Also Read: Rishi Kapoor trolled for slamming Rahul Gandhi. Here's how the actor responded
Close Story