Somalia: Suicide attack on Mogadishu hotel claimed by al Shabaab
The Somalia-based extremist group al-Shabab often targets high-profile areas of Mogadishu.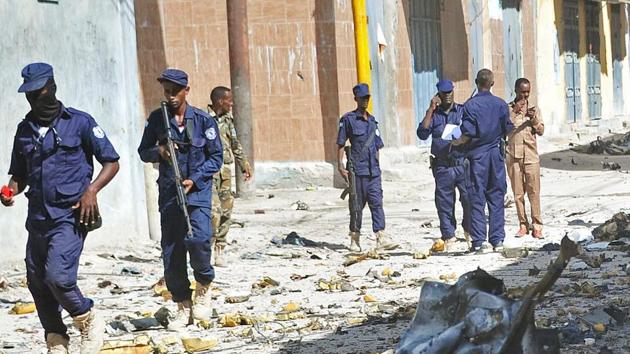 Updated on Jun 15, 2017 12:14 AM IST
A suicide bomber rammed into a hotel in the centre of the Somali capital Mogadishu on Wednesday, police and witnesses said, in an attack claimed by militant Islamist group al Shabaab.
Gunfire followed the attack on the Posh Hotel, the only venue with a discotheque in the capital, a Reuters witness said.
Witnesses said the whole district was cordoned off by police, and that sporadic gunfire could still be heard.
"The suicide car bomb targeted its entrance. There is gunfire inside the hotel, but I am not sure if fighters are inside," Moahmed Hussein, a police officer, said.
Gunmen stormed a restaurant adjacent to the hotel, another police officer said, but was unable to provide details.
Al Shabaab, which has carried out a campaign of suicide bombings in its bid to topple the Somali government and impose its strict interpretation of Islam, claimed responsibility.
"A mujahid (fighter) with his suicide car bomb martyred himself after he rammed into Posh Hotel, which is a nightclub. The operation goes on," Abdiasis Abu Musab, the group's military spokesman, told Reuters
Since losing large swathes of territory to African Union peacekeepers supporting the government, the group has frequently launched raids and deadly attacks in Mogadishu and other regions controlled by the federal government.
Somalia has been at war since 1991, when clan-based warlords overthrew dictator Siad Barre and then turned on each other
Capt. Mohamed Hussein said there was confusion over whether gunmen had fought their way inside after the blast and whether a hostage situation was underway at the Pizza House restaurant.
The Somalia-based extremist group al-Shabab often targets high-profile areas of Mogadishu, including hotels, military checkpoints and areas near the presidential palace. It has vowed to step up attacks after the recently elected government launched a new military offensive against it.
Al-Shabab last year became the deadliest Islamic extremist group in Africa, with more than 4,200 people killed in 2016, according to the Washington-based Africa Center for Strategic Studies.
The extremist group also faces a new military push from the United States after President Donald Trump approved expanded operations, including airstrikes, against al-Shabab. On Sunday, the US military in Africa said it carried out an airstrike in southern Somalia that killed eight Islamic extremists at a rebel command and logistics camp.
Somalia President Mohamed Abdullahi Mohamed confirmed that airstrike and said such attacks would disrupt the group's ability to conduct new attacks.
With a new federal government established, pressure is growing on Somalia's military to assume full responsibility for the country's security. The 22,000-strong African Union multinational force, AMISOM, which has been supporting the fragile central government, plans to start withdrawing in 2018 and leave by the end of 2020.
Also Wednesday, the UN Security Council unanimously adopted a resolution extending the UN political mission in the Horn of Africa nation, which is trying to rebuild after more than two decades as a failed state, until March 31, 2018. The resolution recognised that "this is a critical moment for Somalia."
Close Story