Turkey detains 1,000 in crackdown on alleged Gulen supporters
Apr 26, 2017 04:13 PM IST
Turkey on Wednesday detained over 1,000 suspects in a massive new crackdown on alleged supporters of US-based Muslim cleric Fethullah Gulen
Turkey on Wednesday detained over 1,000 suspects in a massive new crackdown on alleged supporters of US-based Muslim cleric Fethullah Gulen, a week after President Recep Tayyip Erdogan won a referendum on ramping up his powers.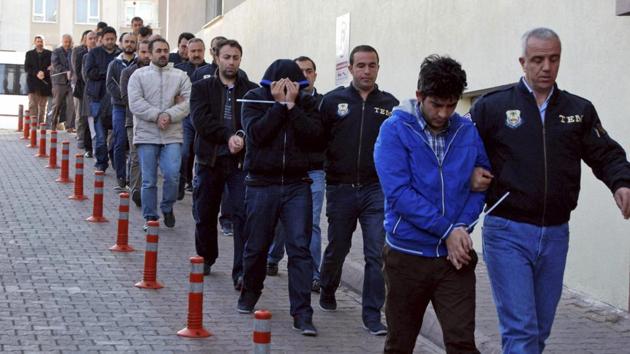 A total of 1,009 suspects have so far been detained in raids in 72 provinces across the country, Interior Minister Suleyman Soylu was quoted as saying by the official Anadolu news agency.
Gulen is blamed by the Turkish authorities for masterminding the July failed military coup that aimed to oust Erdogan from power but he denies the charges.
Some 8,500 police officers were involved in the nationwide operation, Anadolu reported, adding that arrest warrants had been issued for 390 suspects in Istanbul alone.
Indicating that the numbers detained were set to rise, Soylu said the raids were continuing.
"It is an important step for the Turkish Republic," he added.
The raids come shortly after Erdogan won a key referendum on April 16 that approved consitutional changes expanding his powers, in a tighter-than-expected result.
The 'Yes' camp won 51.41 percent of the vote but opponents claim the result would have been reversed in a fair poll.
Turkey accuses the Hizmet (Service) movement Gulen leads of being a "terror organisation" although the group insists it is a peaceful organisation promoting moderate Islam.
The government has repeatedly asked the United States to extradite Gulen, who has been living in exile there since 1999.
Some 47,000 people have already been arrested in Turkey under a nine month state of emergency in place since the coup bid, a crackdown whose magnitude has raised alarm in the West.
The Turkish parliament just ahead of the referendum extended the state of emergency by another three months to July 19.