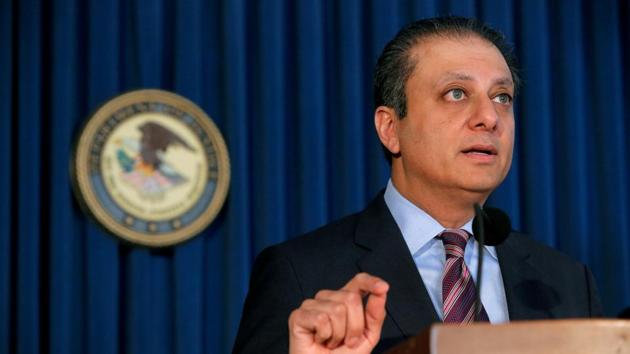 US attorney Bharara charges Pakistani man in $140-mn fake diploma mill scam
US attorney Preet Bharara has charged a Pakistani executive for his role in a $140-million "fake diploma mill" scam that allegedly defrauded thousands of people around the world, including Indians.
UPDATED ON DEC 22, 2016 08:38 PM IST
US attorney Preet Bharara has charged a Pakistani executive for his role in a $140-million "fake diploma mill" scam that allegedly defrauded thousands of people around the world, including Indians.
Umair Hamid, 30, who served as "assistant vice president of international relations" of Pakistan-based Axact, was charged for conspiracy to commit wire fraud and aggravated identity theft in connection with the scam that collected "at least approximately $140 million from tens of thousands of consumers".
The fake diploma scam operated by Axact was exposed by The New York Times in May 2015, triggering investigations in the US and Pakistan. American authorities arrested Hamid, who used the aliases Shah Khan and Shah, on December 19 and presented him in federal court on Wednesday.
"As alleged, while promising the rewards of a higher education, Umair Hamid was actually just peddling diplomas and certifications from fake schools. Hamid allegedly took hefty upfront fees from young men and women seeking an education, leaving them with little more than useless pieces of paper," Bharara said.
FBI assistant director William Sweeney Jr said: "Thousands of people's hopes were crushed as this alleged diploma mill scheme came crashing down. Victims took at face value the lies Hamid and his co-conspirators are alleged to have sold them. Today, we're rewriting the lesson plan."
Hamid, who belongs to Karachi, could face up to 20 years in jail for charges of conspiracy to commit wire fraud. The investigation into the scam in the US is being jointly conducted by the FBI, the US Postal Inspection Service and the justice department.
Executives and call centre employees of Axact allegedly "made false and fraudulent representations to consumers on websites and over the phone to trick them into enrolling in purported colleges and high schools, and issued fake diplomas upon receipt of upfront fees from consumers", the justice department said in a statement.
In Pakistan, authorities launched an investigation against Axact, which started as a software company, soon after the expose by the Times. Investigators raided Axact offices and arrested several people, including the firm's CEO Shoaib Shaikh. In August this year, Shaikh and 14 others were granted bail by a court in Karachi and he was acquitted in a separate money laundering case for lack of evidence.
The initial expose had revealed how Axact allegedly scammed thousands of people, including an Indian accountant in Abu Dhabi who paid more than $30,000 for a fake online master's programme in business administration, a fake English language training certification and a "State Department authentication certificate" allegedly signed by secretary of state John Kerry.
The US justice department alleged Hamid and others from Axact "made misrepresentations to individuals across the world, including throughout the United States and in the Southern District of New York, in order to dupe these individuals into enrolling in supposed high schools, colleges, and other educational institutions".
Consumers paid upfront fees to Axact but "did not receive any legitimate instruction and were provided fake and worthless diplomas".
The scale of the scam was unprecedented. According to the justice department, Axact promoted and claimed to have an affiliation with about 350 fictitious high schools and universities, which it advertised online.
"During certain time periods since 2014, Axact received approximately 5,000 phone calls per day from individuals seeking to purchase Axact products or enroll in educational institutions supposedly affiliated with Axact," the statement said.
Once consumers paid for a certificate or diploma that "falsely reflected a completed course of study, Axact sales agents were trained to use sales techniques to convince the consumer that the consumer should also purchase additional 'accreditation' or 'certifications' for such certificates or diplomas in order to make them appear more legitimate", it added.
The justice department said Hamid, while based in Pakistan, was allegedly involved in "managing and operating online companies" that falsely claimed they were educational institutions. He also allegedly opened bank accounts in the US in the names of shell entities that received funds transferred by consumers for fake diplomas.
Hamid then allegedly transferred these funds to bank accounts associated with other entities located in the US, the United Arab Emirates, and Canada.
Close