US House passes bill seeking enhanced defence ties with India
Jul 15, 2017 08:36 PM IST
The National Defense Authorisation Act was passed by the US House of Representatives after an amendment moved by Indian-origin lawmaker Ami Bera.
The US House of Representatives passed a legislation on Friday that authorises a budget of $696 billion for American defence forces for the year 2018 and, separately directs the administration to evolve ways to advance defence ties with India.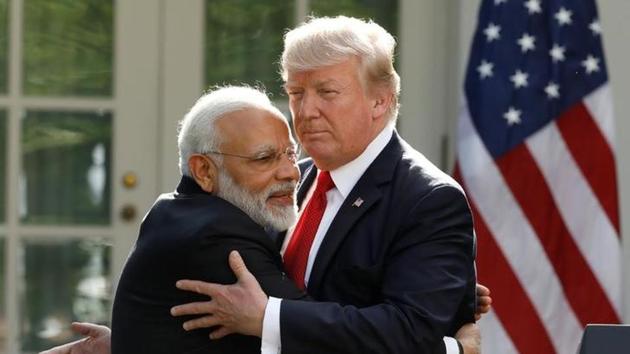 The legislation, called the National Defense Authorization Act (NDAA) 2018, was passed with bipartisan support and will be reconciled with a bill that the US senate will pass before a combined legislation is sent for President Donald Trump's signature.
After its enactment, the secretaries of state and defence will have 180 days to evolve a strategy to advance defence cooperation between the United States and India, according to a provision added to the bill by Indian origin lawmaker Ami Bera.
"It is vitally important to develop a strategy that advances defence cooperation between our two nations," Bera, a Democrat who is the vice-ranking member of House foreign relations committee, said in a statement.
"I am grateful this amendment (was) passed and look forward to the defence department's strategy that addresses critical issues like common security challenges, the role of partners and allies, and areas for collaboration in science and technology."
The NDAA is the United States' annual defence budget but the omnibus legislation can typically address many related issues included through amendments moved by lawmakers individually or in groups, each of which are voted upon for final passage.
The NDAA 2017, for instance, had included a provision that included a direction to the administration to declare India a "major defence partner", to enhance military-to-military ties and defence trade between the two countries.
The Barack Obama administration had already designated India a "major defence partner" by then, giving it access to defence equipment and technology — including for joint production and development — that the US shares only with its closest allies.
But legislative backing for the designation was seen as an expression of bipartisan support in congress for enhanced defence ties with India and also to lock all future administrations to it, unless it was expressly repealed by another bill.
The Trump administration has already said it was committed to treating India as a "major defence partner", as stated in a joint statement after the June meeting between Prime Minister Narendra Modi and Trump.
"The United States and India look forward to working together on advanced defence equipment and technology at a level commensurate with that of the closest allies and partners of the United States," the joint statement had said.
Reflecting this continued commitment, the administration cleared the sale of 22 Sea Guardian Unmanned Aerial Systems, making India the first foreign buyer of the sophisticated naval drones.