Strikes in Syria aggression against sovereign state, blow to US-Russia ties, says Kremlin
The main ally of Syrian President Bashar al-Assad was robust in its opposition to the strike.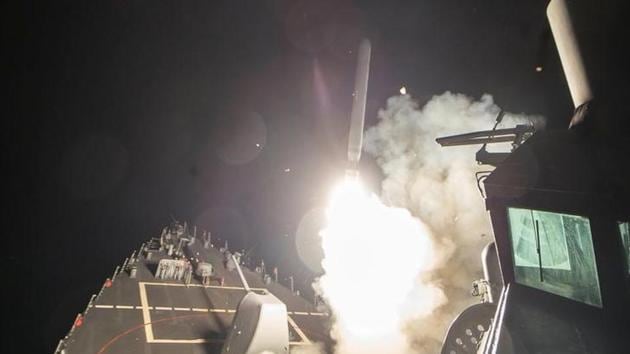 Updated on Apr 08, 2017 09:26 AM IST
Moscow considers the US strike on a Syrian airbase early on Friday as "aggression against a sovereign state," which will further harm US-Russia ties, Kremlin spokesman Dmitry Peskov said.
"President Putin considers American strikes on Syria aggression against a sovereign state in violation of international norms, and under an invented pretext," Peskov was reported as saying by Russian agencies.
US President Donald Trump ordered a massive military strike on a Syrian air base, in retaliation for what he said was a "very barbaric attack" on Tuesday that is suspected to have contained a nerve agent.
"The Syrian army does not have any chemical weapon stockpiles," added Peskov. "The fact of destruction of all chemical weapon stockpiles of the Syrian armed forces was recorded and confirmed by the (Organisation for the Prohibition of Chemical Weapons)."
"This step by Washington inflicts considerable damage to US-Russia relations, which are already in a lamentable state," Peskov added.
A White House official said 59 precision-guided Tomahawk missiles hit the Shayrat airfield, from where the US believes the attack was launched. A monitoring group said the base was nearly destroyed with four soldiers killed.
Iran also said it "strongly condemns" the US air strike on the Syrian government airbase .
"We condemn all unilateral military action and the missile strike by US warships against Shayrat airbase under the pretext of Tuesday's suspected attack on Khan Sheikhun," foreign ministry spokesman Bahram Ghassemi said.
Iran with Russia is the closest ally of the regime of Syria President Bashar al-Assad and has provided money, weapons, military advisers and trainers, as well as volunteer militiamen to support it in the six-year civil war.
Close Story