A look at the fate of Gaddafi's family
Updated on Nov 20, 2011 10:09 AM IST
Libya's leader of nearly 42 years, Muammar Gaddafi was captured and killed by revolutionary forces in his hometown of Sirte. Let's have a look at the fate of key members of his family.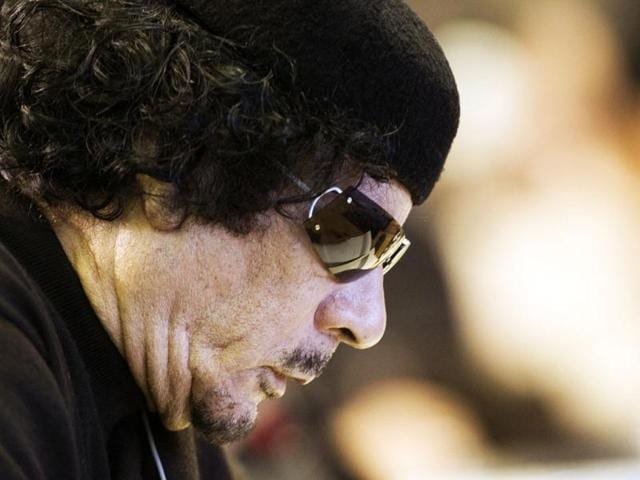 A look at the fate of key members of ex-Libyan leader Muammar Gaddafi's family:
Killed:
Muammar Gaddafi: Libya's leader of nearly 42 years was captured by revolutionary forces in his hometown of Sirte. Libyan officials initially said Gaddafi was killed in crossfire between revolutionary fighters and loyalists. However, video footage emerged showing him being beaten, taunted and abused by his captors, raising questions about how and when he died. His body was later put on public display in the nearby city of Misrata until he was buried in a secret location.
Muatassim Gaddafi: Formerly the regime's national security adviser, Muatassim was shot to death after he was found hiding with his father in Sirte. His body also was put on display alongside Muammar Gaddafi and ex-defense minister Abu Bakr Younis. A former bodyguard has said Gaddafi and his son traveled to Sirte shortly after fleeing Tripoli when the Libyan capital fell to revolutionary forces. Mansour Dao said Muatassim led loyalist fighters in the besieged city.
Khamis Gaddafi: The former commander of one of the regime's strongest military brigades, Gaddafi's son Khamis was reportedly killed in a clash in August.
Military officials have said they believe he was buried in Bani Walid, which was one of the last cities to fall to revolutionary control. He was pursuing an MBA in Spain when he was expelled for his role in attacks on Libyan protesters in the months leading up to Gaddafi's ouster.
Seif al-Arab Gaddafi: Seif al-Arab was reported to be 29 when Libyan authorities said Gaddafi's son and three of the leader's grandchildren were killed in an April 30 Nato airstrike in Tripoli. He was a businessman who lived for some time in Germany, where he was investigated but never charged in an illegal weapons possession case.
Captured:
Seif al-Islam Gaddafi: Gaddafi's second eldest son and the first by his marriage to second wife Safiya, Seif al-Islam was captured by revolutionary forces deep in Libya's southern desert. The British-educated 39-year-old was taken to the mountain city of Zintan where authorities promised he would be treated humanely. The Netherlands-based international criminal court has charged him with crimes against humanity and discussions were under way over where he should face trial.
Fled:
Hannibal Gaddafi: Gaddafi's son Hannibal was briefly arrested in 2008 for allegedly beating up two servants in a Geneva luxury hotel, sparking a diplomatic spat that dragged on for months. In 2005, a French court convicted Hannibal of striking a pregnant companion in a Paris hotel. He was given a four-month suspended prison sentence and a small fine. He fled to Algeria after Tripoli fell with his mother and several other relatives.
Al-Saadi Gaddafi: Known for his love of professional soccer, Gaddafi's son al-Saadi reportedly had a colorful past that included run-ins with police in Europe, drug and alcohol abuse. A man identifying himself as al-Saadi said he was ready to negotiate with the rebels to stop the bloodshed as fighting raged despite the fall of Tripoli. His conciliatory tone contrasted with a defiant statement attributed to Seif al-Islam on the same day. Al-Saadi fled to Niger in September, and the government there gave him refugee status.
Mohammed Gaddafi: In his early 40s, Mohammed is the only child of Gaddafi and his first wife, Fatiha. He was Libya's Olympic chief and was involved in the country's telecommunications industry. The rebels reported capturing him after they moved into Tripoli, and soon after said he had escaped from house arrest. He married in 2000. He was among Gaddafi's children who fled to Algeria.
Aisha Gaddafi: A lawyer in her mid-30s, Aisha helped in the defense of Saddam Hussein, Iraq's toppled dictator, in the trial that led to his hanging. During a 2000 visit to London, Aisha delivered an impromptu speech praising the Irish Republican Army at Speakers' Corner in Hyde Park. Gaddafi's daughter had been a goodwill ambassador for the UN Development Program, but the UN ended its agreement with her as Gaddafi cracked down on anti-government protesters. She gave birth on the border as the family members fled to Algeria.
Safiya Gaddafi: Safiya was a teenage nursing student when she met Gaddafi soon after he took power in 1969. He ended up divorcing his first wife and marrying her. The couple had six sons and one daughter together and adopted two more children. She was among the group that fled to Algeria.
Unconfirmed:
Hana Gaddafi: One of Gaddafi's adopted children, the Libyan leader claimed she died as an infant in the 1986 US airstrike that hit his Tripoli compound, Bab al-Aziziya. The airstrike was in retaliation for the Libyan-sponsored bombing of a Berlin nightclub earlier that year that killed two US servicemen. At the time, Gaddafi showed American journalists a picture of a dead baby he said was Hana. But Libyan rebels who took over Bab al-Aziziya found a room in Gaddafi's home with Hana's birth certificate and pictures of a young woman with the name Hana written on the back, possible indications that she lived well beyond infancy. Tripoli hospital officials also say Hana worked as a surgeon. Her whereabouts is unknown.
Personalise your news feed. Follow trending topics