Iran polls: Voters come out in large numbers to shape post-sanctions era
Feb 27, 2016 01:39 AM IST
Millions of Iranians voted in high-stake elections on Friday that could shift the balance of power within the hardline-controlled Islamic elite by ushering in a reformist comeback or help conservatives tighten
Millions of Iranians voted in high-stake elections on Friday that could shift the balance of power within the hardline-controlled Islamic elite by ushering in a reformist comeback or help conservatives tighten their grip on power.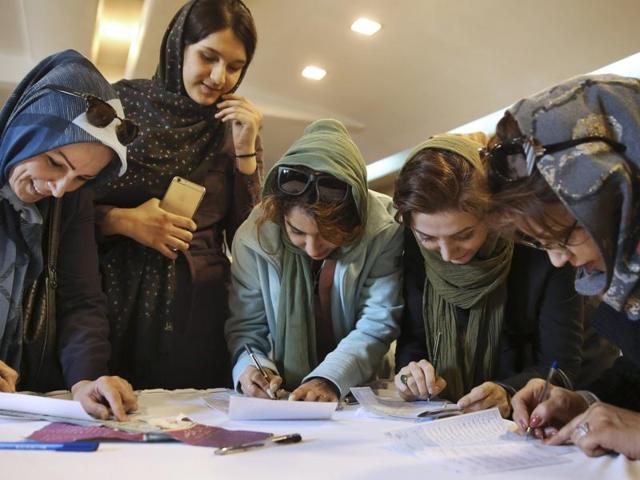 The contest is seen by some analysts as a make-or-break moment that could shape the future for the next generation, in a country where nearly 60% of the 80 million population is under 30.
There were early signs of enthusiastic participation in the first polls since a nuclear deal last year led to a lifting of sanctions and deeper diplomatic engagement abroad.
Long queues formed at polling stations in the capital and state television showed voters lining up in huge numbers in Ahvaz and Shiraz. It was unclear how the turnout might shape the outcome.
"Whoever likes Iran and its dignity, greatness and glory should vote. Iran has enemies. They are eyeing us greedily," Supreme Leader Ayatollah Ali Khamenei said after casting his ballot, in a reference to Western powers.
"Turnout in the elections should be so high to disappoint our enemies ... People should be observant and vote with open eyes and should vote wisely."
At stake is control of the 290-seat parliament and the 88-member Assembly of Experts, the body that has the power to appoint and dismiss the supreme leader, Iran's most powerful figure. Both are currently in the hands of hardliners.
Looking for more freedom
As the day went on, Iranians waited patiently in long lines outside polling stations to cast ballots, with whole families coming together with their young children.
In Tehran, Mahshad Amiri, 33, an architect waiting to vote, said reformists allied to President Rouhani had a clear strategy of economic development and openness to the world.
"We're looking for more freedom, culture, art, human rights and for better rights for our women," he said.
Marjohan Ranjbag, 36, a mother of two, said she preferred the conservative camp. "I have done my research and decided to vote for the principlists (hardliners), they are the best and care for the wellbeing of the people," she said.