Pakistan: Ex-general to replace Sartaj Aziz as new NSA
Oct 19, 2015 09:05 AM IST
Pakistan is about to appoint a former general as national security advisor, tightening the powerful military's control over security policy and negotiations with India, officials said Sunday.
Pakistan is set to appoint a former army general as national security advisor, tightening the powerful military's control over security policy and negotiations with India, officials said Sunday.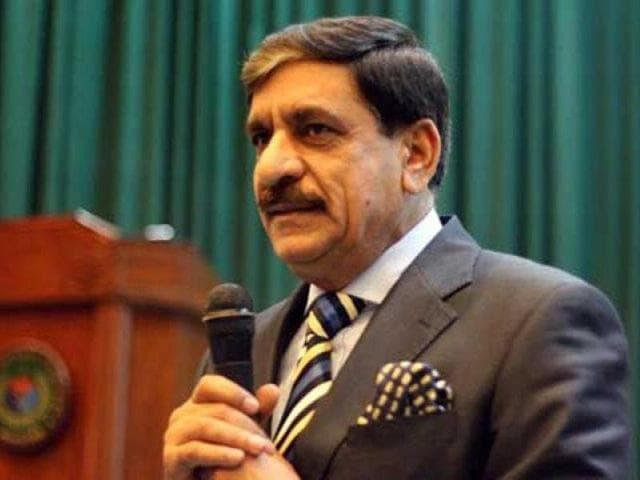 Lieutenant general Naseer Khan Janjua, who retired from the military this week, will be appointed national security advisor soon and will accompany Prime Minister Nawaz Sharif on his trip to the United States next week, one military official and two civilians said.
The post is currently held by Sartaj Aziz, a civilian who is a close ally of Sharif. Aziz also holds the portfolio for foreign affairs.
"The army chief feels that Sartaj Sahib's attention is divided," a military source said. "So it has been decided that General Janjua will be appointed the national security adviser and Sartaj Aziz can give his full attention to the foreign office."
"This is not about the PM conceding to the army chief or the army being a bully, not at all. This is about both sides deciding together."
A military spokesman declined to comment.
Sharif has had rocky relations with Pakistan's powerful military, who deposed him in a 1999 coup during a previous term as prime minister.
He swept into office again in 2013 vowing to improve relations between Pakistan and India, two nuclear-armed rivals who have fought three wars since becoming separate nations in 1947.
Cooling relations
But many in the military remain deeply suspicious of India, and Sharif has had to reign in his ambitions. Domestic political protests last year forced him to rely more heavily on the military for stability, and India elected hawkish nationalist Narendra Modi as prime minister.
"The army had advised the PM against engaging Modi but he (Sharif) had insisted that he would pursue peace talks," the official said. "He is very disappointed by Modi's response and he has realized that perhaps the advice he got then was correct."
A senior minister in Sharif's cabinet said the army chief had pushed Janjua's appointment "for many months," although Nawaz had preferred to keep his own man, Aziz.
"Now the army chief has convinced the prime minister that the military and the government must ... work together," the minister said.
Janjua's appointment follows cooling relations between Pakistan and India, who were due to hold talks in August but cancelled after India said it wanted to limit the scope of the talks to Pakistan's support for militancy on Indian territory and Pakistan insisted on more wide-ranging discussions.
"General Janjua will go to Afghanistan for talks. He will go to the U.S. And yes, when Pakistan-India (national security advisor) level talks resume, it will be General Janjua at the table," the military official said.
Two senior government officials said that Janjua was respected for his previous posting in Baluchistan, a poverty-stricken province with a raging separatist insurgency and widespread reports of human rights abuses by security forces.
Before that, Janjua was president of the National Defence University, the military's higher education institute and premier think-tank on national security matters.
He also worked on 'Azm-e-Nau,' a military preparedness exercise that had a particular focus on India.