Saw Jet Star, a baby born on plane and named after Singaporean airliner
A baby boy, named Saw Jet Star, was delivered safely onboard 3K583 after the Jetstar flight landed in Yangon on April 22.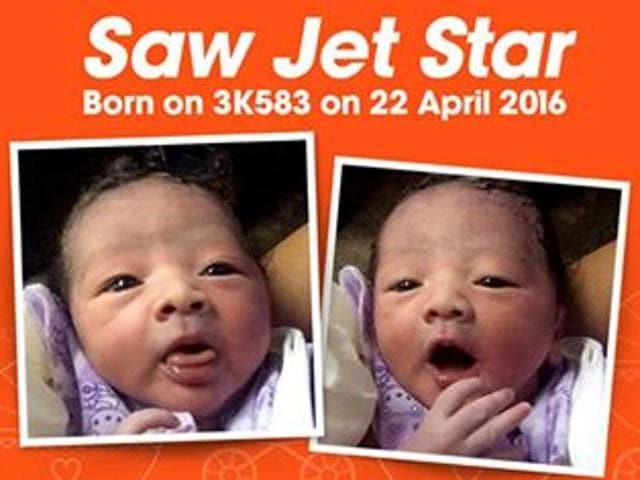 Updated on Apr 28, 2016 09:08 PM IST
A Myanmarese baby boy delivered during a flight from Singapore to Yangon was named after the Singaporean budget airline.
Baby 'Saw Jet Star' made an unscheduled arrival during Jetstar Asia flight 3K583, but was delivered safely on-board thanks to the crew and three doctors who were also on the flight on April 22.
The airline shared news of its youngest ever passenger on Facebook this week, writing: "We're most pleased to announce that a baby boy, named Saw Jet Star, was delivered safely onboard 3K583 by a team of doctors and the crew after the flight landed in Yangon on Friday, 22 April 2016."
The plane was commencing its landing when the pregnant woman started experiencing labour cramps, Straits Times reported.
After the plane landed, they were preparing to move her when baby Jet Star decided he just could not delay his own arrival any longer.
According to a Jet Star spokesperson, other passengers cheered when the boy, who weighed six pounds, seven ounces, was born.
The mother was so relieved and delighted with her care, that she promptly named her son after the airline.
"Our crew are trained to respond to all kinds of events on our aircraft, and we're proud of the way they assisted with the help of generous doctors onboard to ensure the safe delivery of our youngest ever passenger," the spokesperson said.
The mom and baby were both doing well and had been discharged from hospital. The airline has also delivered 1,000 SGD (500 pounds) worth of baby supplies to the family, the report said. PTI AKJ AKJ
Close Story