Svetlana Alexievich tops list of Nobel literature favourites
Oct 08, 2015 11:53 AM IST
Svetlana Alexievich of Belarus is among the bookies' favourites for Nobel Prize in Literature
Svetlana Alexievich of Belarus is among the bookies' favourites for Nobel Prize in Literature but could see herself snubbed by the Swedish Academy, the awarding body that likes to surprise.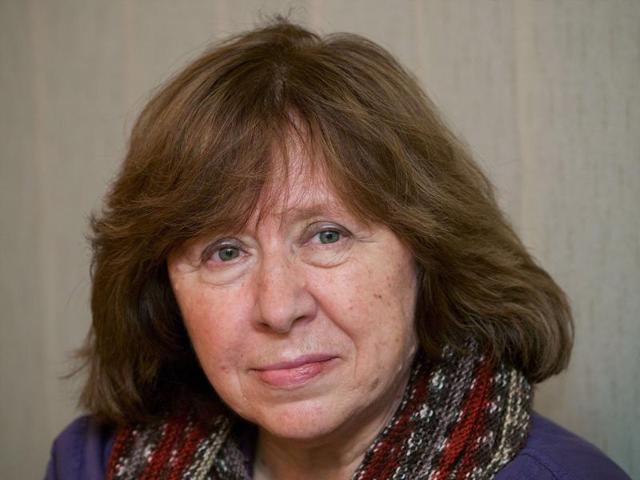 Alexievich is the top choice among literary observers, on betting sites and for a Swedish cat whose owner is hoping for a Paul the Octopus moment after it picked the Belarusian for this year's prize on a TV programme.
Stay tuned with breaking news on HT Channel on Facebook.
Join Now
Other names mentioned this year are Americans Joyce Carol Oates and Philip Roth, and Kenya's Ngugi wa Thiong'o.
"Her work is on the border between documentary and novel, a genre that hasn't been rewarded," said Bjorn Wiman, the culture editor of Swedish daily Dagens Nyheter.
He is not the only expert to suggest the writer, who was recently reissued in Swedish, could win.
"I want Svetlana Alexievich to win for her visionary and hopeful journalism," journalist Maria Lundstrom said in a video posted on the Instagram account of public broadcaster Swedish Radio.
Secret list
Still, the pundits could be wrong as "what is for sure is that the Swedish Academy likes to surprise," Gustav Kallstrand, a curator at the Nobel Museum, said.
In February, the academy compiled a secret list of all nominations submitted by an exclusive group of "qualified people" that includes literature professors and former laureates. This year there were about 220 names.
By May, the list has been whittled down to five names, whose works Academy members study in detail during the summer. The winner is then traditionally announced in mid-October.
Neither the public nor the writers know anything about what is said during the deliberations.
"There are of course people that hope and wish that they are on the list but they never know," said the academy's administrative director, Odd Zsiedrich.
"Only individuals receive the prize. ... Nation, gender, religion means nothing. Geography is not our subject," a member of the academy, Per Wastberg, wrote in the Svenska Dagbladet newspaper.
"Can an author get the prize in spite of his political orientation? Of course. Can you get it because of this orientation? Never!" he wrote.
Few women laureates
Since the prize was first handed out in 1901, only 13 out of 111 laureates have been women.
The dearth of female winners means some say a woman is more likely to succeed last year's French laurate Patrick Modiano, given that the academy is based in Sweden, a country known for its feminist policies.
"Over the past ten years the statistics, which are still not great, show a significant improvement ... which shows that they are now aware" of the problem, said Madelaine Levy, a literary critic.
It shows that the jury "strives to make fairer choices," she added.
The last woman to win, Canada's Alice Munro, was handed the award in 2013.
In addition to Oates and Roth, betting sites are listing Japan's Haruki Murakami, Norway's Jon Fosse and Ireland's John Banville as some of this year's favourites.
Swedish experts say they would prefer Romania's Mircea Cartarescu, Italy's Umberto Eco, Somalia's Nuruddin Farah or Nigeria's Ben Okri.
"I want to be surprised, just as I was pleasantly surprised when Dario Fo got it," radio journalist Gunnar Bolin wrote on Instagram.
This year's Nobel Literature Prize winner will be announced on Thursday at 1100 GMT.