Andrew Flintoff weighs in on Sachin Tendulkar vs Virat Kohli debate, gives huge compliment to India captain
Terming Virat Kohli as the 'best player ever', Flintoff stated that he never imagined that someone could even be compared to Sachin Tendulkar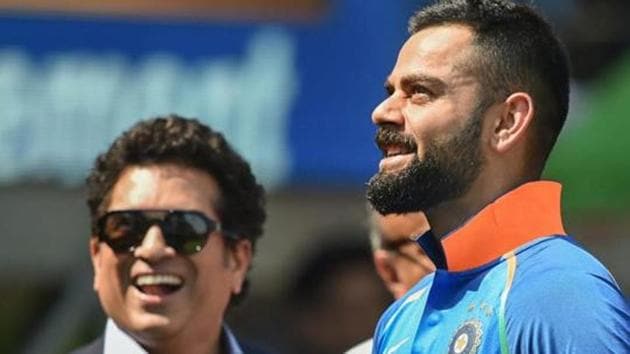 Updated on May 10, 2019 02:56 PM IST
Who is better? Sachin Tendulkar or Virat Kohli? Majority may end up scratching their heads to find an answer to that but not Andrew Flintoff. The former England all-rounder is very clear that current India captain Virat Kohli has a slight edge over the Master Blaster Tendulkar.
Terming Kohli as the 'best player ever', Flintoff stated that he never imagined that someone could even be compared to Tendulkar. "Honestly Virat is possibly the best player ever. Maybe even more than Sachin. I never thought I would see anyone that would compare to Sachin," Flintoff told Mirror in an interaction organised by the World Cup Organizing Committee.
The former England captain who is also the brand ambassador of the upcoming ICC World Cup, wished that Kohli brings his A-game to the table during the World Event slated to begin from May 30. "I love watching him play. Hopefully we will see best of him this summer, as he is a treat to watch for anyone," Flintoff said.
With 66 centuries and over 24000 runs, Kohli is still far away from Tendulkar's 100 international centuries and over 33,000 runs but he still has a lot of cricket left in him. In fact at 30, Kohli has a better ODI record than Tendulkar, particularly when it comes to chasing down totals. Kohli has 21 hundreds and over 5000 runs in 84 ODIs while chasing compared to Tendulkar's 14 hundreds and over 5000 runs in 127 ODIs.
However, it should also be noted that Tendulkar started to open the innings almost six years after he had made his international debut. Before that he used to bat in the middle-order and often, did not have the luxury of batting for long.
Flintoff heaped praise on Indian all-rounders Hardik Pandya and Ravindra Jadeja.
"Hardik is a genuine match winner. I think he's quite underrated but has a cool head and is a guy you want in your team in a chase. Hopefully we will see the best of him this summer. Jadeja – Now he's really got something about him, he's given India fire and fight, personality wise. I like to see that from individuals. Whilst it is all about the team it's great to see strong characters standing out. I think he will relish the World Cup environment," Flintoff, himself an accomplished all-rounder said.
Terming England as favourites to lift the cup, Flintoff also stated that India and Australia are strong contenders. "England genuinely have a great chance to lift the trophy this summer. I'd then put India in there, you know they have the fire power and talent to do it. But you can never rule out Australia,"Flintoff added.
Close Story
Personalise your news feed. Follow trending topics