Pakistan vs Afghanistan as it happened, Asia Cup 2018: PAK win by three wickets
Sep 22, 2018 09:47 AM IST
Pakistan beat Afghanistan by three wickets in a Super Four match and notch up thir first win of this stage. Chasing 258 for win Pakistan got off to a terrible start but a 154 run partnership between Babar Azam and Imam-ul-Haq laid the foundation of the win. Earlier Afghanistan scored 257 in their 50 overs Riding on half-centuries from Hashmatullah Shahidi (97*) and Asghar Afghan (67), Afghanistan have posted a commanding total of 257/6 in 50 overs. For Pakistan, Mohammad Nawaz scalped three wickets while debutant Shaheen Afridi scalped two. Follow Pakistan vs Afghanistan , Live Cricket Score in Asia Cup 2018 here:
01:26 hrs IST
That's it Thanks for joining us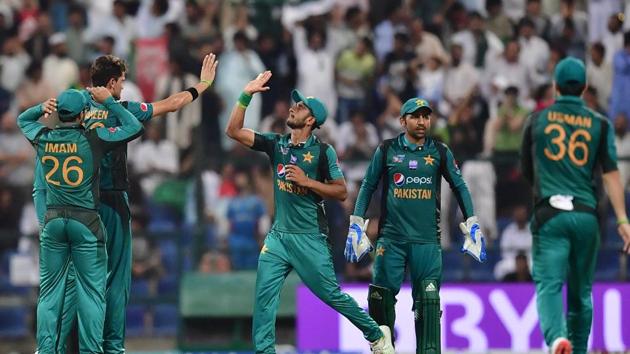 That's it Thanks for joining us, do join us for the next match of the Asia Cup 2018.
01:20 hrs IST
Pakistan win
Shaoib Malik hits a six and a four off the second and the third ball of the last over to take Pakistan home. Brilliant win for them.
01:16 hrs IST
Ali hits 6
Hasan Ali has clobbered his first ball for a six, what strike. Pakistan right back in the game.
01:13 hrs IST
Nawaz bowled by Rashid
Rashid Strikes and the game is turned on it's head. Nawaz goes.
01:08 hrs IST
Good over for Pakistan
Very good over for Pakistan, 11 runs off it and if they keep their heads they can chase it down comfortably. Mohammad nawaz with a huge six in that over.
01:00 hrs IST
Asif Ali goes, PAK six down
Another one goes for Pakistan, Asif Ali after hitting a six is caught at long-off for 7 and it gets increasingly difficult for Pakistan.
00:51 hrs IST
PAK lose Sarfraz
Pakistan captain Sarfraz is clean bowled by Naib and Afghanistan have noses slightly in front. Pakistan need 42 from last five overs.
00:39 hrs IST
Onus on Pakistan
Pakistan are much the stronger side, can they show their nerves and get home? Afghanistan are in a no-lose situation here.
00:29 hrs IST
Sohail departs
Haris Sohail commits harakiri and is caught at long-on boundary. All he had to do was stay with Shoaib Malik and guide Pakistan home. PAK 194/4
00:27 hrs IST
Malik the key
Shoiab Malik will be the key for Pakistan in this tense situation. He has years of experience and now is the time to put it to good use.
00:21 hrs IST
Game on a knife edge
As we move into the last 10 overs the game is on a knife edge. Pakistan need 75 more runs off 60 balls and they have seven wickets in Hand.
00:11 hrs IST
Sohail, Shoaib rebuild
Sohail and Shoaib are rebuilding, the fielding though by Afghanistan has been very shoddy to say the least.
23:59 hrs IST
Pakistan lose Babar too
OUT!!! Pakistan have lost two quick wickets now with Babar going for 66, he is stumped by Shahzad off Rashid Khan and the match is back on the knife edge.
23:51 hrs IST
Imam is run out
Imam-ul-Haq is run out for 80, just what the doctor ordered for Afghanistan. There is an opening now for them, can they pounce?
23:44 hrs IST
Pakistan dominant
Pakistan are fast moving into a dominant position.If they fail to win this from here they only have themselves to blame. Imam and Babar are looking in cruise mode.
23:31 hrs IST
Pakistan comfortable
The spinners haven't caused as much damage as they had in previous two matches and Pakistan are getting in an increasingly comfortable position.
23:24 hrs IST
50 for Babar
Babar has brought up his half century as well, Time for him to step into the next gear and make sure the run rate doesn't spiral out of control.
23:13 IST
50 for Imam
Imam-ul-Haq has brought up his 50, brilliant innings by him and when it was tough early on he kept it together and made sure it doesn't get out of hand.
23:10 hrs IST
100 up for Pakistan
Pakistan have brought up their 100 for the loss of one wicket, even though the run rate is over 6, it can be done with plenty of wickets in hand.
23:05 hrs IST
Good over
Rashid Khan gives away five runs from his over but more importantly, he showed that if you bowl in the right areas, the batsmen can be troubled. On one occasion, Imam defended a wrong one just before it could hit the pad of the batsman.
22:58 hrs IST
Good partnership
Both Imam and Babar are now batting in their 40s and they are looking increasingly settled with every passing over. The partnership between the duo has crossed the 90-run mark and they are seemingly in control of the chase.
22:50 hrs IST
Run rate escalating
The run rate is almost 6 runs per over, it is in dangerous territory considering Rashid Khan is still to bowl and has 10 overs left.
22:30 hrs IST
Pakistan trying to break through
Pakistan are trying to accelerate and to some extent they have succeeded, but Afghanistan still remain the dominant side. Interesting to see how it turns out from here.
22:20 hrs IST
Spinners tough to get away
Afghan spinners have been a delight to watch in the whole tournament and today is no different on a pitch that is giving assistance, the spinners have been very tough to handle for the Pakistan batsman.
20:10 hrs IST
End of power play 1
End of first powerplay and Pakistan are steady at 36/1. Imam is the main player for Pakistan and this partnership for the second wicket will be crucial for Pakistan.
21:56 hrs IST
Run rate increasing
The run rate is increasing all the time as the spinners get through their overs quickly, Imam is batting well but Babar has got stuck.
21:48 hrs IST
Imam accelerates
After losing his opening partner, Imam has upped the scoring ante, he is going at better than run a ball. Pakistan need for him to stay for a long period of time.
21:39 hrs IST
Review lost for Afghanistan
Bad decision by Afghanistan means they have lost their review! Original decision was not out but was challenged and the replays show that the impact was outside the off stump.
21:30 hrs IST
Bad start for Pakistan
Bad start for Pakistan, Mujeeb strikes in the very first over, Fakhar Zaman is out for a duck and Pakistan are 0/1.
21:27 hrs IST
Pakistan begin chase
Pakistan have begun their chase of 258. It will be a tough task against the Afghan spinners.
20:57 hrs IST
Innings over
Shahidi hit three boundaries from the first three balls off the last over from Usman Khan. But then, he wasn't able to complete his well-deserved century as he couldn't connect on the last ball of the over. In the end, AFG finish at 257/6 in 50 overs. Shahidi top-scored with 97 while Mohammad Nawaz scalped three wickets for Pakistan.
20:49 hrs IST
Poor cricket from Hasan Ali
Hasan Ali finishing the inning strong as he picks his second wicket of the day. Hasan gets rid of Shahidi who goes back into the hut... wait guys.. no ball.. Shahidi is coming back on the pitch now and he hits a boundary on the first ball that he faces after returning on the pitch.
20:41 hrs IST
Four and four
Afghanistan are finishing on a high as they are dealing in boundaries at the moment. Shahidi and Naib both slam one four each in the over of Hasan Ali as the pressure is back on the bowlers now.
20:38 hrs IST
Sixth wicket
Afghanistan have lost their sixth wicket now as Hasan Ali castles Najibullah for 5. First wicket of the day for the pacer as the southpaw misses the line of the delivery and it crashes into his stumps.
20:35 hrs IST
Shahidi show
Despite wickets falling on the other end, Shahidi is still going strong on one end and he is adding to the Afghanistan score. In the last four overs, they will look to add as many runs as possible.
20:26 hrs IST
Nabi out
Shaheen Afridi picks his second wicket of the day as he gets rid of Nabi for 7. In trying to clear the mid wicket boundary, he caught in the deep by Hasan Ali.
20:22 hrs IST
Nabi in
Mohammad Nabi now joins Shahidi in the middle and he straightaway makes his intentions clear by hitting a boundary off Shaheen. Nabi clears his leg and hits the ball over the covers for a boundary.
20:16 hrs IST
Maiden wicket
After three catches were dropped of his bowling Shaheen Afridi finally manages to pick his maiden ODI wickets as he gets rid of Asghar for 67. The batsman missed the line of the delivery and it crashed into his stumps. An excellent innings from the Afghanistan skipper comes to an end.
20:11 hrs IST
Asghar on fire
After completing his fifty, Asghar celebrates in style as he hits his fourth maximum of the innings off Haris Sohail. With that, the partnership between these two is worth 86 now and they are getting closer to the 200-run mark now.
20:06 hrs IST
Half-century
Shahidi has completed his fifty off 86 deliveries and he has battled the Pakistani pacers as well as cramps to get there. Then on the next ball, skipper Ashgar also completes his well-deserved half-century.
20:00 hrs IST
So far so good
Both Shahidi and Asghar after approaching their respective fifties and it is because of their partnership that Afghanistan are in a good position after a poor start in the match.
19:53 hrs IST
Another six
Skipper Asghar is leading from the front as he hits his third six of the innings. This time, he hits Nawaz for a huge six wide of long-off. Then, he drives the ball towards the same region for boundary. Afghanistan are getting a move on here now.
19:45 hrs IST
Four and six
Skipper Asghar is now taking the attack to Mohammad Nawaz as he hits a four and six to up the ante. Eleven runs come from the over from Nawaz as Bangladesh edge closer to 150-run mark.
19:39 hrs IST
Partnership
Shahidi is batting in his 40s while Asghar is providing him with good support from the other end. The duo have added 37 runs for the fifth wicket so far and are going strong.
19:27 hrs IST
Good fielding
Fakhar Zaman almost effected a brilliant run-out as he dove full length to stop the ball and had a shy at the stumps. The ball missed the wickets by some distance and Shahidi took a sigh of relief. Replays showed that the batsman was inside his crease anyway.
19:17 hrs IST
Skipper looking good
Skipper Ashghar Afghan has looked very positive since coming out to bat after the fall of three wickets. Now, he has the job of building a good partnership with Shahidi who has held the innings from one end. Afghanistan will need to increase their run rate for the final 20 overs.
19:09 hrs IST
Shahidi going strong
Shahidi seems to have brought his form against Bangladesh into this match as well as he continues to hold the innings from one end. This time, a wide delivery from Usman is easily dispatched for a boundary towards third man.
19:01 hrs IST
First maximum
Ashghar Afghan comes to bat and straightaway hits a massive six of the bowling off Mohammad Nawaz to make his intentions clear. With that, Afghanistan have also crossed the 100-run mark in their innings.
18:56 hrs IST
Breakthrough
Mohammad Nawaz has done the job for Pakistan again as he picks his third wicket of the day. Nawaz gets rid of Rahmat Shah for 36 after the batsman top-edge the ball and the bowler himself caught it after juggling it once.
18:43 hrs IST
Partnership
The partnership between Shahidi and Shah has now crossed the 50-run mark and they are going nicely at the moment. They haven't been able to score boundaries freely but they have kept the Pakistan bowlers at bay after the fall of openers.
16:37 hrs IST
Run-rate a concern
Afghanistan will be concerned about their run-rate which is under four at the moment. Both Shahidi and Shah are relying mostly on singles and doubles as boundaries have been very hard to come by.
18:30 hrs IST
Good going
The partnership between Shahidi and Shah is worth 39 now and they have got there in 54 deliveries. The duo have settled down well at the crease and are putting on a good partnership here.
18:23 hrs IST
Bowling change
Since Hasan Ali and Haris Sohail have come into the attack, they have stemmed the flow of runs further. The current Afghanistan run rate is under four and that has been the case throughout the course of the innings.
18:14 hrs IST
Stat attack
In three matches against Pakistan so far, Shahzad has scored only 49 runs at an average of 16.33, which is his lowest average against any team in ODIs. (min three matches played)
16:10 hrs IST
Fifty
Afghanistan have finally managed to cross the 50-run mark in the innings in the 14th over. Currently, Rahmat and Shahidi are trying to build a partnership after the loss of the openers. The duo have played well so far and Afghanistan will want them to bat for as long as possible.
18:02 hrs IST
Welcome boundary
The pressure was slowly and steadily building on the Afghanistan but some of it has been release by Rahmat Shah, who hits a Nawaz delivery towards deep mid wicket for a boundary. Good batting from the right-hander as he puts the pressure back on the bowler.
17:54 hrs IST
Another wicket
Mohammed Nawaz has changed the course of the innings as he has removes both the Afghan openers now. After getting rid of Ihsanullah, Nawaz get the wickets of Shahzad after the right hander edged the ball into the hands of the keeper Sarfraz.
17:46 hrs IST
Breakthrough for Pakistan
Finally, Pakistan have managed to break the opening partnership as spinner Nawaz gets rid of Ihsanullah for 10. The right hander hit the ball straight into the hands of the bowler and the 26-run opening stand comes to an end
17:42 hrs IST
Dropped and dropped
Shaheen Afridi is not a happy customer as two catches have been dropped off his bowling on back to back deliveries. First, Fakhar Zaman dropped a one-handed catch at mid-on and then Usman dropped a half-chance at short fine leg. Ihsanullah survives on both the occasions.
17:33 hrs IST
Bowling change
Pakistan skipper Sarfraz Ahmed has seen enough from the pacers as he calls for spin to be introduced into the attack to break this partnership. Mohammad Nawaz will bowl to the Afghan openers now.
17:25 hrs IST
Good early signs
Shaheen Afridi is showing good early signs here against Afghanistan. The left-arm pacer hasn't given any room to the batsmen so far in his two overs and has conceded just five runs.
17:19 hrs IST
Super shot
Easily, the shot of the innings so far from Ihsanullah. The right-hander leans into the drive as the ball goes past the cover fielder for a boundary. Usman Khan is not a happy man but he knows that it was poor delivery outside the off stump.
17:15 hrs IST
Good start
Shaheen Afridi bowls his first over his ODI career and he concedes just two singles off it. A great start to his one-day career and that will boost his confidence. As for the Afghanistan openers, they have made a steady start in the match.
17:07 hrs IST
Boundary
Shahzad hist the first boundary of the Afghanistan innings as he hits the ball past the mid-off fielder for a boundary. Shahzad managed to hit a boundary off a free-hit and that will certainly boost his confidence. Six runs come from the first over of the match.
17:02 hrs IST
Match begins
Usman Khan will be bowling the first over of the day for Pakistan while Shahzad and Janat will be opening the innings for Afghanistan. The duo will look to make a steady start in the match and Pakistan bowlers will go for early wickets here in Abu Dhabi.
16:55 hrs IST
National anthem time
Both sets of players are now making their way into the middle and they will line-up now for their respective national anthems. We are about to have a blockbuster clash in Abu Dhabi.
16:42 hrs IST
Playing XIs
Afghanistan: Mohammad Shahzad(wk), Ihsanullah Janat, Rahmat Shah, Hashmatullah Shahidi, Asghar Afghan(c), Mohammad Nabi, Najibullah Zadran, Gulbadin Naib, Rashid Khan, Aftab Alam, Mujeeb Ur Rahman
Pakistan: Imam-ul-Haq, Fakhar Zaman, Babar Azam, Shoaib Malik, Sarfraz Ahmed(wk & c), Asif Ali, Haris Sohail, Mohammad Nawaz, Hasan Ali, Usman Khan, Shaheen Afridi
16:30 hrs IST
Toss
Afghanistan have won the toss and they have opted to bat first against Pakistan.
16:21 hrs IST
Debut
18-year-old Shaheen Afridi has been confirmed to make his ODI debut for Pakistan against Afghanistan. A great moment for the young lad to be playing his first match at this crucial stage of the tournament.
16:15 hrs IST
Form guide
Pakistan started their campaign with a comprehensive eight wicket win, but in their second group match, they lost to arch-rival India by eight wickets. As for Afghanistan, they stunned Sri Lanka by 91 runs to send them crashing out of the tournament. Afghanistan then registered their second win of the group stage by destroying Bangladesh by 136 runs.
16:05 hrs IST
Hello and welcome
A very warm welcome to the live blog of the Asia Cup 2018 Super Four clash between Pakistan and Afghanistan. Both teams will look to start their campaign on a good note in the Super Four stage of the tournament. Pakistan won one and lost one in their group stage, while Afghanistan has been in great form as they beat both Sri Lanka and Bangladesh to top their group.