Cheteshwar Pujara century a tutorial on old school Test batting
Cheteshwar Pujara's painstaking and brave century gave India a narrow lead on the second day of the fourth Test after England off-spinner Moeen Ali took five wickets at Southampton on Friday.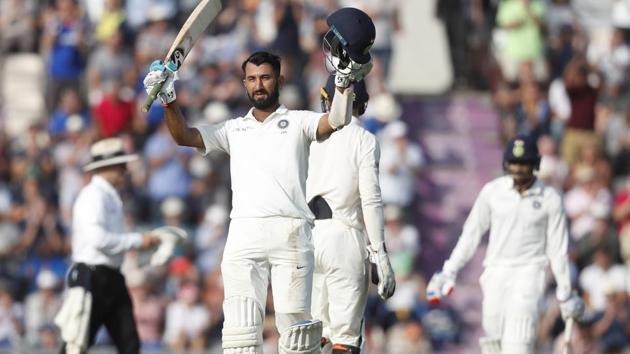 Updated on Sep 01, 2018 12:20 PM IST
Hindustan Times, New Delhi |
Manish K Pathak
"Thought looks into the pit of hell and is not afraid ... Thought is great and swift and free, the light of the world, and the chief glory of man" - Bertrand Russell, Why Men Fight
Cheteshwar Pujara is not anywhere remotely close to the modern brand of cricket, in fact, he is so out of place that he loses his place quite so often. Cheteshwar Pujara is picked at, Pujara is often looked at with scorn, with doubts, with furrowed eyebrows -- and yet Cheteshwar Pujara is resolute. It's all in the mind, it's what he thinks he is, and he is free... when in stoic defence, he is free, when not chasing ball outside that off stump, he is free, when in his own bubble chastising himself for that lazy waft, he is free.
Pujara scored a century, remained unbeaten, led the team out - that very moment was his crowning glory. Pujara is just what Test cricket is all about, Pujara is what Test cricket misses in the contemporary hullaballoo of intent!
For when he was dropped in the very first Test, there were quiet murmurs of disapproval, but no one was vocal in complaints. His numbers, albeit in the domestic circuit in England, did not make an entirely strong case. He was drafted back for the second Test at Lord's when the batsmen played with a prayer on their lips.
And then Trent Bridge happened, both for India and Pujara, he did not get a century, he got a 72, looked scratchy but stuck around. India piled on the runs and India took the game.
READ: How Cheteshwar Pujara improved his game ahead of Southampton Test
Life is not fair, so one can give up, but life also has hope, and it is precious, so one can battle on. Pujara battled on, in Southampton, he walked out when the ball was still hooping around, and coerced himself into that bubble, that zone which has become his trusted aide back home. He did not chase balls outside the off stump, he was guarded against the ball which nipped back in, he did not even attempt to drive.
Even Virat Kohli, his captain, fell to his false sense of security. Pujara simply batted the way he knows to, not flustered, not hassled, plain and simple Test cricket. He did not go after the bowlers, the bowlers came towards him and he picked them up for runs. They were not pretty, they were not rapid, they were runs, hard-fought Test runs.
And then Test cricket and the vagaries struck, India melted, not against seam, not against swing, but against Moeen Ali and his orthodox off-spin. It was poetic in many ways, for a world where being unorthodox is perceived to be hip, two blokes with perfectly normal games, who play by the book, by the stipulated norms were holding fort. Moeen's off-break was well quite simply off-spin, he accounted for Rishabh Pant, Hardik Pandya, R Ashwin, Mohammed Shami, and Pujara had not even blinked.
From 161 for 3, India collapsed to 195 for 8. Joe Root planted a deep square leg, a long leg, and asked his bowlers to ruffle Pujara, aim for his head. James Anderson, the swing bowler, changed angles, came from around the wicket and started banging the ball in, Stokes did the same, Pujara wanted to hook, he was beaten, he resisted the urge, and he was even clobbered on the helmet. Not once, but twice, but there he stood, resolute and defiant, ready for this period of Test cricket.
He did cross his 50, but India had slipped, they had ceded ground so rapidly, still 60 runs behind when Ishant Sharma joined the man from Saurashtra. He took matters in his own hands, nursed the strike, nurdled the scoreboard and even took Ishant along with him.
"When you are playing away from home, it's not about scoring big hundreds. It is about having enough runs on the board, collectively," he said after his knock at Nottingham.
Well, he wanted to take the team score along, personal milestones were shunted away from memory. A single here, a nudge there, a dab here, a drive there, the deficit was being cut down, when Ishant lobbed one to short leg. It was down to the last wicket, it was down to two Gujarat boys, and Jasprit Bumrah might have many admirable qualities, but batting ain't one of them.
Adversity is such a funny thing - it can break men or it can force men to break shackles.
Pujara had to be more guarded, India were still adrift by 19 runs and he broke his shackles. Bear in mind, he could see the century glaring at him, the only other century which he had scored outside the comfort of sub-continent conditions came way back in 2013. It was alluring, how could it not be?
READ: Cheteshwar Pujara hits brilliant century, keeps India just ahead
Well, of course, for Pujara it wasn't. He denied singles, he played dots, played few lofted strokes and prayed when Bumrah was on strike. And then a skip, hop, jump got him close to a Moeen Ali ball, he lofted it over mid-off, a run took him to 100, he was looking for a three to retain strike, it was team before self, it was not milestone for personal satisfaction, it was an effort devoted to the team cause.
Lofted bat, raised helmet and a vocal dressing room, there was intent in the way his colleagues clapped, Kohli was jumping up and down, the team had edged past England, Pujara had edged past his demons.
"I know what things to do to succeed in this format and I play accordingly. The track also determines what kind of a strategy you have as a batsman, and that is why there can't be any particular roles," he said before leaving for England.
He walked the talk on Friday, he was the master of his own game and he made the rules.
Another trait of his game surfaced, out of 143 balls England bowled at the final two wickets, Pujara faced 92 and scored 54 free-flowing runs. He not only farmed the strike, but dragged India ahead.
He added 32 more runs and never got out, he even smacked Broad over mid-wicket against a new ball and walked out with India 27 runs ahead and then popped back on to the field for the final four overs after having defied the England attack for 355 minutes.
Yes, he was doubted. Yes, he was axed. But Pujara, a perceived misfit in this 'slam, bam, thank you man' world has carved his own niche. How about we stay back, pause, admire, and applaud.
For Test cricket gives you five days to test your worth, it gives you time and opportunity, and Test cricket gave Cheteshwar Pujara!
Close Story