'Cut shot from Gill proved why...': R Ashwin drops epic reaction after Pandya's freak dismissal sparks huge debate
Jan 18, 2023 08:20 PM IST
Taking cognisance of Tom Latham's on-field antics, veteran Indian all-rounder Ravichandran Ashwin shared a noteworthy tweet following Hardik Pandya's controversial dismissal in the 1st ODI between India and New Zealand.
Leading New Zealand in the absence of Kane Williamson on Wednesday, wicketkeeper-batter Tom Latham had an eventful outing in the 1st One Day International (ODI) of the three-match series against India at Hyderabad's Rajiv Gandhi International Stadium. Standing up to the stumps during one of Daryl Mitchell's overs, the New Zealand wicketkeeper appeared to have dislodged the bails which led to a cruel Hardik Pandya dismissal.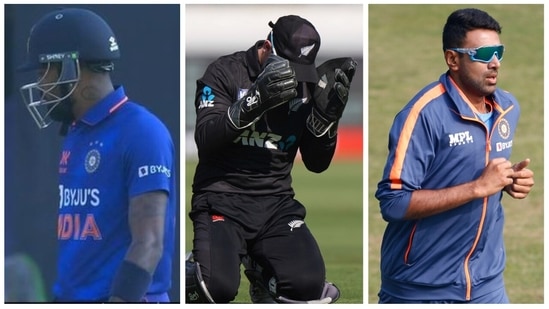 While netizens were convinced that Latham had a role to play in Pandya's dismissal, the third umpire opted to give his verdict against the Indian batter. The third umpire was satisfied with having no conclusive evidence that Lathan dislodged the bails and Pandya was eventually given out. A perplexed Pandya was in disbelief following his stunning dismissal in the 40th over. Pandya's controversial dismissal sparked a massive debate on social media.
ALSO READ: Watch: Huge controversy erupts as Hardik Pandya given out in freak dismissal; 3rd umpire blasted for 'poor' decision
An over after Pandya's dismissal, Latham came up with a strong appeal for hit wicket against Shubman Gill. However, the replays suggested that the bails came off Latham's gloves and Gill was adjudged not out by the third umpire. Taking cognisance of Latham's on-field antics, veteran Indian all-rounder Ravichandran Ashwin slammed the stand-in skipper on Twitter. "Forget about split screens and replays, the cut shot from Shubhman Gill proved why Hardik was clearly Not Out. #indvsnz," Ashwin said in his tweet.
Talking about the match, Indian opener Gill slammed a sublime double century to shatter multiple records in the 1st ODI against New Zealand at Hyderabad. Opener Gill smashed a quick-fire 208 off 149 balls as Rohit-led Team India posted a challenging total of 349-8 in the 50-over contest. Gill, who became the fifth Indian batter to smash a double century, struck 19 fours and fired 9 sixes in his entertaining knock of 208 against the Black Caps at Hyderabad.