India vs West Indies as it happened, 2nd Test Day 2 in Hyderabad: India end Day 2 on 308/4
Updated on Oct 13, 2018 06:25 PM IST
India moved into a commanding position against West Indies on the second Day of the 2nd Test at Hyderabad. Rishabh pant was the star of the day finishing unbeaten on 85, he was well supported by Ajinka Rahane who aslos struck a flawless half century. Earlier West Indies were bowled out 311 in their first innings, Rostan Chase struck his fourth Test Century while Umesh Yadav picked up six wickets. Follow the India vs West Indies Updates, 2nd Test Day 2, below -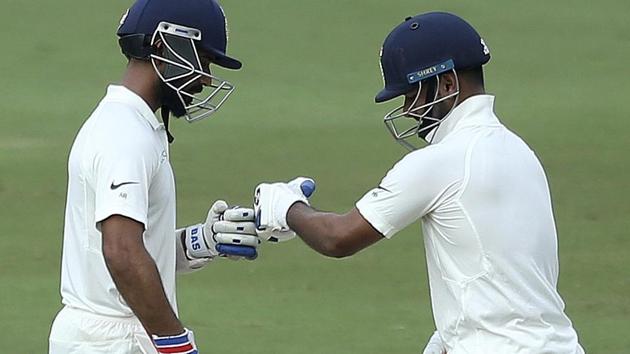 17:00 hrs IST
Stumps on Day 2
Stumps on Day 2 and India are in a commanding position going forward. India trail West Indies by just three runs and still have six wickets in hand.
16:41 hrs IST
300 up for India
India have brought up their 300! They are four down and look set for a big lead.
16:29 hrs IST
Rahane complementing Pant
Ajinka Rahane has been brilliant in complementing Pant. While Pant has been his aggressive self, Ajinka rahane has been his calm self.
16:21 hrs IST
Back to back sixes
Rishabh Pant taking the attack to Devendra Bishoo!! he clobbers the leggie for two back sixes of consecutive deliveries. He could get his 100 today!!
16:17 hrs IST
Pant, Rahane solid!
Rishabh Pant and Ajinka Rahane look solid and are taking the team forward. It looks both are eyeing big 100s at Hyderabad.
16:04 hrs IST
100 partnership
A century stand between Rishabh Pant and Ajinkya Rahane!! Brilliant Partnership as the match could have gone either way when the two got together.
15:53 hrs IST
50 for both
A nudge and a nurdle, both batsmen get to their respective 50s. It has been a good partnership between the two as they pile on the runs
15:45 hrs IST
Pant has been impressive
The young man likes to play his strokes, but he has buckled down today and has looked to play according to the merit of the ball. It has been a good partnership with Rahane
15:34 hrs IST
Windies slipping up
The fielding effort has been shoddy, to say the least. The Indian pair are now playing their strokes after a cautious period after tea
15:20 hrs IST
So far... so good
That ball was flat and quick and outside the off stump, Pant stays back, waits for it and then thumps is past backward point. Ahh, the fielder there allows the ball to slip by and a boundary accrues
15:06 hrs IST
Sloppy in the field
For all their effort with the ball, the Windies have been very inconsistent in the field. They have allowed boundaries to slip by and now Hamilton, who is keeping instead of the injured Dowrich, has dropped Rishabh Pant. It was a regulation catch, to be honest and Gabriel lets him know all about it
14:57 hrs IST
Pant looking to be cautious
Holder has been on the money all day and Pant is looking to be cautious against him. This has been a fine effort from the Windies skipper
14:45 hrs IST
Pant opens his shoulders
That ball from Chase was floated wide, Pant sank to one knee and biffed it over extra cover, away from the man stationed at long off
14:35 hrs IST
Back after the Tea break
Windies need to continue exerting the pressure, they have to continue asking the questions. India need a partnership, how will Pant respond/
14:14 hrs IST
Tea on Day 2
It has been a good session for Windies. They picked up three wickets and have not allowed the runs to come easily. India have to stitch a few partnerships now
13:54 hrs IST
Kohli departs
Captain Holder gets the job done for his side. Length ball angled in, Kohli looks to flick it away, misses the ball and the ball collects the pad. Umpires call, says hawkeye and the Indian skipper has to depart
13:43 hrs IST
Holder needs a wicket and he is back into the attack
The Windies captain has been a welcome addition to the team and he has already made his presence felt in the match. He now needs a wicket as this Indian pair are looking very comfortable
13:28 hrs IST
Kohli in the groove
After few quiet overs, the Indian captain gets a move on with a couple of boundaries. He looks to be in the zone
13:19 hrs IST
Spinners on the money
Both Bishoo and Warrican have been nice and tight so far. They are keeping things very simple and are aiming for the stumps. Rahane and Kohli are content in defending at the moment
13:10 hrs IST
Tight spell of bowling
Bishoo has bowled two consecutive maidens, just what Windies want at this moment. They should make the Indian pair work hard for their runs
13:00 hrs IST
Steady phase
This pitch is a still good one to bat on and both batsmen are willing to spend time and work for their runs. Windies need to keep attacking and looking for wickets
12:47 hrs IST
India need a partnership
Two quick wickets and this match is alive and kicking. Virat Kohli has started in a positive vein, Ajinkya Rahane needs runs. Promises to be an interesting phase
12:34 hrs IST
Pujara nicks and he is gone
Lovely bowling by Shannon Gabriel, length ball was on the off stump, Pujara hangs his bat out and nicks it behind. India suddenly 3 down
12:26 hrs IST
Prithvi departs
Ahh, he creamed that drive. The ball was on a length, it was driven on the up, but finds the man at short cover. He is distraught, is the young man. Played a special innings, but then a century was there for the taking
12:12 hrs IST
Back after the lunch break
Roston Chase will start proceedings. Windies leaked too many runs in the first innings, they have to look to exert more control in this session
11:32 hrs IST
India soild in response
It has been a good morning session for India. After dismissing Windies for 311, they have scored 80 for the loss of one wicket. Shaw has started from when he left off at Rajkot, scored his 50. Rahul was dismissed, he never looked settled.
11:23 hrs IST
50 for Shaw
Well, that was easy. Test cricket was never meant to be so easy, but for Prithvi it has been a stroll in the mark. No sweat broken
11:18 hrs IST
Holder keeping it tight
The Windies captain was brilliant with the bat and is now keeping things very tight with the ball. Pujara looks as solid as ever
11:02 hrs IST
Rahul dimissed
He never looked confident at all. Length ball on off, he wanted to leave it but was hesitant and the ball runs off the face of the bat and dislodges the stumps
10:56 hrs IST
Prithvi off to a blazing start
That high backlift and then those crisp strokes. The young man is up and about on day 2. Lovely clips and drives. He even slog sweeps Warrican now. India race past 50
10:44 hrs IST
Wayward Windies
Plenty of extras, plenty of loose deliveries. The Indian openers do not seem to be under any pressure as of now. The visitors have to tighten up
10:34 hrs IST
Injury scare for Windies
Shane Dowrich has walked off the field. The ball kept low and hit him on the knee. Jahmar Hamilton will take the gloves
10:24 hrs IST
Positive start to India's innings
Prithvi is up and running. Windies want to test him out with the short stuff, so far he has looked to have the answers, but this promises to be a good battle
10:12 hrs IST
Rahul and Shaw are out there
Good way to get the innings going. Rahul leans into a half volley and drives it through covers to get going.
10:03 hrs IST
Wow, that ended quickly
Umesh was brilliant, relentless and on the money. Ends with best ever figures. Picks up 6 wickets. India will be happy with the morning so far
9:52 hrs IST
Warrican looks capable
The right-hander is looking to play his strokes. Windies have cross 300, they should look to push the score beyond 350
9:37 hrs IST
Chase gets to his century
Waits for the ball to turn, then clips it away to square leg, races off and gets a single to get to his 100. Top knock, keeping Windies in this match
9:35 hrs IST
Umesh strikes
India get their 8th wicket in the very first over. Length ball on off, Bishoo hangs his bat out, the ball takes the inside edge and then dislodges the stumps
9:29 hrs IST
Kohli is out with his team
India need three more wickets. The pitch still looks a good one for batting. Roston Chase is batting on 98, he deserves a century
9:13 hrs IST
No one seems to get enough of Virat Kohli
Police inspector P Venkateswarlu said a case of trespassing was slapped against 19-year-old Mohammad Khan, who breached security cordon to get up close with Virat Kohli.
9:06 hrs IST
Ashwin continues on his impressive march
R Ashwin added a fresh feather into his already illustrious cap as he scalped his 500th first-class wicket during the first day of the second Test against West Indies at the Rajiv Gandhi International Stadium in Hyderabad on Friday.
8:58 hrs IST
Umesh was good with the ball
After a jittery start, Umesh Yadav found the right lines and lengths and picked up three wickets. However, he was not very happy with the SG balls and believed that they wore out very quickly and very easily
8:53 hrs IST
Chase was brilliant
Windies are still in this game primarily because of Roston Chase. He was aided by captain Jason Holder, as Windies have looked far better than their efforts in the first Test. The right-hander holds the key as the visitors would want to cross 350.