Exclusive: Rahul Dravid's guidance kept me going, says Mayank Agarwal after India call-up
Mayank Agarwal had amassed 1160 runs in eight Ranji Trophy games last season at an average of 105.45 to first knock on the door of the national selectors.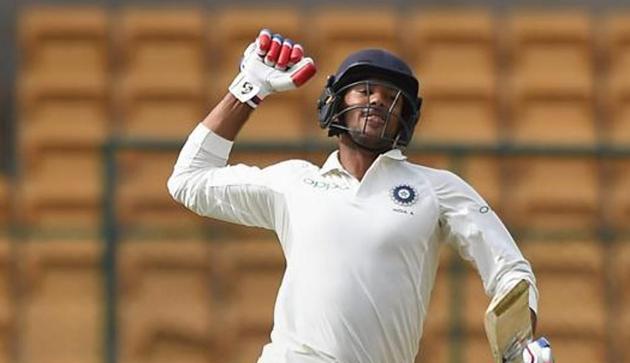 Updated on Oct 01, 2018 04:46 PM IST
Hindustan Times, New Delhi |
Manish K Pathak
Mayank Agarwal has finally been named in the Indian Test squad, rewarded for his prolific run of form in the domestic set-up. He amassed 1160 runs in eight Ranji Trophy games last season at an average of 105.45.
The Karnataka batsman shot into prominence with 5 centuries, two fifties and one innings of 304 and the knocks on the door of the national selectors were getting loud.
It was just the beginning, he continued his rich vein of form to this season, in England and then against South Africa A and Australia A.
In his last 13 outings, the Karnataka batsman has managed to rack up six scores of more than 50. What sealed the deal for him was the 220-run innings he played against South Africa A in a four day game.
Speaking to Hindustan Times after the announcement, the young man reflected on the journey so far, the persistence and about the new journey which is about to commence.
'Well, very very happy, very excited, looking forward to now being a part of the Indian team," he said.
Speaking about the last 15 months when he was forever in the fray, but not being picked, Mayank said that he just focused on things which were under his control.
"See, we play a lot of cricket these days and this helps to keep the focus going. As a player, my job is to go out there and score runs, keep doing the things which are under my control, and not to think about any external factors. I wanted to keep performing, wanted to keep improving with every match and kept looking to score runs," he added.
Rahul Dravid's impact on young Indian cricketers has been quite influential in recent times, and it is no different with Mayank, who has played under his tutelage for India A.
"He is a person we always go to whenever we need some help, you know, for any kind of advice. He kept saying to repeat the process, stick to scoring runs, what has to happen, will happen. I just followed his advice and it helped a lot" the right-hander said.
There has been a wave of support building up for Agarwal over the past six months and people wanted him to be picked based on his form and the voices only kept getting louder with every knock he played. However, the player kept himself aloof from any opinions or talks pertaining to his selection.
"I'm not a very tech-savvy person to be honest, I am a private person and hence, tried to isolate myself from any external opinions. It is important not to lose track of what you are doing," he opined.
International cricket is a different kettle of fish, it is a giant step from the level of domestic cricket, and players try to do things differently. Mayank, however, says that he will stick to his guns and repeat the process, execute the skills which have given him success.
"I will stick to things which are working for me, I will look to keep executing things which have given me success. I've always believed in working hard, something that I've always stuck to and then take it day by day," he signed off.
Close Story
Personalise your news feed. Follow trending topics