Six awarded after Melbourne Stars batter hits roof of stadium, fans slam 'ridiculous and childish' rule - Watch
Jan 14, 2023 07:02 PM IST
The shot could have ended in a catch in normal circumstances but it was declared a six after it hit the closed roof of the Docklands Stadium in Melbourne.
The bowling side and fans alike were left scratching their heads when the Melbourne Stars' Joe Clarke was awarded a six despite his shot hitting the roof of the stadium falling inside the 30 yard circle on Saturday in their match against the Melbourne Renegades. The match was being played at the Docklands Stadium and the arena's retractable roof was closed.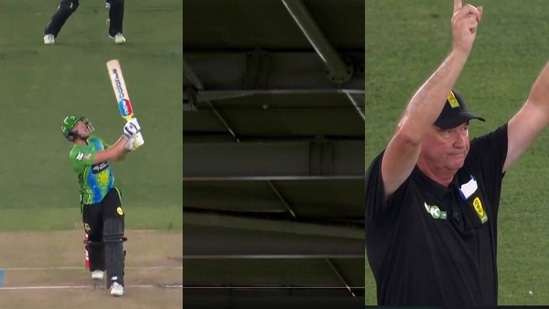 The incident occurred in the third over of the match. Fast bowler Will Sutherland sent in the last delivery of the over at a length and Clarke got underneath in an attempt to work it over the leg side. He ended up skying his shot but the ball hit the closed roof and then came down, leading to the umpire signaling six.
It is interesting to note that it is after the Renegades' current captain hit the roof back in the second season of the BBL that it was decided that the batter would be awarded a six in situations like these as opposed to the delivery being declared a dead ball. Finch himself later said that this was a catching opportunity, to which Mark Howard pointed out that the rule had come about because of the former Australia ODI captain. "This is your rule skipper (to Finch), you've caused this problem," he said.
Fans were not too impressed with the situation.
The same incident happened once again later in the innings this time in the 16th over. The Renegades ended up winning the match, albeit in dramatic circumstances. They had scored 162/7 batting first and the Stars were cruising at one point, needing 54 to win off 51 balls with eight wickets in hand. However, the Renegades ended up putting an almighty choke in the death overs to incredibly win the match by six runs.