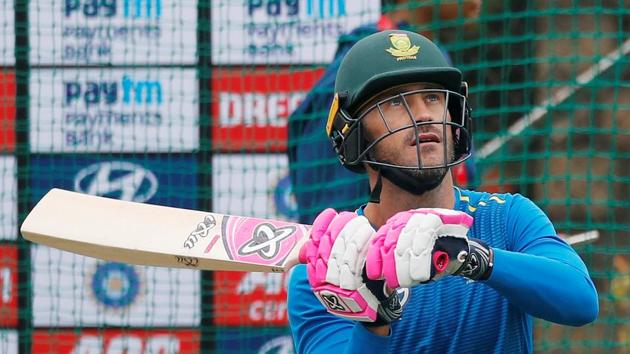 After ODI series get deferred, South Africa stay put, to fly out of Kolkata on Monday
Among many other sports events affected was the cancellation of the three-match ODI series between India and South Africa.
UPDATED ON MAR 15, 2020 11:15 PM IST
The ODI series against India deferred due to the coronavirus pandemic, South Africa have decided to stay in Lucknow and will now fly out of Kolkata. The teams reached Lucknow on Friday after the ODI in Dharamshala was washed out. The decision to defer the series came minutes after they had landed. "Our view is that this decision is both necessary and a precaution that had to be taken in the interest of cricket and the sustainability of the game. We are monitoring the situation with the virus and are in constant consultation with medical and virology experts. We will apply our minds to the input of experts and act in a way that reflects our duty of caring for our players," acting chief executive officer of CSA, Dr Jacques Faul had said.
India players left for home on Saturday but Quinton de Kock's team hasn't checked out yet. According to an official of the Uttar Pradesh Cricket Association (UPCA), the players have mostly stayed in their rooms though on Saturday, some hit the pool and others took a walk on the lawn.
Also read: Sanjay Manjrekar reacts on being dropped from BCCI commentary panel
Faf du Plessis got his bat repaired, said the official requesting anonymity because he is not authorised to speak to the media. Social distancing being the recommended way to combat the spread of the virus, the players have refused selfies and autographs to the hotel staff, said the official.
South Africa will leave for Kolkata on Monday from where they will fly to Dubai. "The team is still in Lucknow (safe city) and will travel to Kolkata tomorrow from where they will travel to SA," read a post by a Cricket South Africa (CSA) media officer on a journalists' WhatsApp group. The team will be put up at a hotel near the airport in Kolkata. "They will connect to SA via Dubai. Cape Town based players and management staff will fly directly from Dubai, whereas the rest of the team will fly to JHB (Johannesburg) where they will then go on to their final destinations," said the post.
Also read: CA cancels final round of Sheffield Shield, defers decision on title match
"The South Africans chose to stay in Lucknow as they felt safe here. They had options to go to Delhi and stay there before leaving for South Africa but they refused," said the UPCA official.
CSA and Board of Control for Cricket in India (BCCI) have agreed to reschedule the three-match series. The match here was scheduled on Sunday with Kolkata hosting the last ODI on Wednesday.
When BCCI had decided to hold the series behind closed doors, there were plans to stage both games in Lucknow. "There were talks to hold both matches at our stadium here as there was no point in taking the entire machinery to Kolkata when it had been decided to play in front of empty stands," said an official of the Atal Bihari Vajpai Ekana Cricket Stadium.
Topics
Close