Colour sparks youthfulness, abandon
With his uninhibited "Yahoo!" in Junglee, Shammi Kapoor marked the dawn of a period of high-energy, youthful cinema, and a decade of breezy romances.
These were phenomenal, action-packed years in the history of Hindi cinema, as films moved ahead in fresh, exciting directions. Colour came to the industry in the 1960s and the effect was immediate. Directors and movie stars packed their bags and headed outdoors, away from studios and cities. Filmmakers began flocking to places such as Kashmir to shoot jaunty romances and scintillating songs. The urge to explore India in colour soon extended to other parts of the world too: Paris, Switzerland, Tokyo, London.
By the end of the '60s, the romantic Hindi film had found a new hero, the crinkly-eyed Rajesh Khanna. Shakti Samanta's Aradhana (1969), with its pulsating music, established this charismatic leading man. Rajesh Khanna would dominate the screen, for a few years. Then a fresh twist: Two of his best films, Anand (1971) and Namak Haraam (1973), both directed by Hrishikesh Mukherjee, were portents of things to come.
Read more
Meanwhile, change was afoot. Rajesh Khanna's co-star in two 1970s films was a lanky young man with eyes full of suppressed fire. Amitabh Bachchan would leave audiences shaken, as he brought to life the Angry Young Man.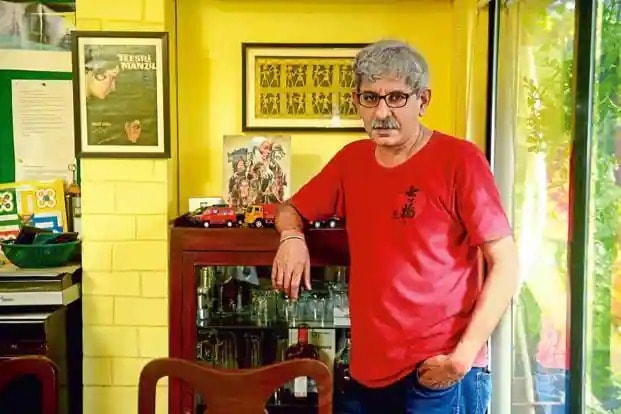 "Jewel Thief still gives me goosebumps. The magic of [the 1967 film] lies in its terrific screenplay, how the viewer is constantly being tricked by the filmmaker. It is also full of splashy colours, costumes, grand sets and songs."
Sriram Raghavan, director of Andhadhun, Badlapur, Ek Hasina Thi
Read more
Playlist
15 tunes to play on a loop
In this era, Lata Mangeshkar, Mohammed Rafi and Mukesh continued to be prolific. Kishore Kumar was the star male singer of the late 1960s, and sung a string of hits for reigning superstar Rajesh Khanna. He would also go on to sing many songs for the next superstar, Amitabh Bachchan. Asha Bhosle carved a niche for herself too.