Fresh cracks develop in building designated to keep relief material in Joshimath
Jan 15, 2023 06:26 PM IST
The authorities have started shifting three staff families living on the lower floor of the Municipal Board car-parking building in Joshimath to safer places
A multi-floor Municipal Board car-parking building designated to keep relief material pouring in from around the country for the crisis-hit Joshimath in Uttarakhand developed fresh cracks on Sunday, prompting the authorities to start shifting three staff families living on the lower floor of the building to safer places.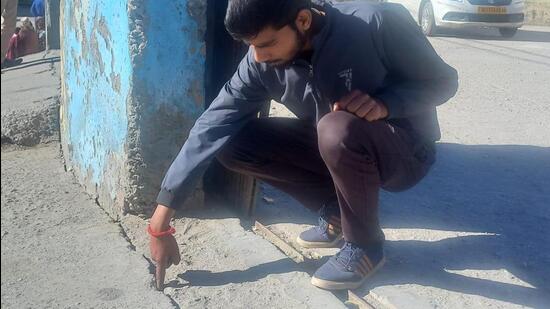 The third floor of the car-parking building is currently being used by the district administration for storing the relief material while the staff families live on the lower floor.
According to a bulletin released by the state government on Sunday evening, the number of houses that have developed cracks has increased to 826, with 165 of them declared unsafe. So far, 233 families have been shifted to safer locations including 17 families on Sunday. In total, 798 people have been shifted to safer locations.
"Due to the fresh development of cracks in the three-floor Municipal board building, we have begun the exercise of shifting staff working in the municipality building to a safe place as a precautionary measure," said Bharat Bushan Panwar, executive officer of the Joshimath Municipal Board.
Nandan Kumar, nodal officer to manage relief materials, said the relief material will be shifted elsewhere and distributed speedily to various relief camps.
Shailendra Panwar, president of the Municipal Board said, " The executive officer of the Municipal Board has been directed to act without any delay and shift the three families living on the lower floor of the building".
Dipu (who goes by his first name), a Municipal Board staff member living on the lower floor said, "My family has been living here for the past 12 years and the old cracks from the past two to three days are widening at an alarming rate".
"One can easily poke one's finger inside the cracks which was not possible earlier," he said adding that his whole family has been living in panic for the past two days.
Dinesh Bijalwan, technical officer from the Central Building Research Institute said, " We have kept the building under observation by fixing our equipment to determine the rate of subsidence and widening of cracks at the municipal car-parking building, and apart from this four other buildings have also been kept under observation in Ward 4 under municipal limits."