Eco-friendly e-bicycles, a likely replacement to autos below Metro 2A and 7
Jan 21, 2023 12:37 AM IST
Around 280 e-cycles shall be made available to passengers getting out of these metro stations to be used for their further commute
shashank.rao@hindustantimes.com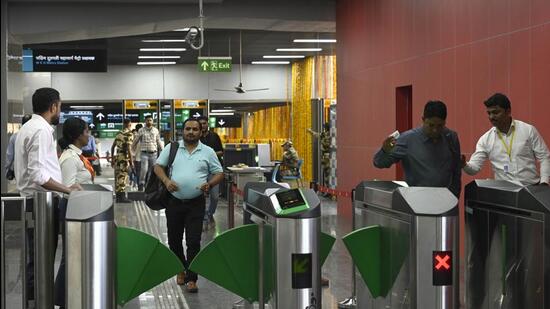 Mumbai: Following complaints of lack of last mile connectivity at the stations on the newly-launched metro stations, the Mumbai Metropolitan Region Development Authority (MMRDA) has begun placing e-cycles, which are a clean mode of transport, below the 30 stations falling under Metro 7 & Metro 2A.
Sources said there will be around 280 such e-cycles that is currently available in the fleet that shall be made available to passengers getting out of these metro stations to be used for their further commute. However, these e-bicycles will be made available at all stations on Metro 7 & Metro 2A in a phased manner.
On the other hand, the auto rickshaw unions are complaining that there is no provision made to accommodate them below the elevated metro stations. On January 20, Hindustan Times reported about lack of last mile connectivity from these metro stations.
According to sources, there will be 7-10 e-bicycles placed below the metro stations, which will be operational on subscription basis. There are 30-odd stations covering Metro 7 and Metro 2A of which not all has sufficient space to park these e-bicycles.
The metropolitan commissioner SVR Srinivas confirmed that they are providing these e-bicycles and also asked BEST to provide feeder bus services as part of last mile connectivity from the two new networks of mass transit projects.
However, transport experts claim that the authorities seem to have forgotten that auto rickshaws primarily ply throughout western suburbs and is popular despite frequent complaints of refusal by auto rickshaw drivers. This is also evident by the numbers of users of e-bicycles that was first launched in mid-June of 2022, named as Public Bike Sharing project, below metro stations of Aarey and Dhanukarwadi of Metro 7 and 2A under phase-1.
Sources said that in phase-1, they saw over 1,800 users who took more than 3,300 trips (excluding trips on subscription basis). Additionally, 350 users availed long-term subscription plans as well. Now that the network is complete and more cycles added, they hope the uptake of these services to go up, corresponding to that of the metro users.
Sources said that these e-bicycles will take time to proliferate metro stations and that they had introduced it as an alternative to auto rickshaws. Interestingly, people can take these bicycles to their homes, park them in the residential society premises and then get it back to the nearest metro rail station, even the next day.
These bicycles can be booked only through their app that will have username, mobile phone number, and option to book these bicycles. The users will be charged ₹30 for period of 15 hours that will allow people to use it more efficiently and freely. Users will be charged ₹ 2 for every hour after this.
Each bicycle is fitted with GPS and are monitored. It will show the precise location of the bicycle and if a user doesn't return the bicycle even after completing the time frame for which it has been booked, then the staff of the private operator will send him/her a message and reminder calls.
The other option is booking the bicycle for an entire month (30 days) during which period they will be charged ₹799. There is no restriction on where the bicycle can be ridden during the period and can be parked anywhere along the metro stations on this 35 kms route combining Metro 2A and Metro 7.