ED grills Abhishek Banerjee for almost 9 hours in illegal coal mining case
Updated on Sep 07, 2021 02:30 AM IST
He arrived at ED's Jam Nagar house office around 11am on Monday and was interrogated by the investigating officer about his association with the kingpin of mining, Anup Majhi, as well as alleged funds linked with his family members.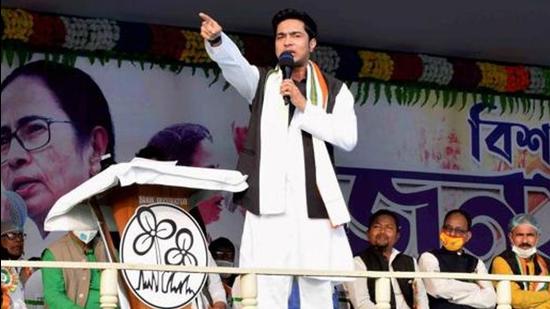 , Hindustan Times, New Delhi/kolkata
HT Correspondent
The Enforcement Directorate (ED) on Monday questioned Trinamool Congress (TMC) leader and West Bengal chief minister Mamata Banerjee's nephew, Abhishek Banerjee, for almost nine hours in its probe related to money laundering worth ₹1,352 crore in illegal coal mining scandal in the state.
The 33-year-old Lok Sabha MP, also the de-facto number 2 of the TMC, is an alleged beneficiary of funds obtained by accused persons in the illegal mining case, according to an earlier claim by the central agency.
Banerjee arrived at ED's Jam Nagar house office around 11am on Monday and left around 8 pm after almost nine hours of interrogation. He was interrogated about his alleged association with the kingpin of the mining case – Anup Majhi -- as well as alleged funds linked with his family members, said people aware of developments.
"I reached the ED office at 11 am. I have been questioned non-stop for nine hours. I have cooperated with them and answered all their questions to the best of my abilities. I gave them my written statement," said Banerjee.
He accused the Bharatiya Janata Party (BJP) of using agencies against its opponents. "We will fight against you (BJP) and go to all those states where you (BJP) have murdered the democracy. Do whatever you can. BJP's tyranny will be defeated. Let BJP put all its might, vigour, threat, resources. Mind my words..all their resources will fall flat. TMC will beat BJP in the upcoming election (in 2024)," he added.
The TMC MP also said that at least 25 BJP MLAs in West Bengal are in the queue to join the TMC even though his party hadn't accepted them. Since the TMC came to power with a sweeping victory in the recently held assembly elections, four BJP MLAs have switched sides. The BJP had won 77 seats.
"Forget about any other political party. We will give our life, but we will not sell our spine to these autocrats, these cowards who can't defeat us politically," he said.
The agency had claimed in a Delhi court in April this year that "Majhi assisted in transferring substantial funds derived from the proceeds of crime to Abhishek Banerjee's close relative (wife and sister-in-law) at London and Thailand."
An ED officer, requesting anonymity, said, "We have reliable statements and evidence on Abhishek Banerjee's role, but investigation is on."
Outside the ED office, Banerjee said he will cooperate with the probe agencies. His wife Rujira was also summoned by the ED on September 1 to Delhi but she sought to be questioned at her residence in Kolkata due to prevailing Covid-19 situation, a request which has been accepted by the agency, people cited above said.
The BJP countered Banerjee and said that the TMC was day dreaming.
"We have told time and again that the BJP has nothing to with ED and CBI investigation. The law is taking its own course. If the TMC thinks otherwise they can any day move court. As far as the number of 25 BJP MLAs waiting to join the TMC, it is nothing but a day dream. The rest are political statements," said Samik Bhattacharya, BJP spokesperson in West Bengal.
ED's money laundering probe is based on a CBI First Information Report (FIR) registered in November 2020 on the allegations that a coal pilferage at a massive scale was taking place in Eastern Coalfields Ltd mines in Kunustoria and Kajora areas in West Bengal.
After arresting the former Inspector in-charge of Bankura police station, Ashok Kumar Mishra in the case, the ED had claimed in a Delhi court in April, just ahead of state assembly elections, that Banerjee was a beneficiary of funds obtained in the illegal mining, which was flourishing in West Bengal under the 'patronage' of the political party in power.
Apart from Mishra, ED has arrested Vikas Mishra, brother of TMC youth wing leader Vinay Mishra, in the case so far.
Vinay Mishra, said to be close to Banerjee, left the country in September 2020 and has already renounced his Indian citizenship. It is believed that he has settled in Vanuatu, a small island nation in South Pacific Ocean.
According to the probe carried out by the anti-money laundering agency, an amount of ₹1,352 crore has been illegally generated by Majhi through illegal coal mining in just two years.
It is alleged that tainted funds collected by Majhi and others in connivance with the police officers reached political leaders in West Bengal and then were laundered to various locations in India and abroad.
"Investigation revealed a deep system of political patronage and well-oiled network by which the system was subverted to carry out these illegal activities in a brazen manner," ED said.
Personalise your news feed. Follow trending topics