Govt hopes to trim fertilizer and food subsidies
Jan 10, 2023 03:37 AM IST
The upcoming Union Budget 2023-24 is likely to set aside approximately ₹3.
The upcoming Union Budget 2023-24 is likely to set aside approximately ₹3.8 lakh crore for food and fertilizer subsidies, about 25% lower than the nearly ₹5 lakh crore expected to be spent during the current financial year to March 31, according to two officials familiar with the matter.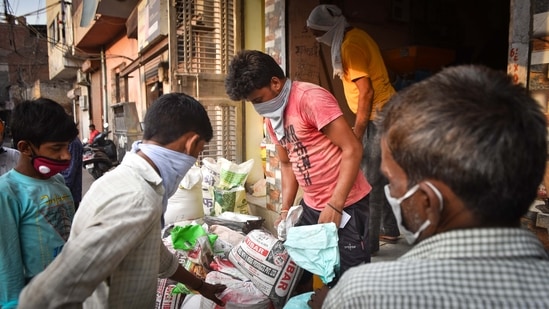 The projected savings come amid a broad revamp of the country's subsidized food allocations and expected stable supply of fertilizers due to multi-year contracts with several countries to secure supply of raw materials.
New deals, where Indian companies will invest in mineral-rich nations for raw materials critical for making fertilisers, are on the cards and will help the government hedge geopolitical uncertainties and negotiate better prices, one of the officials said, seeking anonymity.
The country's spending on food and fertilizers are headed to record levels this financial year as rising international gas prices and a free food scheme bloated federal subsidies, which comprise a tenth of the total government expenditure.
The central government last month announced a move to end an expensive free food scheme – the Pradhan Mantri Garib Kalyan Anna Yojana -- introduced during the pandemic, while making the country's regular subsidized food grains programme free till December 2023.
"(Because of this) the government should save 0.15% of GDP in the last quarter of FY23, or 0.6-0.7% of GDP (annualized) owing to the discontinued programme. The government hopes to keep the food subsidy bill in FY24 capped at 0.7% of GDP," Sonal Varma of Noumura Securities, a brokerage, wrote in a recent research note.
The Union government is likely to budget about ₹1.4-1.5 lakh crore for fertilizer subsidies for 2023-24, the second official said, declining to be named. It is also likely to set aside ₹2.3 lakh core for food subsidy.
The total cost of PMGKAY since its launch till December 2022 is set to be ₹3.91 lakh crore, according to a Cabinet note. Under PMGKAY, each beneficiary got 5kg of foodgrains free of cost every month and the programme ran for 28 months.
The fertiliser subsidy bill in 2022-23 is expected to be over ₹2.5 lakh crore, way higher than the budget estimate of ₹1.05 lakh crore. India imports a range of crop nutrients and offers them at a discounted rate to millions of farmers.
Topics