Stand with India in Covid fight: Blinken at meet with Jaishankar
Updated on May 29, 2021 01:04 AM IST
Jaishankar also held a meeting with US defence secretary Lloyd Austin during which they discussed further developing strategic and defence partnership between the two countries.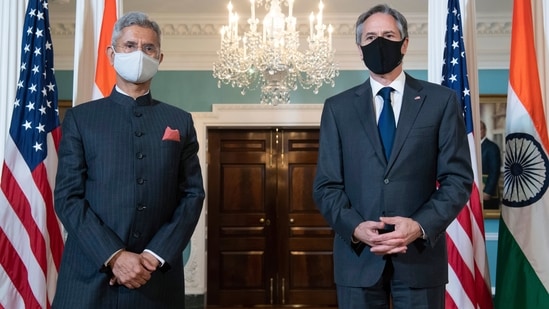 US secretary of state Antony Blinken on Friday assured his Indian counterpart S Jaishankar that Washington would stand with New Delhi in tackling Covid-19 just as India had stood by the US in the initial days of the pandemic last year.
The assurance came as Jaishankar met Blinken in Washington to discuss cooperation in the global response to Covid-19, including access to vaccines and raw materials, and regional developments such as the situation in Afghanistan. Jaishankar is the first Indian cabinet minister to visit the US since the Biden administration assumed office in January.
"We remember in the earlier days of Covid, India was there for the US, something we'll never forget, and now we want to make sure that we're there for and with India," Blinken told reporters before beginning his meeting with Jaishankar at the state department.
Jaishankar said India-US relations had grown stronger over the years and expressed his gratitude for the strong support and solidarity shown by the Biden administration "at a moment of great difficulty for us".
The US administration and private firms have delivered relief materials and equipment worth more than $500 million to India to help the country's response to a devastating second wave of coronavirus pandemic in India.
Access to the US surplus stockpiles of Covid-19 vaccines and opening up supply chains for raw materials and components needed to ramp up the production of vaccines have been a focus area of Jaishankar's five-day visit to the US. The Biden administration has announced it will donate 80 million doses of vaccines to countries around the world by June and India is hoping to get a significant number of jabs both directly and through the WHO-backed COVAX facility.
Blinken said the US and India are working together on many important challenges that are having a profound impact on the lives of the citizens of both countries. "We are united in confronting Covid-19 together, we are united in dealing with the challenge posed by climate change and we are partnered together directly and through the Quad and other institutions of the UN in dealing with many of the challenges we face in the region and around the world," he said.
Describing the partnership between the US and India as vital, he added, "It's strong and I think it's increasingly productive."
Jaishankar met Blinken after he returned from a hectic visit to the Middle East to help shore up the fragile ceasefire between Israel and Hamas following 11 days of hostilities. He also met defense secretary Lloyd Austin, US trade representative Katherine Tai, National Security Adviser Jake Sullivan and director of national intelligence Avril Haines in Washington.
Jaishankar tweeted that he and Austin had a "comprehensive conversation about further developing our strategic and defence partnership" and exchanged views on contemporary security challenges. He also expressed appreciation for the US military's role in responding to the Covid-19 situation.
In a separate tweet after his meeting with Tai, Jaishankar said trade, technology and business cooperation are at the core of India's strategic partnership with the US. "Enhancing them is vital to post-Covid economic recovery," he added.
Jaishankar welcomed Tai's "positive stance" on intellectual property rights issues – a reference to the US support for India's call for patent protections to be waived for Covid-19 vaccines – and her support for efficient and robust supply chains.
The situation in the Indo-Pacific and Afghanistan figured in Thursday's meeting between Jaishankar and Sullivan, who tweeted that people-to-people ties and values are the "foundation of the US-India partnership and will help us end the pandemic, lead on climate, and support a free and open Indo-Pacific".
At a meeting with House Foreign Affairs Committee chairman Gregory Meeks and ranking member Michael McCaul, Jaishankar discussed developments related to the Quad and cooperation on vaccines. He also held a meeting with House India Caucus co-chairs Brad Sherman and Steve Chabot.
Personalise your news feed. Follow trending topics