Terrorists behind three civilian killings gunned down in Kashmir
Oct 21, 2021 12:03 AM IST
Police said 15 terrorists have been killed in 10 firefights in the Valley since the latest phase of violence erupted in the region and left the 11 civilians dead
Security forces on Wednesday killed four terrorists, including two commanders linked to the Lashkar-e-Taiba (LeT) who were involved in the killing of non-local workers in Jammu and Kashmir, a development that came amid a wave of attacks on civilians in the restive region.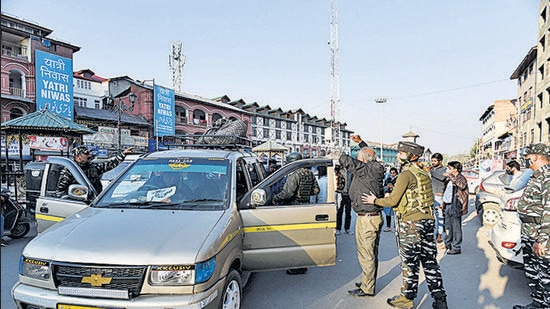 While two terrorists were killed in an encounter in Shopian's Dragad, two others were shot dead in a gunfight in the Kulgam district, a police official said. An Indian Army soldier also lost his life in the Shopian gun battle. Two other security personnel were injured, another official said.
The Jammu & Kashmir Police say they have "neutralised" 17 terrorists in 10 encounters in the Valley amid the latest phase of violence in which 11 civilians – seven of them in Srinagar – have been killed in targeted attacks since October 2. Some of these terrorists were allegedly either involved or were collaborators in the civilian killings – five of people from outside the Union territory – this month.
The slain terrorists included two Lashkar-e-Taiba-linked district commanders who were allegedly involved in the killings of a carpenter from Uttar Pradesh on October 16 and two labourers from Bihar on October 17. The official, who asked not to be named, said the two terrorists were linked to The Resistance Front (TRF), a shadow outfit of Lashkar-e-Taiba.
The Shopian encounter began after security forces received information about the presence of terrorists in Dragad area of the district. A cordon and search operation triggered a gunfight between the terrorists and a joint party of security forces including the police, army and the Central Reserve Police Force.
"Two terrorists were killed in the encounter," said a police spokesperson.
In a late-evening tweet, the police said they also killed two terrorists in Kulgam, where two non-local labourers from Bihar were killed on October 17.
"Police and Army neutralised LeT district commander (Gulzar Ahmd Reshi) of Kulgam and one other, who were involved in killings of two poor labourers from Bihar on October 10 at Wanpoh," said inspector general of police, Kashmir, Vijay Kumar in a tweet.
Raja Reshidev and Joginder Reshidev, labourers from Bihar, were shot dead on Sunday at Wanpoh, Kulgam. Chun Chun Reshi Das, also from Bihar, sustained multiple injuries and was being treated at the Government Medical College in Anantnag.
The army's Chinar Corps said the joint operation in Shopian earlier was launched based on specific inputs. "Repeated surrender appeals turned down by terrorists. Terrorists opened fire forcing Security Forces to retaliate," it tweeted.
The army also suffered a fatality in the encounter. "An Army man has attained martyrdom and two jawans have suffered non-fatal injuries," said the army's PRO Lt Col Emron Musavi.
The slain soldier was identified as Sepoy Karamveer Singh of 44 Rashtriya Rifles. Aged 25 years, he was a resident of Daldal, Rampur Bhagelan, Madhya Pradesh.
Inspector general of police Vijay Kumar identified one of the slain terrorists in Shopian as Adil Ahmad Wani, who was active since July 2020. Another slain terrorist was identified as Shakir Ahmad Wani, a resident of Litter Pulwama.
"Adil Wani was district commander Shopian of proscribed terror outfit LeT(TRF)," Kumar said.
He said that Wani was involved in the killing of a carpenter named Saghir Ahmad Ansari, a resident of Saharanpur, UP.
Sageer Ahmad, 53, who was working in Litter Pulwama for the past one year, was killed after terrorists opened fire on him on October 16. He was living in a rented accommodation there and had been coming to Kashmir for the past one year. Another non –local, Arvind Kumar Sah, a golgappa seller, resident of Banka in Bihar, was also shot at close range by militants in Srinagar's Eidgah area on the same day.
On the same day (October 16), two LeT (TRF) militants were killed by security forces in an encounter at Drangbal area of Pampore in south Kashmir's Pulwama district.