Rahul Gandhi pays tribute to Pulwama martyrs; Mehbooba joins Bharat Jodo Yatra
Jan 28, 2023 07:25 PM IST
A three-tier security was in place for Rahul Gandhi's Bharat Jodo Yatra after Friday's allegations of security breach and mismanagement
The Bharat Jodo Yatra (BJY) led by Congress leader Rahul Gandhi reached Pampore on the outskirts of Jammu and Kashmir's Srinagar amid high security arrangements on Saturday afternoon.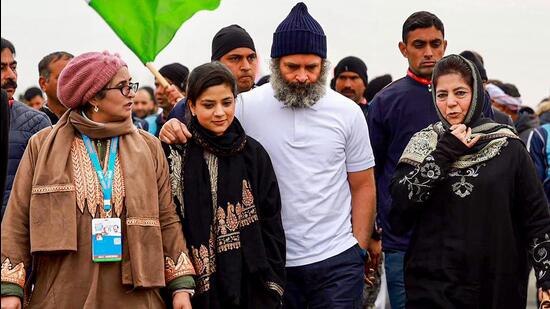 The Gandhi scion paid floral tributes to the 40 Central Reserve Police Force (CRPF) jawans who were killed in the 2019 Pulwama suicide car bomb blast attack. He laid a flower bouquet at the spot where the CRPF bus was blown up by a Jaish-e-Mohammad suicide bomber along the Jammu-Srinagar national highway.
Peoples Democratic Party (PDP) president and former chief minister Mehbooba Mufti, her daughter Iltija and mother also joined the yatra at the beginning near Chersoo Awantipora in south Kashmir. Mehbooba walked along with Rahul Gandhi till Lethpora, a few kilometres short of the yatra's final destination for Saturday. At Lethpora, Congress general secretary Priyanka Gandhi Vadra also joined the yatra.
A three-tier security was in place for the yatra on Saturday after allegations of security breach and mismanagement on Friday. Besides, local police,CRPF and the Army's Rashtriya Rifles were also doing road domination in the nearby villages along the national highway.
Additional director general of police, Kashmir, Vijay Kumar said that a three-tier security was made on the yatra route. "Traffic was diverted today and the yatra moved smoothly," he said maintaining that there wasn't any security lapse on Friday.
Mehbooba Mufti termed the yatra as a breath of fresh air in Kashmir. "Rahul Gandhi's yatra comes like a breath of fresh air in Kashmir. It is the first time since 2019 that Kashmiris have come out of their homes in such massive numbers it. Was a great experience to walk with him," she tweeted.
Rahul Gandhi stopped at the spot where Pulwama attack took place on the national highway and paid floral tributes to the martyrs. It came days after he expressed his disagreement with senior party leader Digvijaya Singh over his statement on the Pulwama attack.
Singh, addressing a public rally during the Bharat Jodo Yatra in Jammu had alleged security lapses ahead of the Pulwama attack and demanded proof from the Centre for the surgical strike that was subsequently carried out by the Army in Pakistan. Reacting to it, Gandhi in a press conference said it was the senior leader's own opinion and not the party's, adding that the Army does not need to give proof of its actions.
Priyanka Gandhi Vadra joined the yatra at Lethpora for the last few kilometers before the culmination of Saturday's programme.
A large number of Congress workers and curious locals assembled at several places to welcome the yatra along the route on the national highway. The Congress workers carrying party flags were raising slogans in favour of Rahul Gandhi and Bharat Jodo Yatra.
"For us, this is a historic moment. Rahul Gandhi walked more than 3,500 kilometers just for the sake of unity of the country and different communities. And in J&K this is the need of the hour and the way local people came out to welcome Rahul Gandhi is an eye opener for those trying to divide the country," said Mir Iqbal, a participant and Congress worker.
National Conference (NC) vice president Omar Abdullah, who had joined the yatra at Banihal on Friday, said it has generated good response in Jammu and Kashmir but TV channels and experts are silent on it. "The talking heads are largely silent & the channels don't really want to talk about it but you don't have to be visually challenged to see the #BharatJodaYatra has got a very good response from Kashmiris. Young & old, men & women, have been lining the road & marching for unity," he tweeted on Saturday.
"The most glaring silence has been from those "Kashmir experts" who waste no opportunity to paint Kashmiris as anti-national, communal, intolerant. The public participation flies in the face of this propaganda & that explains the total radio silence," he added.
On Saturday morning, Congress president Mallikarjun Kharge sought the personal intervention of Union home minister Amit Shah in the alleged security lapse of party leader Rahul Gandhi during the Bharat Jodo Yatra in Jammu and Kashmir. Kharge also urged the minister to advise the officials concerned to provide adequate security for the Rahul Gandhi-led foot march, which will continue for another two days and culminate in a function in Srinagar on January 30.
Jairam Ramesh, Congress general secretary in charge of communications, said that high security arrangements were made along the yatra route on Saturday. "Despite high security, thousands of people participated in the yatra. Till tomorrow evening Bharat Jado Yatra will cover 4,080 kilometers. Tomorrow the yatra will stop walking and on January 30, there will be flag hoisting and a big rally in Srinagar. The Bharat Jodo yatra covered 75 districts of the country including 10 districts in J&K," he said.
J&K Congress president Vikar Rasool said that despite high security issues and closure of all roads thousands of people came to receive Rahul Gandhi, especially youth. "Today, we walked for 13 or 14 kilometers and response was overwhelming," he said.
The Bharatiya Janata Party (BJP), however, criticised Rahul Gandhi for walking along with Mehbooba Mufti.
"Will Rahul Gandhi apologise for rubbing shoulders with those who advocate two flags and two laws in J&K, or else he too supports the same. Hope Rahul tenders an apology in Lal Chowk on January 30 for holding hands of those who oppose J&K's integration with the Indian Union," said BJP state spokesman Altaf Thakur.
"Now that women have joined Rahul's yatra and has been named as Shakthi Yatra, will Rahul apologise to the women folk of J&K who would marry outside the erstwhile state before August 5, 2019 and wash hands from the property they owned back home. Though that was undone by Prime Minister Narendera Modi Ji,the scars remain. Hope he apologises to the women folk at Lal Chowk," he added.
The Bharat Jodo Yatra will conclude in Srinagar on Sunday at Nehru park and Rahul Gandhi will hoist the National Flag at the Congress headquarters on M A Road on Monday morning and later along with top Congress leaders he will address a big gathering at SK Stadium Sonwar.