World is becoming volatile for developing nations, says Jaishankar
Jan 13, 2023 03:14 AM IST
This was one of four sessions on the first day of the two-day virtual summit, organised by India, to provide a platform to developing states to provide inputs and ideas for deliberations within the G20 process.
The world is becoming increasingly volatile for developing countries, with the Ukraine crisis impacting food and energy security while concerns over a Covid-19 resurgence are dampening sentiment, external affairs minister S Jaishankar said on Thursday.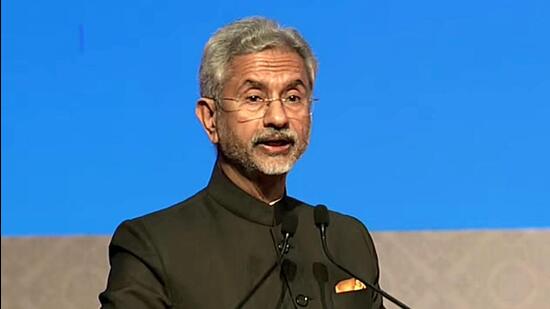 India wants to ensure its G20 presidency represents the voice and priorities of the Global South since the search for solutions to global problems don't give "due weight" to needs of developing nations, Jaishankar said while addressing a session for foreign ministers at the Voice of the Global South Summit.
This was one of four sessions on the first day of the two-day virtual summit, organised by India, to provide a platform to developing states to provide inputs and ideas for deliberations within the G20 process. The session chaired by Jaishankar was joined by his counterparts from Armenia, El Salvador, Georgia, Iran, Jamaica, the Maldives, Oman, Panama, Tunisia and Uganda.
"The world is becoming increasingly volatile and uncertain for the South," Jaishankar said, noting that the Covid-19 pandemic exposed the "danger of over-centralised globalisation and fragile supply chains", while the fallouts of the Ukraine conflict included further stress on food, energy and fertiliser security.
"Capital flows started constricting even as debts mounted. International financial institutions and multilateral development banks have struggled to assess and address these concerns effectively. Concerns over a Covid resurgence are further dampening sentiment," he said in an apparent reference to the latest surge in Coronavirus infections in China.
The Voice of the Global South Summit allows developing countries to share their perspectives and priorities because their key concerns are not being captured in the debates and discussions of the G20, he said.
"Whether it is the impact of the Covid pandemic, climate change, terrorism, ongoing conflicts and debt crises, the search for solutions do not give due weight to the needs and aspirations of the Global South," he added.
Jaishankar also pointed to what he described as "unkept promises" of a globalised system and said developing countries are being expected to bear the burden of developing climate resilience and industrialising without carbonising while also lifting millions out of poverty and coping with disruptions in global supply chains.
"Those who were promised an interconnected world now actually see a world with higher walls, insensitive to social needs and discriminatory in its health practices," he said.
Jaishankar proposed three fundamental shifts for a "Global South sensitive" model of globalisation – moving from "self-centered globalisation to human-centered globalisation", deploying Global South-led innovations for transformation, and moving from debt creating projects to demand-driven and sustainable development.
Developing countries should also work for de-centralising globalisation to offer greater opportunities to more nations. This will require localisation, improved connectivity, and reconfigured supply chains.
India, Jaishankar said, is ready to share its expertise in digital public goods for universal identification, financial payments, direct benefit transfer, digital health, commerce and logistics. He noted that India has implemented development projects in 78 countries that are demand-driven, transparent, empowerment-oriented and environment friendly while also ensuring respect for sovereignty and territorial integrity.
He added that India has emerged as an education and healthcare hub for the Global South, and the International Solar Alliance, Coalition for Disaster Resilient Infrastructure and Mission LiFE are proof of the priority of the country's diplomacy.
China, which did not participate in any of the sessions of the summit on Thursday, said New Delhi informed Beijing about its plan for hosting the event. Chinese foreign ministry spokesperson Wang Wenbin told a news conference in Beijing that China has always sought greater international attention on the "shared aspirations and legitimate concerns" of developing countries.
"To galvanise international focus on development issues and deepen development cooperation, China put forward the Global Development Initiative, highlighting the need to help address developing countries' special development challenges and deepen cooperation in key areas," Wang said, without specifying whether China was invited to the summit.