BJP has helped the middle class realise its aspirations
Apr 24, 2019 08:48 PM IST
By creating a robust fiscal architecture, arresting inflation, and improving ease of business, it has ensured growth
As India's socioeconomic fabric is changing, a burgeoning middle class, driven by aspirations rather than ideology, has emerged as a powerful segment. Estimated to comprise between 400-600 million, the size of the middle class makes it impossible for political parties to ignore. It is now quite a formidable voter block. But its a heterogeneous group. Its members drive economic growth by donning multiple roles: risk taking entrepreneurs, providers of human capital and savings, and consumers with discretionary spending power.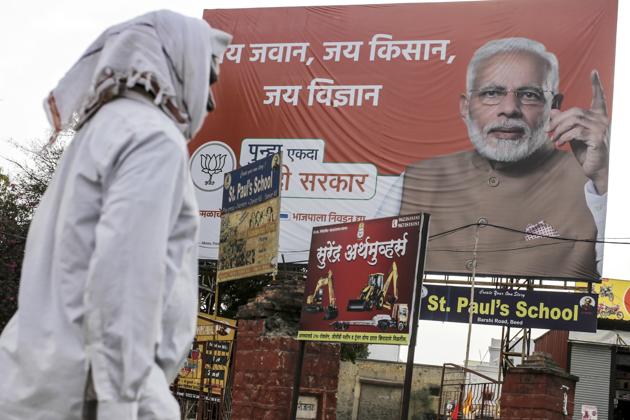 Recently, their ranks have further swelled due to the emergence of a "neo-middle class"— the first generation beneficiaries of recent economic growth, having enhanced disposable incomes but still not fully integrated into the middle class.
In 2014, the incoming National Democratic Alliance (NDA) government had to contend with high inflation, a distressed banking sector, mounting fiscal deficit and an overall policy paralysis. Over the past five years, the government has ensured a major turnaround — strengthening macroeconomic fundamentals and maintaining an average GDP growth rate of 7.3% — and helped India emerge as the fastest growing major economy. It has reined in inflation, resulting in a 35-40% savings in expenses on basic necessities; it has displayed greater fiscal prudence; it has pursued structured reforms and put trust back in the market forces, progressively opening up the economy. This has yielded better results than the previous regulated economy model marked by redistribution of wealth efforts.
The 2019 interim budget saw the honest taxpaying middle class being rewarded with a tax rebate, increase in standard deduction and gratuity, tax exemption on notional rent from a second house and interest earned on deposits. This will boost the middle class's disposable income and stimulate consumption, setting in motion a growth cycle. The government has also focused on increasing tax revenue through better compliance, leading to more people filing returns. The NDA's economic governance appears to be based on the philosophy of investment driven growth. India's dramatic improvement in Ease of Doing Business rankings reflects the reforms undertaken to attract investment by the current government. Single window clearances, reduced regulations and measures like the Insolvency and Bankruptcy Code have created an environment that should boost private investment.
An unprecedented focus on integrated infrastructure development is also set to benefit the common man and business class alike.
We have seen fresh momentum in this crucial sector as it bounced back from a mass of stalled projects, Public-Private Partnership disputes and reluctant financers in the United Progressive Alliance era. The UDAAN scheme has brought air travel within the reach of the middle class. High speed trains and expanded metro rail networks will simplify and quicken travel.
Reduced interest rates on home loans and a healthy increase in number of homes sanctioned under the PM Awaas Yojana has eased the concerns around affordable housing. The Ayushman Bharat Yojana health insurance will also benefit the neo-middle class. The Digital India initiative is expected to ensure mobile connectivity and internet access at an affordable rate, while bringing e-governance and e-delivery of services to our doorsteps.
One of our biggest challenges is to create enough jobs for the growing work force. The NDA government's emphasis on upgrading our dated academic curricula to focus on innovation, research and emerging technologies like Artificial Intelligence, Internet of Things and Blockchain, besides setting up nationwide training centres, will equip the youth with the right skill set. The MUDRA Yojana has been a significant encouragement for middle class entrepreneurs providing them loans on easy terms.
The past five years have largely seen good work on the economic front. A platform has been laid for further growth. The NDA's success in establishing a robust fiscal architecture, reducing corruption, arresting inflation, and improving ease of business should stand it in good stead in the ongoing elections, as it promises to usher in a new India where the middle class can realise its aspirations.
Sumant Sinha is chairman and managing director of ReNew Power
The views expressed are personal
"Exciting news! Hindustan Times is now on WhatsApp Channels
Subscribe today by clicking the link and stay updated with the latest news!"
Click here!