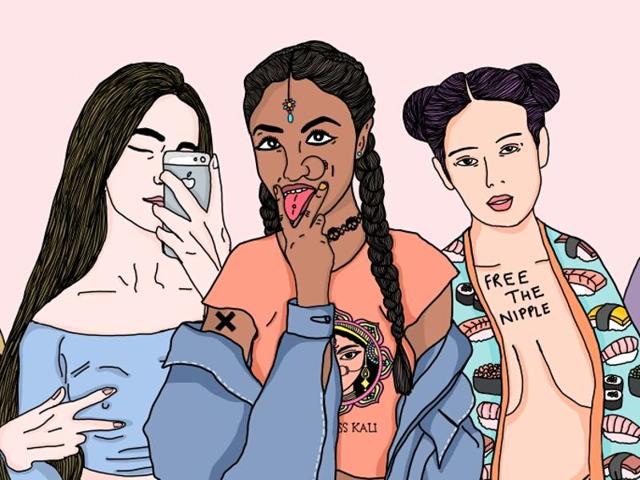 'I received lewd comments on Instagram': 17-year-old graphic artist who sketched feminist goddesses
Priyanka Paul's feminist goddesses found praise and flak online
UPDATED ON AUG 12, 2016 12:56 PM IST
17-year-old graphic artist Priyanka Paul painted Kali in a crop top, Hera with a half-shaved head. It went viral. Then came the flak.
But she's far from bothered. Her next project is to challenge the taboo around menstruation in India
"The Goddesses stand tall, and unashamed
Laughing in the face of aghast disciples,
As they reclaim
Reclaim"
That's an excerpt from Pantheon, by Mumbai-based poet and culture blogger, Harnidh Kaur (22). In it, Eve walks in to a church naked, Kali uses Snapchat, and Hera — the Greek goddess of marriage (source: Encyclopedia Britannica) — participates in anti-opression debates on Facebook. The poem is provocative: Kaur's goddesses are not isolated, mythical creatures living in temples. They are everyday women, oppressed and objectified.
Priyanka Paul, a 17-year-old, city-based graphic artist found the poem on Kaur's Instagram page. "It celebrated being a woman — bold and unabashed. I was able to conceptualise it visually," says Paul. So, in July, Paul published a series of sketches based on Kaur's characters, on her Instagram handle, @artwhoring.
+
The art is quirky: Kali in a crop top, Hera with a half-shaved head, Amaterasu — the Japanese goddess of the sun — in a bathrobe, with #FreeTheNipple (the battle cry of an 2014 gender-equality movement) tattooed across her chest. Titled the Feminist Goddesses (FG), the picture series has more than 1,200 likes on Instagram.
Also read: Gender Bender: How India discovered role reversal through pop culture
Feminist expression
For Paul, currently a mass media student at St Xavier's College, Fort, art became a medium to express herself during her turbulent, teenage years. "Going to college introduced me to in-depth studies on cultures, and the feminist movements, in particular. I was affected by the injustice and gender objectification faced by women through the ages. That's when I started using art to express the outrage and teen angst," says Paul.
+
The exposure to feminism has clearly left a mark on Paul's social outlook: she is now a staunch feminist. All this at just 17. "I believe feminism is incredibly important in India. As the youth, it is our responsibility that the movement bears good results. And since art has always played an important role in the global feminist movements, I hope to speak about gender-related issues through my art, and inspire people to question years of social conditioning," says Paul.
Never back down
Prior to the FG series, Paul did a 12-part series that depicted the sun signs as female characters. So, Taurus (usually depicted as a bull) became a woman with horns, and Pisces (depicted though fish, and characterised as adventure-lovers) became a woman making sand castles at the beach. The artwork is popular, with close to 500 likes each.
+
With FG, Paul has married pop culture and religion, a hot potato in India. But why goddesses? "They [goddesses] are symbols of femininity across cultures. It only seemed fit that they be seen as modern representatives of feminist liberation," says Paul.
Did she receive any backlash? Not initially, she says. The first few reactions were positive. "In a month's time, when the series went viral, the illustrations were taken out of context. I received lewd comments on Instagram. People were particularly offended by the two fingers under the tongue in the Kali illustration," recalls Paul.
The episode, however, has not rattled the young artist. She chooses to focus on the appreciation she received for FG, and is already on to her next project. "My next will be based on the taboo around periods. I want to use pickle jars that menstruating women are not allowed to touch. It represents centuries of prejudice against womanhood,"she says.
+
Close