Navratri 2017 day two: How to worship Brahmacharini, the deity of abstinence
On the second day of Navratri, devotees worship the Goddess as Brahmacharini - the deity of abstinence. Read on to know more about the mythology behind it, which colour to wear and what to eat.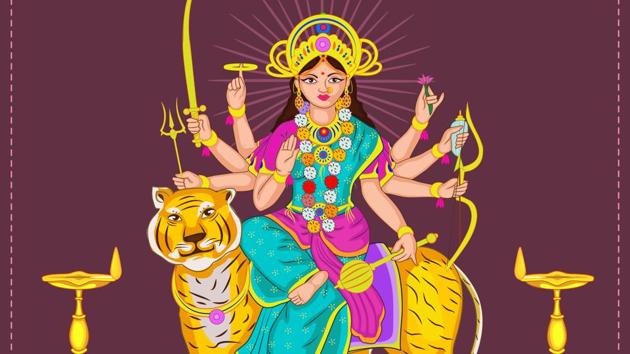 Updated on Sep 22, 2017 12:03 PM IST
The first day of Navratri began yesterday with Kalash sthapana, followed by offering puja to the goddess. Friday is the second day of Navratri when devotees worship the Goddess as Brahmacharini - the deity of abstinence. This form of the goddess signifies love, loyalty and knowledge. Brahmacharini holds a rosary in her right hand and a Kamandal in the left and also wears a rudraksha necklace. She is also known as Tapasvini or Parvati.
Goddess Brahmacharini blesses devotees with emotional strength, mental balance and confidence. She also keeps negative energy and keeps selfishness, ego, greed and laziness away from the devotees.
Different regions of the country have different ways of worshipping the goddess and performing the rituals. Here, we talk about the traditions that originated near Banaras.
How to worship Brahmacharini Devi:
Lotus and hibiscus are offered to Goddess Brahmacharini. Beetle leaves, cloves and milk are offered to the goddess as devotees recite "Ya devi sarvabhoteshu brahmacharini roopena sansthita, namastayayi namastasyayi namastasyayi namo namaha (I salute the divine power that resides everywhere in this universe, Goddess Brahmacharini)."
Best time for the pooja this year:

Devotees must offer their puja during the dwitiya tithi. This year, it will be dwitiya tithi for the entire day on Friday so there is no particular muhurat.

Mythological story around Brahmacharini:

She was Himalaya's daughter and the unmarried form of Parvati. Heeding to Narada's advice, Brahmacharini performed tapa for a thousand years and survived on wood apple leaves, also known as belpatra or bilva patra.
What to eat and wear:
On this day, devotees wear green coloured clothes as they are considered Brahmacharini's favourite. The same applies for the food and food items that are green in colour.
Follow @htlifeandtyle for more
Close Story