Sufiana Rang: Holi in the words of Urdu bards
Hindustan Times |
Rakhshanda Jalil
Mar 11, 2017 10:58 AM IST
Holi, a festival of colour and abandon, has been celebrated with great gusto across northern India for centuries, including in the verse of famous Urdu poets.
There has always been a tradition of diverse communities celebrating Holi across large parts of Upper India. Called Gulabi Eid by the Mughals, there are accounts of the emperor and his courtiers throwing abeer and gulal on each other as well as sprinkling coloured water made from the tesu flowers that bloom in abundance at this time of the year. The coming of spring, traditionally marked by Basant Panchami, was celebrated with gay abandon by the Sufis whose dargahs became great melting pots where cultures and civilisations met and flowered. Descendants of the qawwal bacchas trained by Amir Khusro, the poet-disciple of Hazrat Nizamuddin Auliya, still sing these verses composed over 700 years ago: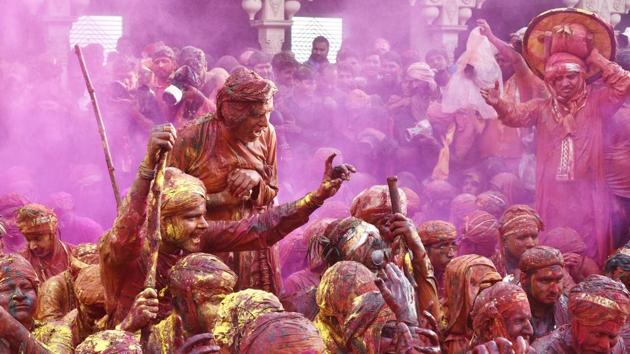 Aaj rang hai hey maa rung hai ri
Moray mehboob kay ghar rang hai ri
There's colour today, O mother, there's such colour today
There is such colour in my beloved's home today
Sufi singers still sing this kaafi by the 18th-century Sufi Saint Bulleh Shah, though few pause to take in its assertion of a faith that is moored in Islam yet willing to celebrate Holi:
Hori khelungi keh Bismillah.
Nam nabi ki ratan chadi, boond padi Illalah
I will take the name of Allah and play Holi
Like a gem bearing the Prophet's name, every drop cries out Allah Allah
Then there are the numerous Urdu poets who have written with passion and verve on this most fun-filled of all Indian festivals. Here is Nazir Akbarabadi, the people's poet from Agra, waxing eloquent in a long nazm:
Aa dhamke aish-o tarab kya kya jab husn dikhaya Holi ne
Har aan ḳhushi ki dhuum hui yuun lutf jataya Holi ne
What delights and cheer can compare with the beauty of Holi
Every moment has joy and celebration when Holi displays her delights
And Nazeer Banarsi is asking:
Yeh kis ne rang bhara har kali ki pyali mein
Gulal rakh diya kis ne gulon ki thali mein
Who has filled the cup of the bud with colour
Who has placed gulal in the thali of the flowers
Gauhar jaan, the courtesan singer, went so far as to sing 'Mere hazrat ne madine mein manayi Holi' (My Lord celebrated Holi in Medina) and Abida Parveen has immortalised Shah Niyaz's kalaam:
Holi hoye rahi hai Ahmad Jiyo ke dwaar
Hazrat Ali ka rang bano hai Hassan Hussain khilaar
Holi is being played at the doorstep of our beloved Ahmed
Hazrat Ali has become the colour and Hasan and Husain the players
Is it not sad, then, that these joyous, inclusive and liberal voices are stifled by the strident illiberal ones?
Rakhshanda Jalil is a writer, translator and literary historian. She is the founder of Hindustani Awaaz.
What: Sufiana Rang — A celebration of Holi, Sufi style
When: 6 pm, March11
Where: Kamani Auditorium,1, Copernicus Marg
Nearest metro station: Mandi House
Buy tickets here