Have AirAsia's Tony Fernandes on tape, says lawyer for former CEO Chandilya
May 31, 2018 08:41 AM IST
The CBI has registered a case against AirAsia Group CEO Tony Fernandes, Venkataramanan and other officials for allegedly trying to manipulate government policies through corrupt means to get international licence.
The lawyer of the former chief executive officer (CEO) of AirAsia (India), Mrithyunjay 'Mittu' Chandilya, on Wednesday claimed that there are tapes (of conversations) in which AirAsia Group CEO Tony Fernandes is giving instructions on the size and target of bribes to be paid to facilitate statutory approvals for its Indian subsidiary.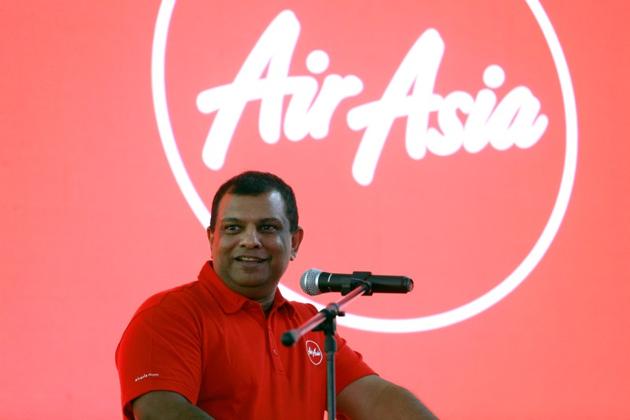 "There are tapes in which Tony (Fernandes) is giving instructions on who to pay and how much, which are accessible by my client and will be used to defend him, if he continues to be falsely accused and made a scapegoat," claimed Srinivas Mohanty, lawyer of Chandilya, speaking to Hindustan Times.
An external spokesperson for Air Asia did not respond to queries e-mailed on Wednesday evening.
The Central Bureau of Investigation (CBI) on Tuesday booked Fernandes, who is one of the richest men in Malaysia, and five others, accusing them of "intentionally" choosing to beat the legal framework and aviation sector policies in India to secure some mandatory approvals for the airline "through non-transparent means" and attempting for a "removal/modification of 5/20 rule."
The last is a reference to a rule requiring an airline to have flown domestic routes for at least five years and have at least 20 aircraft before it is allowed to ply international routes. Given its lineage, AirAsia India wanted to start flying international routes immediately.
The others named in the federal investigation agency's first information report (FIR) are lobbyist Deepak Talwar; Tharumalingam Kanagaringam (Bo Lingam), who is deputy group CEO of AirAsia Berhad, Malaysia; Rajender Dubey, director of HNR Pte. Ltd, Singapore; Sunil Kapur, chairman of Travel/Total Food Services; and R Venkataramanan, who besides being director in AirAsia, is also managing trustee of the Sir Dorabji Tata Trust and is responsible for management and oversight of all the Tata Trusts.
Three companies, HNR Pte., AirAsia (India) Ltd, or AAIL, and AirAsia Berhad, Malaysia, and unknown officials of the ministry of civil aviation and the Foreign Investment Promotion Board (FIPB) are also named in the FIR.
The CBI FIR alleged that Air Asia broke India's foreign investment rules and was in de facto control of the Indian company, although this isn't allowed. It also alleges that efforts were made, by bribing government officials, to accelerate the scrapping of the 5/20 rule.
Mohanty's comments on Wednesay come against the background of comments by Air Asia blaming Chandilya.
"Air Asia India Limited (AAIL) refutes any wrong-doing and is co-operating with all regulators and agencies to present the correct facts. In November, 2016 AAIL had initiated criminal charges against its ex-CEO and had also commenced civil proceedings in Bangalore for such irregularities. We hope to bring early resolution to all such issues," the company said on Tuesday. Chandilya, who abruptly left AirAsia (India) has been accused by his former employer of misappropriation of ₹24.32 crore and is facing a civil suit in Bengaluru in this regard.
Chandilya is alleged to have 'siphoned off' and made these unauthorized payments for 'bogus services' provided by contractors, advertising agencies and several employees including an ex-gratia payment of ₹1.13 crore to former CFO of the company Vijay Gopalan. All these charges are being refuted and contested by Chandilya.
Mohanty said his client was being made a scapegoat.
"All the payments made had to be routed from the bottom and cleared by multiple people. Why is my client alone being held responsible? Also, one of the alleged beneficiaries of the payment (ex-CFO) is not being prosecuted whereas my client is being done so. All board meetings were recorded. Details were reviewed and audited by the board and auditor. It was filed with RoC. Now they want to retrospectively allege all this happened."
Chandilya was the CEO of AirAsia India from 2013, before being elevated as MD in 2015 and was with the company till 2016.
Mohanty claimed that his client was not involved in any payoffs to politicans or government servants involved in shaping civil aviation policy.
Questioned whether Chandilya was helping CBI, Mohanty denied it. "We have not approached anybody. But if authorities seek my client's assistance, he will co-operate with them fully."
The next hearing for the civil suit filed by AirAsia against Chandilya will be held on 6 June at the principal civil judge's court in Bengaluru.
Venkataramannan issued a statement on Wednesday, denying any wrong-doing.
"In my capacity as non-executive director of Air Asia India Limited, I have been wrongly named as an accused by the CBI on operational matters where I had little or no role to play. It is commonly known that the present accusations qua Air Asia India find their root in baseless allegations made by Mr. Cyrus P Mistry and the Shapoor Pallonji Group against Tata Trusts Trustees (me included) and Tata Sons in his 'revenge' legal actions."
The Enforcement Directorate (ED) too is probing AirAsia on the charges of violation of foreign exchange norms since 2016.
The agency's case was based on complaints made by then recently ousted Tata Group chairman, Cyrus Mistry. The allegation involved fraudulent transactions worth ₹22 crore involving fictitious Indian and Singaporean companies.
Mistry's office said it had no comment to offer.
Following the registration of CBI FIR, ED has formally sought details of the document to see whether it a case on the charges of money laundering too can be lodged in the matter.
ED is already probing Deepak Talwar, one of the accused in a case, in a separate matter of alleged money laundering, and raided last week, several premises connected with the lobbyist.
"We will analyse the case registered by CBI to see of a fresh case has to be filed by us," said an official in ED.
(With inputs from Suchetana Ray)